Col&MacArthur is a watch-making company of distinction which has been creating high-quality commemorative watches for over half a century.

A quality wrist watch, expertly crafted by dedicated artisans, becomes an emotional item and a conjurer of memories. Often a watch becomes a connector between the wearer, career and family.

Regiments are indeed family affairs, and Col&MacArthur - under license from the Ministry of Defence - is delighted to have created the "Royal Guards Collection" - a range of superb watchescommemorating the Regiments of the Household Division.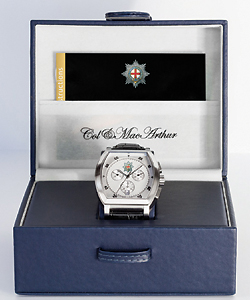 Col&MacArthur watches are exquisitelycrafted and are celebrated for their chronograph Swiss movement, sapphire glass, stainless steel cases, leather bracelets, expandable lock mechanism and barrel cases.

Uniquely amongst watch makers, Col&MacArthur can offer you a bespoke timepiece that is elegant, striking and which displays the regimental cypher of your choice. You're given the opportunity of further personalising your watch with an engraved message of choice.

Col&MacArthur are honoured to make available such quality watches to past and present members of the Household Division along with family, friends and anyone else wishing to have emotional connections to the most celebrated of British Army regiments.