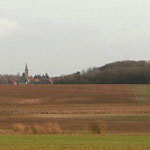 THE CAPTURE OF GAUCHE WOOD
After the initial assault by the Allies in the Battle of Cambrai, when 381 tanks were used en masse for the first time, the Germans counter attacked and overwhelmed the village of Gouzeaucourt on 30th November 1917. It was recaptured on the same day by 1st Guards Brigade consisting of 2nd Battalion Grenadier Guards and 2nd and 3rd Battalions Coldstream Guards. 1st Guards Brigade, commanded by Brigadier General Claude Champion de Crespigny, was next ordered to recapture the Quentin Ridge, which included Gauche Wood. Read more ...
REMEMBRANCE SUNDAY ADDRESS
GUARDS' CHAPEL, 13TH NOVEMBER 2016
The poet and writer, Siegfried Sassoon, who fought in the Great War, was always worried that people would forget the Battle of the Somme. 'Have you forgotten yet for the World has rumbled on', he wrote in his poem Aftermath in 1919.
On 1st July this year, as the nation began its commemoration of the Somme's centenary, a number of us from the Regiment met at 7.30, the time that fateful whistle sounded 100 years ago, to observe two minutes' silence. Read more...