Home



About Us



Subscribe



Advertise



Other Publications



Diary



Notices



Offers



Gallery



More Features



People, Places & Events



Obituaries



Book Reviews



Forthcoming Publications



Contact



Advertisers







Follow us on Twitter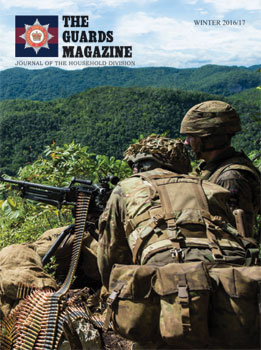 FEATURES (a few examples from the latest edition.
For the full edition - please subscribe)

COLDSTREAMER À LA LEGION
Monday, 25th January 2016, 2200hrs. I found myself stood to attention outside the guardroom of the rather aptly-named 'Quartier Forget' in Kourou, French Guiana. In the ranks stood men in berets of every shape and colour, including, of course, the famous white Képis of the Legionnaires. Even in the late evening the temperature was just under 30°C and the humidity was stifling. Read more ...
THE LIBERATION OF PARIS,
25TH - 26TH AUGUST 1944
Major Davie, having fought in North Africa, became the Military Liaison Officer escorting the BBC correspondents from D-Day, including Howard Marshall and Richard Dimbleby. The following is an extract from his first-hand account of the BBC's entry into Paris. It was 25th August, and at the little hotel at Rambouillet 30 minutes west of Paris that every war correspondent in Europe it seemed had assembled to cover the entry of the Allies into the French capital. Read more ...
MARENGO'S HOOVES
In its long history, the Horse Guards building has been the venue for many historical events including, most recently, one on the afternoon of Saturday 24th September 2016.
The backstory of this latest event starts on the night of 24th August, 1799, in Alexandria, Egypt, where General Napoleon Bonaparte was about to board the French frigate, Muiron, and leave forever the country that he had seized from the Ottoman Empire the previous year. Read more ...