Home



About Us



Subscribe



Advertise



Other Publications



Diary



Notices



Offers



Gallery



More Features



People, Places & Events



Obituaries



Book Reviews



Forthcoming Publications



Contact



Advertisers







Follow us on Twitter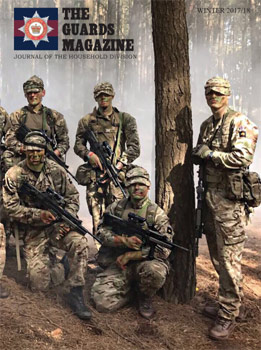 FEATURES (a few examples from the latest edition.
For the full edition - please subscribe)

AN INTERVIEW WITH ACADEMY SERGEANT MAJOR (WARRANT OFFICER CLASS ONE)
RAY HUGGINS MBE
Anyone who was an officer cadet at Sandhurst in the 1970s will remember Ray Huggins. Like me, they won't just remember his towering presence on the parade square and his charismatic style, but also what he actually said to them. I recall his words almost verbatim, when he addressed Standard Military Course No 10 the evening before we were commissioned on 6th March 1976. Read more ...

THE CAMBRIAN PATROL 2017


Cambrian Patrol is a physically demanding military skills competition designed to assess individual and team military skills as well as testing leadership and navigation over difficult terrain and through often changing and challenging weather conditions. It is the largest military competition worldwide and this year HCMR competed with 126 teams including 26 overseas teams, as well as the Brazilian Special Forces team we hosted again at Hyde Park Barracks. Read more ...
GUERRILLAS & GORILLAS - A TOUR IN THE DEMOCRATIC REPUBLIC OF CONGO
Statistics illustrate the scale of the United Nations (UN) challenge in Democratic Republic of Congo (DRC). The nation borders nine countries, it is 2,344,858 square kilometres, and has a population of 82,243,000 (250 ethnic groups and over 200 local languages). Most significantly, there are more than 150 Armed Groups. With a new UN troop ceiling of 16,215, there is the equivalent of one soldier to every 144 square kilometres Read more ...