Obituaries
Captain The Lord Monteagle of Brandon
Late Irish Guards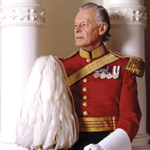 Born in England in July 1926, Gerald Spring Rice was brought up chiefly on Valencia Island off Kerry. Remote, with no bridge to the mainland; wild country, fabulous scenery; the weather and the sea; rowing the long black curraghs, riding the windy Atlantic swell. It was a dream childhood with mackerel fishing and fun. His first rabbit was shot near Killarney with a .410 from the back seat of a tandem, pedalled by a visiting English school friend. Gerald liked to do things in style.

The U-Boat threat in 1940 saw him moved from Harrow to St Columba's near Dublin. When things steadied he returned to Harrow, and like Field Marshal Alex before him, he played in the Eton and Harrow cricket match. It took place during the V-1 bombing in summer 1944, just after the destruction of the Guards Chapel, so it was played at Harrow; he always regretted not playing at Lords. And, in spite of his 14 runs, Harrow lost.

In August 1944, a third class railway warrant arrived in Valencia for Recruit Spring Rice to cross to Caterham to join the Brigade Squad. The stationmaster, without being asked, changed it to a first class warrant, added a sleeper on the Irish Mail from Holyhead, and altered the rank to Captain. His arrival at Caterham on 8th September 1944 coincided with the first V-2 flying bomb attack on London. Then he had Achilles tendon problems, and was in hospital for almost six months. This delay prevented him being commissioned in time to join a battalion before the end of the war. Eventually, after a later Brigade Squad and Mons, he was sent from Lingfield to the Irish Guards Independent Company in Northern Ireland, and then to the 2nd Battalion in Hamburg. His father died suddenly, and he succeeded to the title when only twenty years old. So he was posted back to Ireland for a year to sort out the estate. He went to the 1st Battalion in Palestine, and always one for the sunshine and the ridiculous, he thoroughly enjoyed his time in that troubled land. No shortage of improbable Mick war stories there!

After a spell at No 5 Company, very dapper in his battledress, he married Anne Brownlow (whom he had met on a snipe bog in Ireland, where else?) and later went to Hubbelrath. He was under age for marriage allowance, and shaved off his moustache as a present for her 21st birthday! Happy days. He was part of the Guard of Honour for the Coronation in 1953, and the Royal visit to Northern Ireland.

Leaving the Regiment in July 1955, Gerald went to Panmure Gordon in the City, protected by a posse of fellow Micks, under the precise supervision of Brigadier Denis FitzGerald. Commuting was not really Gerald's scene. The social element was more his form, and when they moved to Essex they became renowned hosts. The House of Lords did not feature: what could a Captain in the Regiment or a junior in the City contribute, even if he were to be available?

His last ten years in the City was spent with the Stock Exchange Benevolent Fund. By now Gerald had been invited to join the Gentlemen at Arms. He really loved this, just like he loved the Micks. The pull of Ireland was too strong, so they abandoned Essex for Fermoy, Co Cork. He attended the same Body Guard duties as anybody else, travelling incognito by Mr Slattery's bus from Fermoy to London. Having been spruced up for the great occasions of State, he relished the contrast of the journey, chattering happily in motorway service areas, munching indigestible suppers with his unknowing fellow passengers.

He was eventually persuaded to speak in the House of Lords, on water conservation. His many friends enjoyed ribbing him that it had only taken him 45 years to get round to his maiden speech. A member of the Committee of the old Guards Club, keen member of Pratts and a Friendly Brother of St Patrick, Gerald was truly a 'people person'.

Gerald was a witty, charming man; kind to everybody, social and friendly, a popular and enthusiastic Mick. He loved his time as a member of the Regimental Council. For Anne and the family we hope it will be some comfort to know how much he was loved in the Regiment, and how warmly he will be remembered by his myriad friends. Quis Separabit.