Obituaries
Major Peter Doyle
Late Irish Guards
by Brigadier R T P Hume
formerly Irish Guards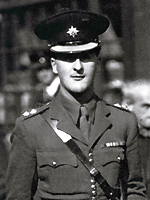 Peter Doyle was born in 1922 in London and he went to school first at Lambrook in Ascot and then to Eton where he excelled at both cricket and tennis. At the start of the War in 1940 his grandfather persuaded Peter to join the Army, in order to follow him into the Seaforth Highlanders. To this end he enlisted into the Black Watch young soldiers' Battalion, where he had the odd distinction of sharing a billet, and in the next bed to a 'not-proven murderer', as they were known in those days.

Peter's father died in action early in the War and his godfather prompted him to join the Irish Guards into which he was commissioned in 1942. He joined the 3rd Battalion and he served with them with gallantry and distinction from Normandy as a platoon commander through to Cuxhaven at the end of the War when he was Second in Command of his Company. During this time he was in action with the Guards Armoured Division in Ops Goodwood, Bluecoat, Grouse and Market Garden and at Joe's Bridge. Although his Battalion suffered heavy causalities during this time, he came through unscathed.
He then went to Palestine with 1st Guards Brigade and whilst there he sadly contracted Polio. The army doctors initially and incorrectly treated him for Sand Fever and transferred him to a hospital in Jerusalem where he received little help with his Polio. He recalled a somewhat callous nurse there saying 'none of you lot can die tonight as the slab is full'. Thankfully he then went back home to Cambridge Military Hospital at Aldershot where he recovered after a year but was left disabled for life.

With great courage he continued to play cricket and tennis, albeit with the help of a fellow officer as a runner. He served then in the 1st Battalion in England, and in Rhine Army. He was also Company Commander of 5 Company at Caterham. In 1953 he was an Usher inside the Abbey at the Queens's Coronation.

In 1955 he married Anne Stevenson-Hamilton, and his career continued at the MOD in Military Intelligence under Pat Robertson. His options were obviously limited by his disability (lameness) and he did a number of staff jobs in BAOR and UK.

Peter retired from the Regular Army in 1977 and then did various RO jobs for a further 10 years. Until his illness he had been a keen athlete and a talented games player and in later life he became a golfer playing with a number of his old comrades from the Regiment.

His final years were spent in a nursing home in Brockhampton until in his 93rd year when appropriately on St Patrick's Day 2015 he became ill and shortly after died. He was one of that rare breed of men who served a full 47 years in the Army; a popular and well respected Mick Officer throughout his long and exemplary life in both war and peace. Quis Separabit.