Obituaries
Captain A M Denny
Late Grenadier Guards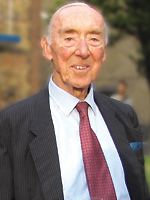 Anthony (Tony) Denny, who has died aged 93, was born in London on 2nd March 1922. He was the eldest son of John and Eileen Denny of Horwood House, Buckinghamshire. His father served with 2nd Battalion Grenadier Guards in the Great War. On 25th January 1915, he and three other Grenadier officers on temporary attachment to the Scots Guards were hit by a shell that exploded in their trench. The first three were killed and his father was severely wounded. After he recovered, he became ADC to the Viceroy of India and went into the family business E M Denny and Co Ltd (bacon curers). Tony was educated at Eton and, following in his father's footsteps, was commissioned into the Grenadier Guards in September 1941.

He joined 3rd Battalion which sailed from Scotland to Algiers in November 1942. In December, the Battalion crossed into Tunisia. During the main battle of the Tunisian campaign, the Battle of Djebel Mansour, on 4th February 1943, Tony commanded his platoon in the attack on Djebel Alliliga by 2 Company. Three German machine guns were disposed of and the east shoulder of Alliliga captured at a cost of fifty per cent casualties, including one of his fellow platoon commanders killed and the other wounded. On 20th March, he commanded a successful fighting patrol to the village of Grich el Oued and captured four German deserters, who provided invaluable information on the strength and disposition of the Garrison.

Complete victory came with the joining up of First Army with Eighth Army and the final battle leading to the fall of Tunis in May. The Battalion spent June and July bivouacked by the sea at Sousse awaiting orders to embark for Italy. As a relief from camp life, Tony led his platoon on an expedition to the Atlas Mountains to shoot Mouflon (a wild sheep with large inward curving horns). On returning from his initial trip into the mountains, he found the whole platoon had decamped to the nearest bordello, from which he had to extract them.

In Italy on 28th May 1944, during the attack on Monte Grande, Tony's platoon was hit by a salvo of shells on a narrow track and suffered twenty casualties. He rallied the survivors but they were too few to carry out their original task. On 29th June, he carried out another successful fighting patrol along the steep and thickly wooded banks of the Tiber and captured four Germans in a farmhouse. He was promoted to Captain in September 1944. He remained with the Battalion until returning to England in May 1945 and was Mentioned in Despatches in November. Tony was next posted to 2nd Battalion and joined the Control Commission of the British Military Government in Germany. He was released from the Army in July 1946 but for years afterwards suffered recurrent nightmares from his experiences during the war.

After the war he went to Art School in Bristol intending to become an architect. Instead he worked for the family business which had been started 135 years earlier by his Great Great Grandfather. In January 1955, he married Daphne Speir, daughter of Kenneth and Henrietta Speir, at the Brompton Oratory. The family lived in London before moving to Hattingley in Hampshire where Tony was able to indulge his passion for fly fishing on the Itchen. He loved to travel and was actively involved in charitable work for the Provision Trade Benevolent Institution, which helps those who have worked in the provision trade and find themselves financially distressed. He is survived and much missed by his wife, Daphne, their three children, Melissa, Richard and Jane and their six grandchildren.