Obituaries
Bruce George ARIBA
by Colonel H G R Boscawen
formerly Coldstream Guards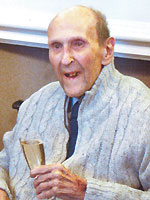 In 1956, Her Majesty the Queen attended the dedication of the Household Brigade's War Memorial Cloister, the first stage in rebuilding the Royal Military Chapel, the Guards' Chapel, in Birdcage Walk, destroyed by a V-1 bomb during a service on 18th June 1944 at the cost of 124 military and civilian lives. The Cloister's architect, H S Goodhart-Rendel, a former Grenadier Guards Officer who served in the Great War and was later President of the Royal Institute of British Architects (RIBA) was working on designs for a new Chapel when he died in 1959, and a competition followed to find a new architect.

Bruce George ARIBA, a partner of George, Trew and Dunn, then establishing a good reputation for building hospitals, was selected against very strong competition and commissioned to prepare a design, which was agreed in 1961. The brief was for a contemporary building on the existing ground plan: it had to include G F Street's surviving (1879) Lombardo-Byzantine apse with its gold mosaics, John Richard Clayton's Arts and Crafts stained glass and the new Memorial Cloister. Many felt that the various types of marble and prominent memorials that had dominated and darkened the old Chapel should be replaced by a building of light and space. The Standards and Colours of the Household Cavalry and Foot Guards, lit from above, would bring colour to the white walls. Bruce George drew on some Finnish ideas (including the 1941 Turku Resurrection Chapel) and housed Street's apse within pillars of Portland stone; gleaming white Pantelic marble panels helped light the interior.

The Archbishop of Canterbury dedicated the Chapel in November 1963, again in Her Majesty's presence: Bruce George's design convinced both the avant-garde architectural establishment and more traditionally-minded Household Brigade (soon to become the Household Division) officers, a remarkable achievement. Both acclaimed the new Chapel, a judgement unchanged since. Bruce George gave 45 years' service as the Guards' Chapel Advisory Committee's Honorary Surveyor, retiring only when he was aged 93.

William Norman Bruce George was born in Bombay, where his Father, of Scots origins, was Deputy Head of Port Customs, on 3rd December 1915. Bruce's father died in 1922, and seven years later the family returned to England, where Bruce attended Farnham Boys' Grammar School. In 1933, the 17-year-old Bruce started an Architecture degree at Liverpool University by special dispensation; a talented cricketer, he was invited to play professionally for Lancashire, but declined in favour of a career as an architect. He studied Scandinavian 'Functionalist' influences on architecture while at Liverpool, touring Sweden, Denmark and Finland, where Alvar Aalto's work impressed him greatly. He gained a First in 1937, and joined Pite, Son and Fairweather, an architects' practice in London specialising in hospitals.

When War broke out, Bruce George joined the Artists' Rifles (28th London Regiment) then an Officer Cadet Training Unit before attending the Royal Artillery (Anti-Aircraft Command) OCTU at Shrivenham, Wiltshire. Commissioned in November 1940, he initially served with the Territorial Army in Bristol. Posted to 315 Battery, 5th Searchlight Regiment RA, he sailed for the Middle East in late-1941 although, with the Japanese threat looming, the Chiefs of Staff diverted the convoy to Singapore. Some officers were evacuated before the Japanese attack but Second Lieutenant George stayed, choosing to look after his 120 Gunners. When 18th (Japanese) Division invaded Singapore Island, Bruce fought as an infantryman for four days with the 'British Battalion' in the South-Western sector.

When Singapore capitulated on 15th February 1942, Bruce was confined with about 50,000 others in Changi Jail, although he soon joined 1,000 prisoners sent to man the docks in Saigon, before being moved to the Japanese Burma-Thailand Railway in June 1943. He managed to keep many of his Gunners together but, as Bruce wrote later, "we were thrown straight into work on the railway, commencing before dawn and worked for 14-16 hours a day ... the Japanese engineers were absolute fiends and drove the men unmercifully, often beating them with bamboos and crowbars at the slightest provocation". Trench foot, dysentery, other illnesses and injuries soon took their toll.

After two months the 200 fittest men marched for a week in a monsoon to another camp; there the regime involved only a 12-hour working day. When work on the railway was complete (November 1943) the prisoners were set to build a road further South, and then moved again in mid-1944 to a prison camp near Bangkok, where their unmarked huts were occasionally bombed by Allied aircraft. Bruce George, a most conscientious subaltern, kept records of his Searchlight Gunners, noting their movements and fate where he could: his report survives in the National Archives.

Bruce, a fit sportsman at the outset, with a strong religious faith, ascribed his survival and that of others to inoculations that the first prisoners received before being sent to the jungle: later reinforcements suffered more heavily. News from concealed radios aided morale, although some stories were not revealed: the announcement that atom bombs had been dropped was not passed on for fear of Japanese reprisals. In August1945, the prisoners were released, moving to Ceylon before boarding the troopship Ormonde, which arrived in Britain that October.

Bruce George seldom mentioned his wartime experiences: he admitted that they had given him greater mental toughness, albeit with a higher degree of introversion. He attended Far East Prisoners reunions until the Association was wound up in 1995; by 1993, Bruce reckoned that only six of the Saigon Thousand were still alive. Remarkably, he kept in touch with former prisoners and their families for 60 years or so more.

While recovering in Britain, Bruce George joined Donald Gibson, his pre-War Liverpool mentor, in Coventry, where he was leading the restoration following the Luftwaffe's destruction of the City and its Cathedral in November 1940. By 1947, Bruce had re-joined Pite, Son and Fairweather as a Partner: in 1952 he published The Architect in Practice with Arthur Willis, a handbook still in print today. The firm became as George, Trew and Dunn in 1958, and designed hospitals in Huddersfield, Wolverhampton, Halifax, and at King's College Hospital and Medical School, Denmark Hill, London. Bruce, architect to Aberdeen University, built Aberdeen Royal Infirmary: his frequent visits necessitated either hazardous flights to Scotland by DC3 Dakota or discomfort in sleeper trains.

As well as designing the Guards' Chapel, George, Trew and Dunn also submitted plans for rebuilding Wellington Barracks behind its 1830 façade. Troops left the old Barracks in the early 1970s but MOD's cost-moratorium prevented reconstruction. The IRA bomb in June 1974, which set fire to the historic Westminster Hall, sharply reminded Ministers of the value of a local security base between Parliament and Palace, and within days they approved the rebuilding of Wellington Barracks. In 1985, 2nd Battalion Coldstream Guards marched into the 'new' Barracks, where Bruce had also designed its Officers' Mess. Two years later, Bruce George retired, aged 72, but attended the 'Wellington Lunches' he initiated for his Project Team for many years; he died on 27th January 2016, aged 100 years.

Urbane, courteous and unflappable, Bruce George was quickly able to establish a happy rapport with any professional team. He never married, but kept in touch with numerous cousins, Godchildren and offspring of fellow architects: he leaves a niece, Mrs Skans Victoria Airey, a cultural historian who has worked in museums and museum education. Bruce generously supported charities helping young people in Nepal and Sudan. His lifelong interests included golf and cricket (he designed his club's pavilion at Hayes, Kent) and the opera. Late in life, he took up portrait painting and sculpture, staying each summer in Tuscany where he completed, with great skill, busts of the composers he most admired.

Awarded a Civic Trust Award for his Livingston Road, Battersea, Development in 1968 (the Trust had commended him highly for the Guards' Chapel) Bruce George's legacy stands in numerous hospitals of the National Health Service's expansion era, and in his finest creation, the Guards' Chapel overlooking Birdcage Walk and St James's Park. Many former Far East Prisoners of War incarcerated in Singapore, or forced to work in Saigon, Thailand or Burma, and their families, were also immensely grateful to this most compassionate and capable man: he was a wise and true friend to the Guards' Chapel Committee and Household Division for many years.