Obituaries
Major (Retd) S D Young TD
Late The London Regiment
by Lieutenant Colonel M Overton TD VR
Regimental Lieutenant Colonel,
The London Regiment 1958-2016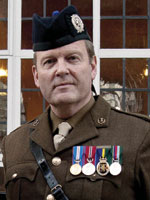 Stuart Young, who died suddenly and unexpectedly on 2nd April, epitomised the traditional 'gentleman' Highland Officer, totally committed to the Jocks; to the London Scottish and all it represented; and, of course, to Scotland. Highly respected by both Regular and Reserve staff, he was an outstanding Territorial Army officer who cared deeply about his second profession and strove to do the right thing in the right way all the time. He always went the extra mile to make a meaningful contribution and absolutely embodied the ethos of 'Serve to Lead'.

Often referred to as the 'Regimental Edwardian Officer' or 'Hamish McStuartie, the Laird of Cheam', Stuart had an impressive knowledge of Regimental lore and seemed to live in kilted working dress. From enlistment he looked, sounded and acted as an officer; indeed, due to their moustaches and similar height, his predecessor as Officer Commanding A Company, Mark Randall, and Stuart were often confused for each other. Mark recalls being congratulated by some 'Hie heid yin' for his command of the Edinburgh Castle Guard in 1991, which was of course one of Stuart's triumphs; earlier, as Company Sergeant Major, Mark had been similarly aware of this mistaken identity when Stuart, still a private soldier, was addressed as 'Sir' by newer members of the Company.

Stuart is remembered for his occasional indulgences in unconventional dress and endearingly eccentric behaviour. On one occasion he turned up in the middle of a Battalion attack in blue jumper, kilt and ash-plant, claiming it was traditional Highland fighting dress; nothing to do with him forgetting his combat trousers! He also turned up at my wedding having forgotten his spats which resulted in Pipe Major Ian King composing the tune 'The Captain's Spats' in his honour. Rarely separated from it, a danger zone existed around him within which he used to 'encourage' young officers with his ash-plant if they were being idle, vaguely insubordinate or sometimes just because they were within range; but he was also known to carry a small watercolour set in his webbing with which to capture proceedings.

Stuart fully understood and appreciated the range of responsibilities as an officer, especially the social side, and was highly effective, both as PMC of the London Scottish Mess and as Regimental Secretary. He was pivotal to many appearances at the Caledonian Ball set reels, not least successive Regimental Sixteensomes, and it was at his instigation that we hosted officers of the Scots Guards to supper beforehand; an early example of integration and cooperation. His organisation of the annual Officers' Dinner Club and the Hallowe'en Dinner were always excellent, enhancing the profile and influence of the Regiment.

An optometrist by profession, Stuart worked with his father, an optician and former Royal Scot, at their practice in Wilton Street, Victoria, and joined the London Scottish in the ranks in 1982, when G Company was still at Buckingham Gate. The Company then moved to the Territorial Army Centre at Wenlock Street in the City for a couple of years whilst the Regimental Headquarters at Horseferry Road was being built. At this time Stuart was promoted Lance Corporal, shortly after which he was selected for officer training, commissioning alongside his best man Andrew Norman in March 1988. He commanded 5 Platoon at Wenlock Street and then 6 Platoon at Bromley; Stuart had very fond memories of his time commanding the Bromley Jocks and played a key role in successfully re-locating them to Catford.

Stuart and Andrew were immortalised as Colour Ensigns in the painting that commemorates the opening of Horseferry Road. During rehearsals, the Regimental Sergeant Major ordered, in broad Scots, 'Lower the colour until its six tae eight inches from the ground'. Rather bemused as to how they would achieve sixty-eight inches from the floor of the drill hall, the then Senior Permanent Staff Instructor, Vic Lees, standing behind them, quickly translated: 'That's seven inches to you, Sir!'

Having taken part in the final parade for 1/51 Highland, on the formation of The London Regiment in 1992 Stuart took over as Regimental Recruiting Officer, running centralised recruit training for the new Battalion. He then became Mark Randall's 2IC for the whole of Mark's three years in command, culminating in The London Regiment's Colours parade in 1997, after which Stuart assumed command of A Company.

His command coincided with the Strategic Defence Review of 1998, from which The London Regiment emerged with six Rifle Companies. Survival of the London Scottish and the London Irish capbadges had been in doubt and Stuart made strong representations to Richard Holliday, the Deputy Honorary Colonel for A Company, styled Regimental Colonel, that the London Scottish lacked 'clout'. Consequently, with the support of CGS, General Sir Michael Walker, Lord Robertson of Port Ellen was appointed as the first Honorary Regimental Colonel.

It was unfortunately at this time that Stuart's wife, Kristin, became very unwell. Showing characteristic courage he supported her and their sons Callum and Angus up to her sad death from cancer in January 1999. The following year, he handed over command to Rupert Clements, going on to serve as a very successful and popular Battalion Second in Command, under Lieutenant Colonels James Cunliffe and Jeremy Mooney. In early 2003, for his final weekend in post, Stuart was given command of the Battalion, which he took to Copehill Down for an intensive urban operations exercise, named 'Exercise YOUNG PRETENDER' in his honour.

Stuart took over as Regimental Secretary of the London Scottish in 2005, for which his knowledge, passion and organisational ability made him ideally suited. He gave outstanding support to three successive Regimental Colonels, Stephen Henwood, David Rankin-Hunt and Alastair Bruce. Stuart's time as Regimental Secretary coincided with the height of operational commitments to Iraq and Afghanistan; the transfer of The London Regiment into the Guards Division; and the transition into the Army Reserve under Army 2020. Stuart often found himself managing tensions between the immediacy of operational deployment and transition to the new paradigm of Reserve Forces; and those who found it difficult to accept that the world had moved on. It is to his great credit that he did what he believed to be right for the London Scottish despite the personal stress that this sometimes caused.
Stuart was also a significant supporter of a number of other military, youth and charitable organisations. He was a strong advocate of The London Regiment, and was heavily involved in fostering closer links with the Scots Guards. He was a close friend and respected advisor to our sister regiment, The Toronto Scottish Regiment (Queen Elizabeth The Queen Mother's Own), a relationship that was very dear to him. He led and organised a number of trips to the site of the London Scottish's first Great War action at Messines, becoming a well-known figure in Ypres, especially with the Last Post Association. He organised the Pipe Band's participation in Jamaica's 50th Anniversary of Independence Military Tattoo, for which he was presented with the Caribbean variant of the Queen's Diamond Jubilee Medal. Stuart also spent a period as Executive Officer for South West London Cadets which allowed him to continue to serve, finally retiring only relatively recently.

Outside his military career, Stuart was a popular and good-humoured member of the Yardley Chase Services Shoot. He was also a volunteer member of the Ceremonial Staff of the Order of St John and an active member of the Royal Caledonian Society of London.

Another great love of his was Clan Young. Stuart helped unify the many branches around the world, reinvigorating the Youngs as a modern clan and part of the Standing Council of Scottish Chiefs. It was his infectious enthusiasm that brought others to support his vision, persuading doubters with a dram or two. Indeed, he was only months away from organising the convention that would have seen him installed as head of the family and Clan Chief.

Above all, Stuart was first and foremost a devoted family man. A loyal and loving husband to Kristin and then to Rosie, he was a great father to Callum, Angus and Katherine. He embraced his wider family with equal devotion and shot regularly with Rosie's father James, as well as denuding James's cellar of whisky. Although Stuart has departed, the family he loved so much will not be leaving us. Rosie, Callum, Angus and Katherine remain as firmly in our Regimental hearts as our dear departed comrade-in-arms.

In short, Stuart was a lovely person and probably the most loyal and committed member of the London Scottish Regiment I have known during my service. Hard working, honourable, generous, kind, paternal and dedicated to his family, he was a wonderful friend and a role model for us all. He will be deeply missed.