Obituaries
Eric Lubbock, 4th Baron Avebury
Late Welsh Guards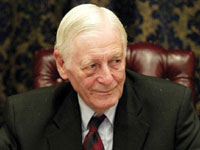 Eric Lubbock was born in 1928 and educated at Upper Canada College in Toronto and at Harrow School. He read Engineering Science at Balliol College, Oxford and, following university, served as an officer in the Welsh Guards. He joined Rolls-Royce in 1951, where he was a production manager and later production engineer.

In 1962, Lubbock stood for the Liberals at the Orpington by-election. He had been a member of the party for two years, a local councillor only for a few months, and Orpington was a safe Tory seat. A combination of Lubbock's charm and appeal, the unpopularity of the Conservative government, and some tactical voting, led to a spectacular victory in which he managed to double the Liberal vote and overturn a majority of 34%.

Lubbock was unknown before his election to Parliament, but now, at the age of 33, had become 'Orpington Man'. His victory did much for Liberal membership and the standing of the party, encouraging the forlorn hope that the great Liberal revival was in sight. He was Chief Whip for a few years, and when Jo Grimond resigned as leader in 1967, Lubbock decided to stand, but lost to Jeremy Thorpe. He lost his seat in 1970 but was back in Parliament a year later when he became the 4th Baron Avebury on the death of his cousin.

Lord Avebury was interested in many unfashionable causes that have now become mainstream, such as immigration, race relations, and human rights, and he was one of the early proponents for lowering the voting age to 18. He founded the Parliamentary Human Rights Group and in 1999 was one of the hereditary peers elected to stay on in the House of Lords.

He became a Buddhist and a humanist, was a man of great charm, style and wit, and always a determined and passionate campaigner. In 1987, in a protest against the cost of cremation, he offered to leave his body to Battersea Dogs' Home 'to vary the inmates' diet'. His bequest was rejected. 'The dogs aren't fussy' said the manager of the dogs home 'but we just could not do it'.

In 1957, together with his mother, Eric Lubbock set up the Maurice Lubbock Memorial Fund to commemorate his father. He chaired the Trust for 56 years, supporting Engineering and Management at Balliol College, Oxford.

Lord Avebury married first, in 1953, Kina Maria, daughter of Count Joseph O'Kelly de Gallagh, and had two sons and a daughter. In 1985 he married, secondly, Lindsay Stewart, the daughter of the novelist Pamela Hansford Johnson. She survives him along with the children of his first marriage. Lord Avebury died on 14th February 2016, aged 87. The title has now passed to his eldest son, Lyulph.