Obituaries
Sir John Leslie Bt
Late Irish Guards
by Captain R J Frewen
formerly Irish Guards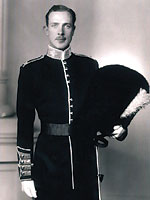 Jack Leslie ('Uncle Jack'), born on 6th December 1916, came so very close to reaching his century but died peacefully in his sleep in the family home, Castle Leslie at Glaslough in Co Monahan, on 18th April 2016.

Jack was born in New York. For two generations, the Leslie men had married 'across the pond' and his mother, Marjorie, was the daughter of an American diplomat, Henry Clay Ide. His grandmother was one the three Jerome sisters, all of whom found husbands over here. The eldest, Clara married the financially incompetent Sussex squire and sometime MP for West Cork, Moreton Frewen. The middle sister, Jennie is the best known having married Randolph Churchill and producing Winston. The youngest, Leonie, married Sir John Leslie of Glaslough. Descended from Bishop John Leslie (the fighting bishop), the vast Leslie estates almost entirely disappeared with Irish independence and the major part of the compensation was lost in an ill-advised investment in Russian railway bonds.

Jack, with his elder sister, Anita came over from New York at the age of three and had an idyllic childhood at Castle Leslie, still in those days full of staff, together with plenty of time in a substantial London house.

He was educated at Downside, an experience which his sister Anita always insisted did him no favours at all, and certainly it was in the era of ferocious discipline with absolutely no concept of pastoral care. After Downside, Jack passed into Cambridge and went up to Magdalene. While there a friend, Eric Penn, who was destined for the Grenadier Guards, suggested to Jack that he should apply to the Micks and apply he did, joining the Cambridge OTC to further his efforts.

After a stint at the depot at Caterham, which came as something of a rude awakening to the cultured and gentle history scholar from Cambridge, Jack was commissioned on 5th September 1938 with instructions to report to the Officer Commanding Irish Guards, Birdcage Walk on or before 4th October. He did his first Tower guard in December 1938, well looked after by a number of the officers who knew him or the family, including Joe Vandeleur, Michael Gordon Watson, and John Madden. After a stint at Pirbright, the Micks moved to Wellington Barracks and a full round of public duties began. But by now the war was looming and an increasing amount of serious training took the place of public duties by day and grand balls by night. In the spring Nazi Germany had occupied Denmark and was moving up Norway from the south. The 1st Battalion was sent up to Narvik by ship: a number of officers were assembled on deck when a single bomb killed five of them including Colonel Faulkner. Meanwhile the 2nd Battalion was sent by ship to the Hague to rescue Queen Wilhelmina of the Netherlands, a feat they managed at a cost of ten Guardsmen killed and many more wounded.

Under Colonel Charles Haydon, the 2nd Battalion was embarked for Boulogne and from there to Outreau, just outside the city. A very stretched defensive line of Micks then dug in as best they could. With little intelligence and poor communications, they were simply overrun by the German tanks which were impervious to any anti-tank weapons then available to the Micks. Colonel Haydon subsequently wrote to Jack's father that the line held for a crucial two hours before Jack's platoon was overrun, and that no trace could be found of him. A good many escaped but Jack was missing and unaccounted for, and it was not for another six weeks that the news of his capture was heard. He and others ended up in OFLAG VII C near Salzburg from 1940 to 1945. Jack was never physically robust and his health deteriorated badly while in captivity: the pictures of him when the Americans under Patton freed the camp on 10th May 1945 show him almost skeletally thin.

Jack returned to Glaslough to recuperate and was discharged in 1946, whereupon he went abroad on extended travels starting in his country of birth, the United States. By 1953 he had gravitated to Rome and there he remained for forty years. In the cold weather he lived in the city in a beautifully decorated small house in Trastevere and in the hotter months he would retreat to the spectacular Badia di San Sebastiano di Alatri, reputed to be the oldest monastery in Europe. Certainly the modern bits of it at are 13th century while the older parts date from 300 AD. Jack saved it from ruin, re-roofing it but otherwise leaving it unspoiled. At the ripe old age of 78, Jack returned to Glaslough but still spent some months each summer at the Badia, where he delighted to entertain and was always happy to welcome friends and family of all ages. He discovered disco dancing in his eighties and became a regular in the fashionable nightspots in Monahan.

In November last year, Jack was enormously proud to receive the Legion d'Honneur from the French ambassador in Dublin, formally accepting on behalf of 'all soldiers from the island of Ireland who fought and died in the two great wars'. Surely the Micks were at the forefront of his mind.

With his height and slim figure, Jack always looked the part: he had natural good taste and was always elegantly dressed. His manners were impeccable and his fluent Italian was always pronounced in ringing aristocratic and patrician tones.

Jack was the most charmingly naïve person I have ever known. He had a simple manner and thought ill of nobody, making him sometimes too trusting for his own good. On a number of occasions, neighbours in Italy would try to take advantage of this trusting nature and his niece Sammy or her brother Mark would have to ride to the rescue and make sure Jack did not sign some inappropriate document. When my wife first met Jack at Sunday lunch with another of his nephews, Tarka Leslie King, she was utterly astonished when he turned to her and said 'the funny thing about England is that you don't see peasants in the fields anymore'. From almost anybody else this would have been unfunny, pretentious or offensive, but Jack was merely thinking in terms of the Ireland of his youth and more recently in southern Italy. On another occasion the world's press was camped on the doorstep of Castle Leslie having heard it was to be the venue for the wedding of Paul McCartney to Heather Mills. Jack came to the door and announced to the cameras 'it's on Tuesday but it's a secret'.

Jack never married: the heir to the baronetcy is his nephew Sean. Castle Leslie is run by his niece, Sammy, who has turned it into a very successful hotel and venue.