Obituaries
Warrant Officer Class 1 W F Fullerton MBE
Late Scots Guards
by Lieutenant Colonel A I C Gordon MVO
formerly Scots Guards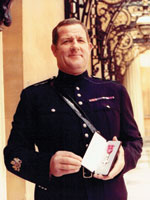 William Francis Fullerton was born at St Andrews on 24th October 1938. Brought up on a farm, he completed a five-year apprenticeship as an agricultural engineer and, representing the Cupar Club, won the 1958-59 Scottish ABA Midland District light-heavyweight title. He joined the Regiment at Dundee on 25th July 1960.

When I first met him in 1966 he was a squad instructor in K Company at the Guards Depot. In 1970, as 2nd Battalion police sergeant at Münster, he was prominent in the management and coaching of the Battalion novice boxing team which reached the final of the BAOR inter-unit championship. Later that year, having moved to Windsor, the Battalion trooped its Colour. Willie's personal drill and turnout made him an obvious choice as Sergeant with the Colour. In 1973 and 1974 he was a Colour Sergeant instructor at the Royal Military Academy Sandhurst.

From 1975 until 1977 Willie was Company Sergeant Major of Right Flank in the First Battalion. I was initially his company commander. He was immaculate, a keen, professional and talented field soldier and a warm-hearted disciplinarian of complete integrity. I once noticed during an inspection that a guardsman had sustained a neck injury, probably during an amorous interlude. When I asked Willie what had happened to Guardsman X, his diplomatic answer was that X's collar must be too tight! I still wonder whether he was joking or trying to shield a strait-laced officer from the realities of life. In 1977 Willie was Right Guide of the Escort on The Queen's Birthday Parade. He was one of the few members of the Battalion awarded the Silver Jubilee Medal. Later that year he qualified for the Long Service and Good Conduct Medal. His next appointment was as a Drill Sergeant at the Guards Depot (1978-80). He completed two tours in Northern Ireland.

By 1980 he was Garrison Sergeant Major in Hong Kong, an appointment he held with distinction until his retirement in June 1982. His senior employing officer, a Colonel of The Queen's Regiment, wrote that Willie lived up to the finest traditions of the Brigade of Guards, and referred to the tremendous impact he had made, earning the respect and admiration of all ranks and exercising an influence throughout the Territory. Willie's work in his spare time with youth organizations, the police and prison services, enhanced the reputation of the British Forces among the Chinese and expatriate civil communities. He was appointed a Member of the Order of the British Empire.

In July 1982 he joined the Royal Hong Kong Police. He served at the Training School in Ocean Park Road for thirteen years. He was highly regarded by his superiors who have assisted me in writing this obituary. One former colleague, having learnt of Willie's death, wrote 'he was a legend, unique - thousands of current and former officers will be saluting him today'. Willie is remembered as a popular leader with a great sense of humour who related well with Chinese and European recruits. He became a Superintendent and, as Chief Drill and Musketry instructor, was responsible for the very impressive Passing Out Parades (with three hundred recruits and probationers on parade) and the Beatings of Retreat, of which there were three public performances annually. The Governor usually attended one of the latter and the programme normally included silent drill displays by male and female constables, all trained and organized by Willie. These did much for the reputation and standing of the Force. Once, early in his police service, Willie (in plain clothes) was attached as an 'informally authorised' observer to a mobile unit operating in the Wanchai area. It was called to a serious fight between two triad gangs disputing the territorial control of a topless bar. The police sergeant and three constables entered the bar at the double with batons drawn. Willie followed. Making effective use of a bar stool, he helped restore order. It is not known whether, on that occasion, he made use of what is said to have been his single Cantonese expression, 'Mo Mantai' which means 'no problems', but I am told that his superiors reflected that Willie might have had previous experience of such incidents. Although three malefactors escaped, four were charged.

Willie retired from the police in 1995 and returned with Pat to St Andrews where they took care of Willie's father. They remained there until moving to Haltham in Lincolnshire where they had bought a house with land and a lake. During a predictably active retirement he kept ducks, geese, chickens and peacocks. Latterly he was not fully fit but, with Pat caring for him, he endured illness with great stoicism and characteristic cheerfulness. He died at home on Sunday 27th September 2015, surrounded by his family, whose loss was very great. He was cremated at Boston crematorium on 12th October in a ceremony attended by many representatives from the Regiment. His ashes were scattered in Scotland on what would have been his 77th birthday.

Those of us who had the good fortune to have served with Willie will not forget his contributions to the Regiment and to the Royal Hong Kong Police.