Obituaries
William David Mungo James Murray,
7th & 8th Earl of Mansfield and Mansfield JP DL
Late Scots Guards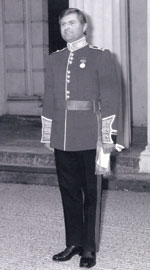 William Murray was born on 7th July 1930. Created Lord Stormont on the death of his Grandfather in 1935, he was educated at Eton College in Reggie Colquhoun's house. While at school he paid a landlady in the neighbouring village of Datchet to garage a motorbike for surreptitious visits to London at weekends.

Mansfield did National Service in 2nd Battalion during the Malayan campaign in 1949-50. He took over the platoon led by his friend John Forbes-Leith, who was killed in action shortly after his arrival. He had a close relationship with his Guardsmen and although officers were discouraged from over-familiarity in barracks, during the campaign 'Scotch Willie' was often to be found playing cards with his men.

Douglas Macintosh, who served with him, recalls that he was a very efficient and competitive navigator who always arrived first with his platoon at a jungle rendezvous. Mansfield used to tell a tale of luck and reaction time: the first Chinese his platoon came across were clearly equally new to the jungle and as surprised and horrified at the encounter as they were. Both groups 'froze'. It was Mansfield and his Guardsmen who recovered their composure first and the Chinese were captured.

After National Service, Mansfield read law at Christ Church, Oxford and was called to the Bar in 1958. He became retained counsel to the Bank of England and prosecuting counsel to the Inland Revenue as well as building a highly successful common law practice. Mansfield's defence of and later friendship with armed robber John McVicar developed his interest in prison reform and he later became first president of the Scottish Association for the Care and Resettlement of Offenders.

When his father died in 1971, William inherited the Earldom, left the Bar and returned home to the family seat, Scone Palace, the traditional coronation site for the Kings of Scotland from the 9th Century. Death duties necessitated the urgent modernisation of the farm, the streamlining of the estate, and the sympathetic transformation of Scone into a financially contributing visitor attraction. With his wife Pamela, they succeeded in increasing annual visitor numbers from 17,000 in 1971 to 111,000 in 1979.

Having joined the House of Lords and been appointed Parliamentary Spokesman for the London County Council, a new career in politics began. Mansfield was asked to join the first British delegation to the European parliament under Edward Heath in 1973 and was appointed by Mrs Thatcher as Minister of State for Scotland in 1979 and for Northern Ireland in 1983. Although initially he lacked political experience, Mrs Thatcher and George Younger, the Secretary of State for Scotland, recognised his competence, his hard work, and knowledge of agriculture, fisheries and tourism.

In 1984 Mansfield resigned from active politics and government due to ill health, which was to dog him increasingly for the rest of his life. In the meantime he became a director of the Perth based General Accident insurance company (now Aviva) and in 1985 was appointed by HM The Queen as the First Crown Estate Commissioner. In this role, Mansfield took on responsibility for the management of crown property across Britain, including half the UK's coastline. The appointment was twice extended until he retired in 1995.

Mansfield enjoyed a deep pleasure and interest in the Scottish countryside. He took pride in knowing the name of every burn and hillock on his estate, spent many hours rabbiting with keepers and watching them work their dogs. He was a renowned shot, a fisherman with natural flair and when the annual Scottish Game Fair became based at Scone, he spent every minute of the three days down in the Park delightedly engrossed in all the aspects of rural life that it celebrated.

It was his father, the 6th Earl, who instigated a strong sense of responsibility to public service and Mansfield realised that his best contributions would be those he also enjoyed. Thus he was President of the Royal Scottish Country Dance Society 1977-2007 and listened virtually without fail to the Take the Floor radio show with Robbie Shepherd. He was also Patron and President of the Scottish Orchid Society 1988-2014 whilst building an extensive propagating collection of orchids which he catalogued and photographed like a proud parent. From 1988 Mansfield was also the Hon President of the Scottish Beekeepers Association, keeping bees at Scone until the visitor numbers necessitated their removal to a safer distance onto the hill estate at Logiealmond. He considered his gooey comb honey eaten with home grown redcurrants to be the ultimate treat.

William Mansfield had two younger sisters, Malvina Moray who survives him and the late Mariota Napier. He married Pamela Foster from Crawford Priory, Fife in 1955 and they enjoyed a happy marriage of 59 years. He leaves three children, Alexander (known as Mungo), Georgina and James, and five grandchildren. William Mansfield died at Logie House on the 21st October 2015, aged 85 after years of increasing and compounded illness which he bore cheerfully and without complaint.