Obituaries
The Earl of Strathmore and Kinghorne
Late Scots Guards
by Major Sir Malcolm MacGregor of MacGregor Bt
formerly Scots Guards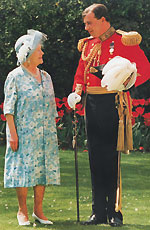 Of all the ancient titles in Scotland, the Thaneage of Glamis is perhaps the best-known, with Macbeth being its most notorious holder. It is from this colourful past that Mikie, 18th Earl of Strathmore, held the courtesy title of Lord Glamis as a captain in the Scots Guards.

Mikie was born at Windsor in 1957, and brought up in East Lothian. He was the eldest son of the Lyon family, and its chief from 1987 until his death on 27th February 2016. The late Sir Iain Moncreiffe, himself a Scots Guards officer and one of Scotland's greatest genealogists, believed the family to be of Celtic origin. But it is possible that the name is French, taken from 'de Leon'. Sir John Lyon was known as the White Lion, due to his fair complexion. In 1372 King Robert II of Scotland granted him the Thaneage of Glamis, after which Sir John married the King's daughter, Princess Joanna. Latterly the Lyons married into the Bowes family from County Durham, which accounts for the bows and lions depicted on their arms.

Descended as he was from feuding thanes, privy councillors, courtiers, royal guard commanders, military officers, and Jacobites, it was perhaps no accident that Mikie should follow his father, Fergus, into the Scots Guards. After Eton, he went to Aberdeen University, taking a degree in Land Economy. Joining the 1st Battalion Scots Guards at Aldergrove, Northern Ireland where, in 1980, he took command of 3 Platoon in Right Flank.

His platoon sergeant was Tony McNally whose father had also served in the Regiment. By 1981, the Battalion had been allocated its own TAOR of North Belfast, which brought a greater sense of mission and cohesion. Bobby Sands, the IRA hunger striker, had recently died in the Maze prison, and most of Belfast was on tenterhooks. The slightest incident was liable to escalate quickly into violence, particularly in the Ardoyne and New Lodge, which were at the heart of the Battalion area. It was in these tricky circumstances that Mikie commanded No 3 Platoon.

The Internal Security situation in Northern Ireland was very different to that of Hong Kong, where the 1st Battalion deployed in December 1981. The idyllic barracks of Stanley Fort at the most southerly tip of Hong Kong island brought back memories of Terendak Camp in Malaya for some of the old sweats; a few had served with F Company in Hong Kong in 1972. The Battalion's role was ostensibly internal security in support of the Royal Hong Kong Police, but the reality was one of operational deployments along the border, arresting illegal immigrants trying to enter the colony from communist China.

Whilst Aldergrove had been something of a pressure cooker with a restrictive lifestyle, Stanley Fort was liberating. It was a marvellous sight to see football, rugby and tennis being played, with groups of soldiers running along the tracks through the crags that led down to the sea. Mikie fitted very well into this looser style of soldiering. I remember arriving at the Officers' Mess with Neil Hobday and Michael Fitzroy of the Coldstream, fresh from Brunei. He greeted us with three glasses of ice cold tiger beer and the words 'Welcome to Stanley Fort, chaps' - as if it was his personal fiefdom.

On the military front, flak jackets and belt order were assigned to the rear of Q stores, replaced by tropical combat kit. The conventional skills of infantry warfare were re-learnt, and there was an emphasis on jungle training. All of this was tested on a variety of overseas exercises, from Fiji to New Zealand. On the inter-platoon competition known as Jabberwocky, No 3 Platoon excelled. They came second, which gave a great boost to Mikie's morale. He then became involved in the planning and execution of an escape and evasion exercise on Lantau island. I did the recce for that exercise with him, and was stunned, but not surprised, at the weight of his 1940s Norwegian rucksack. It contained copious tins of mulligatawny soup and other exotic rations not normally found in the standard issue army pack.

The first major battalion level deployment to the border occurred within six months of our arrival, with Right Flank being assigned the most rural part of the colony - Sai Kung Peninsula. This was an area reminiscent of times past, being very Chinese, where fishing and farming made for an easy-going pace of life, in complete contrast to the frenetic pace of Kowloon and Hong Kong island. By this time Mikie has been promoted to captain and was the Company Second-in-Command.

After this deployment, he moved to Battalion Headquarters as Operations Officer working directly for Kim Ross, who had taken over from Ian McLaughlan as Commanding Officer. A second deployment saw Mikie based at Fanling alongside the Police HQ, with responsibility for the entire border area and the razor wire fenceline that divided the Colony from the People's Republic. One of the dominating features was the Scots Guards Star on the aptly named Crest Hill, painted into the rocks and scrub by 2nd Battalion in 1927. Mikie was keen that this memorial be maintained to a high degree of visibility, and so it was.

It was Colonel Kim's wish that we form a close and active relationship with the police, and no-one was more suited to implementing this than Mikie. He made friends with everyone, from the commander downwards, and even went so far as to invite the Commissioner, Sir Roy Henry, to dinner. Curiously, Sir Roy had worked with 1st Battalion in Borneo some 20 years previously, and quite possibly with them, or 2nd Battalion, during the Malayan Emergency.

Our time in Hong Kong came to an end in early 1984 with the battalion returning to Elizabeth Barracks at Pirbright, to take on public duties. Mikie did not come with us but was appointed ADC to Lieutenant General Sir Robert Richardson, GOC Northern Ireland, assisting with the General's participation on the Kermit Roosevelt lecture circuit. It was a perfect finale for him, dealing with numerous senior military officers, academics and politicians.

On leaving the Scots Guards, Mikie joined stockbrokers Strauss Turnbull. He also held a position in the House of Lords as deputy chief whip in John Major's Government. He did not stay long in politics, being more at home with his young family at Glamis Castle, where he had moved on the death of his father in 1987. He married Isobel Weatherall in 1984, and they had three children.

Mikie was absolutely in his element here, in the heart of Angus amongst the history and rural life of Strathmore at the foot of the Angus Glens. The long drive leading to the front of the castle is one of the most evocative images in Scotland, as looming turrets and towers dwarf the approaching visitor. A sight that is familiar to many, as The Association held a memorable gathering at Glamis Castle in 2007. Mikie married for the second time in 2005 to Damaris Stuart-William and they had a son, Toby.

Yet perhaps his most gutsy business decision, was to purchase David Irons and Sons, an ironmongers, in nearby Forfar. It was entirely in keeping with his character, as he was eager to support rural enterprises. Mikie was photographed outside the shop for the national press holding four candles and a fork handle. It was an entertaining play on the 'Two Ronnies' comedy sketch, and epitomised his sense of humour. It was in this shop that he met his third wife, Karen Baxter. They married in 2012, and he found contentment with her and her two daughters, settling in Glamis village, having confronted a number of health issues.

Mikie was chief of a great Scottish family, one that had been involved in the dramas of history for more than 600 years. He was Guards officer, businessman, landowner, gardener, mechanic, politician, courtier, Deputy Lieutenant, President of the Boys Brigade, Captain of the Yeoman of the Guard, and great-nephew of the Queen Mother. Wherever Mikie was there was a party. He lived life in the fast lane, and it was his humour and zest for life that always came through, with his time in the Regiment being the happiest in his life. Deeply enthusiastic, he was generous to a fault, and a friend to many.

Mikie was just 58 when he died of cancer. He is survived by his mother, Mary, his wife, Karen, his sons Sam, John, George, and Toby, and his stepdaughters, Chloe and Kirsten, to whom we extend our deepest sympathy.