Obituaries
Captain Lord Suffield
Late Coldstream Guards
by John Harbord-Hamond
formerly Coldstream Guards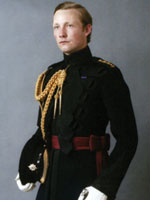 Charles Harbord-Hamond was born on 3rd December, 1953 in Krefeld Military Hospital where his father was stationed. His early years were spent between such postings in Germany and England, living at Chobham and Camberley and enjoying access to the grounds of Sandhurst and the surrounding training areas that would be unthinkable today. He was educated at Scaitcliffe School before going on to Eton where he became an extremely able rower, gaining his Upper Boats choices, while also developing a lifelong interest in history and music of all types, particularly classical and blues.

After passing out from Mons as a Junior Under Officer, he was commissioned into the Coldstream Guards in August 1972, following in his father's footsteps and many of his Gibbs relations on his mother's side. He joined the 1st Battalion, stationed in Londonderry, in the immediate aftermath of Operation MOTORMAN which had regained the 'no go' areas of the Creggan and Bogside estates. In the words of the official history, patrolling the streets was 'dangerous and unpleasant' or, as his commanding officer put it, these were 'quite testing operational conditions' in which Charles showed himself to be a 'high grade, capable and cool young officer'. Rather different conditions awaited the Battalion's next posting in Berlin in 1975, which was, of course, then still a divided city. Apart from guarding Rudolf Hess in the nearby Spandau Prison, the restrictions on movement offered little opportunity for more conventional military activities, so more time was devoted to training, as well as more enjoyable social pursuits. After completing the anti-tank officer course in England, Charles took over the anti-tank platoon, as his father had done, in time for the Battalion's return to Northern Ireland, this time based in West Belfast under the command of his mother's first cousin, Lt-Col Peter Gibbs. He recalled the time spent with this platoon as being some of the best fun he ever had.

The Battalion returned to Chelsea in March 1976 and, in June, Charles was chosen to command an escort of five Guardsmen, one from each regiment, to accompany the loan of one of the original copies of Magna Carta to the United States, to whom it was presented in a ceremony in the Capitol Rotunda as part of the bicentennial celebrations of the Declaration of Independence. A year later, Charles left his Battalion after being selected and approved to be Temporary Equerry to Her Majesty the Queen, a post which was combined with being Assistant Regimental Adjutant and Recruiting Officer at Regimental Headquarters and included a prominent appearance on unfamiliar horseback in the 1979 Queen's Birthday Parade. Having had his short service commission extended on several occasions, when this appointment came to an end in August 1979, he decided not to become a regular soldier despite, in the words of one of his commanding officers, 'having proved himself to be one of the best young officers in the Guards Division'.

His chosen career was in the insurance world where he worked as a broker in political and credit risk, rising swiftly to head his division. In 1985, he moved over to the underwriting side of Lloyd's and, over the next fifteen years, he built up, with others, the largest Members' Agency in Lloyd's. These were difficult times in Lloyd's but Charles's reputation for honesty, integrity and sound business sense attracted great loyalty. He anticipated the reduction in the numbers of individuals who would be prepared to risk unlimited liability and created a corporate investment vehicle that allowed individual Names and outside investors to underwrite at Lloyd's with limited liability. This venture nearly foundered in the aftermath of the World Trade Center attacks but his calm and strong leadership, identified in his Army career, navigated the business through the rocks into more profitable waters. It was the successor to this business that Charles was managing when he became ill.

After his father left the Army in 1963, the family had moved back to Norfolk and, in between boarding schools, Charles began his long attachment to that county, enjoying the traditional pursuits of shooting and sailing. Thanks to the generosity of two daughters of the 6th Lord Suffield, in 1987, he was left a house and some acres in the grounds of the former Harbord family estate at Gunton, the bulk of which was in the process of being rescued from a state of some dereliction by the architect, Kit Martin. Charles was an integral part of its transformation into one of the most idyllic parts of Norfolk.

Charles, who succeeded to the title on the death of his father in 2011, died on 15th January, 2016 after a courageous battle with motor neurone disease. He is survived by his second wife, three step-children and two daughters.