Obituaries
Sir John Alliott
Late Coldstream Guards
by George Alliott
formerly Coldstream Guards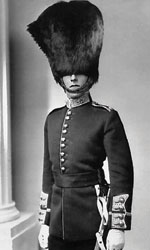 John Alliott was born on 9th January 1932 in Folkestone, the son of a solicitor. His father handed out tea and wads to disembarking troops from Dunkirk and promptly joined up. Being from East Kent and with a brother-in-law already serving in the regiment, his father applied to join the Royal East Kent Regiment, 3rd of Foot or The Buffs. With traditional Army logic he was commissioned into The King's Own Royal Regiment (Lancaster). John Alliott saw little of his father for the next four years. His uncle was killed in Tunisia.

As a boy, John Alliott greatly enjoyed the Battle of Britain, collecting shrapnel and bullet casings before being, in his words, rather unsportingly evacuated to Lake Vyrnwy in Wales. He attended Charterhouse from where he won a scholarship to Peterhouse, Cambridge to read law. Before going up to university he undertook his National Service in the Coldstream Guards.

On Friday 13th January 1950 he joined Brigade Squad No 35 under Sergeant Withnell and found himself as right marker. From there he attended Eaton Hall and on 28th July he was commissioned into the Regiment, joining 3rd Battalion in Wellington Barracks, commanded by the then Lieutenant Colonel George Burns. His first experience in the administration of justice was when he took Company Orders for the first time. It was totally in breach of natural justice. After the facts had been narrated, the accused pleaded guilty and he awarded the Guardsmen one extra fatigue. When the malefactor had been marched out, the Company Sergeant Major roared 'It is customary, Sir, to ask the prisoner if he has anything to say'.

Whilst in London he suffered his only wound, when, on sword drill, a short officer standing behind him stabbed him in the backside on the word of command 'Eyes front'.

On 11th November 1950 3rd Battalion Coldstream Guards embarked on the Empire Test and sailed from Tripoli, North Africa. Prior to departure his father had counselled him to stick to beer and wine and not drink whisky. On arrival he wrote to his father, telling him that he had avoided whisky but had developed a taste for brandy and soda. A telegram by return stated curtly 'Stop Brandy, Begin Whisky'. After a 12 day voyage the Battalion disembarked and settled into Gialo Barracks where the Commanding Officer, Lieutenant Colonel Bill Gore Langton, instantly recognised the Officers' Mess ante room as the former operating theatre in which his arm had been amputated during the war. John was given command of No 8 Platoon in No 3 Company and had the great good fortune to have Dennis Wilkinson as his platoon sergeant. Dennis went on to become RSM of 1st Battalion with another future judge, Jonathan Van der Werff, as Adjutant. Coincidentally, when I joined 1 CG in 1982 I was given command of No 8 Platoon, No 3 Company.

In Libya the prospects of war were not remote and they trained hard on a number of desert exercises. When not on duty they enjoyed the climate, the empty beaches, the ponies 'lifted' from Palestine, trips into the hinterland and shooting (the game book from that era which I saw when I served includes sand grouse and peregrine falcons). John learnt to reel with the 1st Camerons, also part of 1st Infantry Division's 1st Guards Brigade, so well so that years after demobilisation he was mistaken for a Cameron at a Scottish Ball. The mess had the use of an enormous American car that, whilst innocently parked on the quayside as the Battalion departed Palestine, the Quartermaster had 'accidentally' directed be craned onto the troop ship, much, no doubt, to the owner's surprise. Highlights included a visit by Field Marshal Montgomery, who antagonised them, the ceremonial entry of King Idris el-Senussi into Tripoli, and a desert King's Birthday Parade in Khaki drill. John rode in a 1st Guards Brigade Hunt Point-to-Point at Busetta racecourse. Leading after the first circuit, he pulled up after his second refusal. In August 1951 he returned to England via Malta and was demobilised.

John was a 3 CG man to the end. Many years later he came to Black Sunday at Wellington Barracks when I was serving in the 1980s. He regarded it as perfectly logical that General George had decreed that the Battalions should line up behind the Band for the march down to the Guards Memorial in the order 3, 1, 2, 4, 5.

On leaving the Army he went up to Cambridge University. He was assiduous in insisting that his scholarship was not removed but simply renewed. That, as Master of Trinity Foot Beagles, he hunted 51 days in his final year may have something to do with it. Having graduated with a Gentleman's Third, he was called to the bar in 1955. He became a tenant at 1 Crown Office Row, Inner Temple from where he practised for his whole career, becoming Head of Chambers in 1981. He became a Recorder in 1970 and took silk in 1973. He practised at the general common law Bar, undertaking both civil and criminal work. Amongst his more notable cases whilst at the Bar was when he led the Defence in the RAF Cyprus spy trial in which seven hapless servicemen were accused of passing secrets to Russian spies. They had confessed to spying but claimed that the confessions had been forced out of them. Part of the coercion alleged was being locked up in the Argyll and Sutherland Highlanders Guardroom, which was, it was claimed, a harsh, brutal and intimidating place for RAF men. My father flew out to Cyprus to view said Guardroom and privately expressed the view that it appeared reasonably well run but not as brisk as the Household Division. The RAF men were nevertheless acquitted in due course. He was Leader of the South Eastern Circuit 1983-1986.

In 1986 he was appointed to the High Court Bench, Queen's Bench Division, and the knighthood came down with the rations. Of his more notable cases, in 1981 he presided over the trial of Pottle and Randle who had helped the spy George Blake escape. Despite there being no defence they were acquitted. He was the judge in 1994 in the first post ceasefire IRA trial of Mackin and Doherty who had planted a number of bombs in seven days. They got 25 years each. He was Presiding Judge of the South Eastern Circuit from 1989-1992 and was on the Parole Board from 1994-1998 (Vice Chairman 1996-1998). He retired from the Bench in 2001 but returned to sit in the Court of Appeal to help out as part of what he termed 'the mothball fleet'.

He had a small holding near Slough where he habitually rose at dawn to deal with a menagerie of sheep, cattle, chickens and other beating hearts before going to court. He enjoyed military history and was a keen student of the Napoleonic era. He was a lifelong member of Kent County Cricket Club.
In 1957 he married Patsy Beckles-Willson who survives him along with me, my sister and my brother.

He died on 19th March 2016 aged 84.