Obituaries
Mr Reg Curtis
Late Grenadier Guards and the Parachute Regiment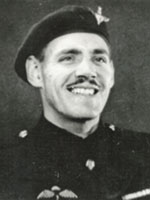 Mr Reg Curtis has died at Chestfield House care home in Kent aged 95. He joined the Army aged 17 as a Grenadier Guardsman in 1937. He was serving in 3rd Battalion when war was declared on 3rd September 1939. Before the end of the month, the Battalion was on the Franco-Belgian frontier as part of the British Expeditionary Force. On 10th May 1940, the Germans launched their blitzkrieg attacks on neutral Holland and Belgium and the Battalion took part in the long taxing withdrawal to Dunkirk. It got to grips with the enemy in fierce fighting on the River Escaut, and a week later on the Ypres-Commines Canal, before the remnants of the Battalion were evacuated from the Dunkirk mole and returned to England.

In August 1941, Reg transferred to U Company, 1st Battalion Parachute Regiment. He was one of only 80 men of the 1st Battalion who fought all the way through North Africa, Sicily and Italy to Arnhem. He was shot and badly wounded at Arnhem in 1944. He lay injured for six days on the battlefield before having his leg amputated and being taken to the notorious Stalag XI B prison camp in Saxony.

After the war he returned home, married Betty Kirkness and started a landscape gardening business, as well as building his own house in Chestfield. He was an active member of the East Kent Parachute Regimental Association and also wrote three books about his wartime experiences - Churchill's Volunteer, Tafelberg and, most recently, The Memory Endures.

In the preface to his last book he wrote 'I took part in the Parachute Regiment's most remembered battle at Arnhem in September 1944 and share deeply in our bond with the good people of that city. This is an unbreakable bond that grows ever stronger and now truly spans generations. I must have returned to Arnhem 30 times since 1944 and I doubt there is any place on earth where friendship is more profound. I'm sure I can speak for every Para when I say thank you to the citizens of Arnhem, especially to the wonderful children. There is no sight more moving than your annual laying of flowers at the Airborne Cemetery. You are our bridge to the future'.

He died two years after his beloved wife Betty. They had no children.