Obituaries
Captain G B Palau
Late Grenadier Guards
by Major P A J Wright OBE
formerly Grenadier Guards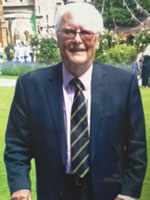 Geoffrey Palau, who has died aged 94, was born on 30th March 1921, the only son of Archie Palau, a Director of Furness Withy Shipping, and his wife Marjorie. He was educated at St Edward's School, Oxford, where he excelled at athletics and rugby. After Sandhurst, he was commissioned in the Grenadier Guards in May 1941 and was posted to the Training Battalion at Windsor. He became Signals Officer of the 1st (Motor) Battalion, which entailed sending a pigeon each day to Whitehall to let them know all was well with the Royal Household. He was on the parade on 21st April 1942 which marked Princess Elizabeth's appointment as Colonel of the Regiment. Ahead of the forthcoming invasion of France in 1944, he was responsible for composing codes to last a month and fought in North West Europe from June to September 1944.

After the battle of Nijmegen, he was promoted and became Second Captain of the King's Company. In late March 1945, the Battalion was billeted near Gennep in the Rhineland which had been part of the front line and anti-personnel mines still lay around. During a training exercise Geoffrey trod on a mine and his left foot was blown off. His life was saved by the prompt actions of Major Nigel Baker and Major Brian Warren, the Medical Officer. He wore a prosthetic limb for the rest of his life which most people were completely unaware of. He retired from the Regiment in September 1946. In 1939, he had been selected to play for the English Schools XV against Scotland and his one regret was that his very promising rugby career had been curtailed as a result of his injury.

After the war, he had a distinguished career in the wine trade, initially working for the Seagram Company, involved in building the Chivas Regal and Captain Morgan brands. In the early 1970s, he was invited to join IDV, the wine and spirit arm of Grand Metropolitan, becoming Chairman of IDV Export. Geoffrey had a reputation as a direct and effective team leader, who made things happen and encouraged others not to be afraid to fail because the real failure is the failure to try. He travelled to different parts of the world and was on the last ever Concorde flight to Singapore. He retired in 1981, acting as a consultant until 1986. He was Chairman of the Governors of his old school St Edward's from 1985 until 1992 and continued to travel to Portugal and Sweden. He celebrated his 85th birthday with his family in Cannes.

A Grenadier of stature, courage and style with a great sense of humour, he is remembered with affection by his many friends. Geoffrey was recently awarded the Légion d'Honneur by the French Government for his service in the liberation of France in the Second Word War. In 1943 he married Lulu Gower Williams. It was a wonderful marriage and in 1993 they celebrated their Golden Wedding and were married for over sixty years. She predeceased him in 2004 and he is survived and greatly missed by their son Michael, daughter Julia and his four grandchildren.