Obituaries
Sir John Michael Burdick Greenaway Bt DL
Late The Life Guards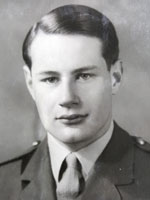 Sir John Michael Burdick Greenaway died on 16th March 2015, aged 70. He was born on 9th August 1944, the son of Sir Derek Burdick Greenaway, and Sheila Beatrice Lockett. He was educated at Harrow School and also at Grenoble University, France. He served in The Life Guards from 1965 to 1970, leaving as a lieutenant. He was a man who seemed to inspire many stories and was incredibly generous. He was posted to the Regiment in the Far East, where he acquired the nickname 'Jungle'; he was rather pleased that it seemed he had been recognized as competent, but rather less chuffed to learn later that this soubriquet might be because he was thought 'green and thick'.

Jungle was often in the doghouse. He had been given countless extra Orderly Officer duties as a result of an utter map-reading cock-up in the Malaysian jungle on a regimental scheme. In fact, word had it that Lieutenant Colonel Ian Baillie, the Commanding Officer, had been so frustrated by his map reading deficiencies that he had attempted to get his pilot to land his helicopter on the rear deck of Jungle's Saladin armoured car. Later he joined the Mounted Regiment, where John, recalls Richard Atkinson, told another story against himself - in his typical generous spirit of self-deprecation and honesty. While Orderly Officer at Wellington Barracks one night, an imposing military type in civvies entered the Mess just before dinner. As Jungle didn't make the connection and continued perusing his copy of Horse & Hound, the visitor introduced himself as Field Marshal Sir Gerald Templer, Gold Stick-in-Waiting, The Blues and Royals. Needless to say Jungle was suitably flustered by this development and sought to recover the situation with light chat. He said that he had recently taken his troop to the Army Outward Bound camp at Towyn in north Wales and did, perhaps, the Colonel know the place? Yes, replied Colonel Gerald, 'I founded it'. Jungle plunged on, running through his own distinguished military career in Singapore and Malaysia and came close to asking the Colonel if he, too, had been to that part of the world? Mercifully, he admitted to me, 'At that moment a loud bell then went off in my head!'

Hexell Lewis recalls:

'On leaving the Regiment, Jungle heard that I had been taken on by a firm of surveyors in the City and very kindly invited me to lunch at one of his Clubs on day three of my new career. Over lunch he quizzed me on my new profession. Over coffee he suggested that I go to the family offices and advise them on what to do with a spare floor of 25,000 sq ft I suggested that it might be a good idea if I took one of my employers (who, being an experienced agent, might actually know what he was talking about). We (the partner and his new assistant) arrived later in the afternoon to be shown round the floor. Jungle, without being rude, virtually ignored my new boss, while explaining everything to me. I asked the partner from time to time on his views, which he gave, but Jungle always asked me whether I agreed with the advice he had received. At the end he asked me to write to him confirming our advice. We said goodbye and the partner prepared a detailed report. Before dispatching it he came downstairs to my desk and said that I had better sign it and send it on to Jungle for, during the tour, he had made it quite clear to him that in respect of this assignment the partner was my assistant'.

Jungle's grandfather, the 1st Baronet, was Percy Walter Greenaway, Chairman of Daniel Greenaway & Sons, printers and stationers, and served as Lord Mayor of London from 1932 to 1933. John was director of Daniel Greenaway & Sons between 1970 and 1979. He married Susan Margaret Birch, daughter of Henry Birch, on 12th June 1982, and succeeded to the title of 3rd Baronet Greenaway on 19th November 1994. His memorial service was packed to the gills, with an annex tent being as full as the church. Would that we all could generate such friends. He is succeeded by his son Thomas Edward Burdick Greenaway.