Obituaries
Captain Sir John Lambert KCVO CMG
Late Grenadier Guards
by Major P A J Wright OBE
formerly Grenadier Guards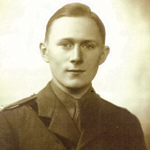 John Lambert, who has died aged 94, was born in London on 8th January 1921. He was the son of Colonel R S Lambert MC, who was Regimental Adjutant of the Grenadier Guards and Brigade Major of the Brigade of Guards. He was educated at Eton, the Sorbonne and Trinity College Cambridge where he joined the Officer Training Corps. After Brigade Squad and Sandhurst, he followed in his father's footsteps and was commissioned into the Grenadier Guards in March 1941.
He joined 3rd Battalion in Scotland and became Grenadier Liaison Officer with HQ 1st Guards Brigade. The Brigade sailed from Scotland and joined 1st Army in Algiers in November 1942. John, as Liaison Officer, was allotted a motor-cycle and, being fluent in French and German, was able to liaise both with the French forces and interrogate German prisoners. In December, the Brigade crossed into Tunisia and had their baptism of fire around Medjez-el-Bab. The Brigade nicknamed 'the Plumbers' were called upon to plug leaks as the Germans attempted to break out from encirclement.
John rejoined 3rd Battalion as Intelligence Officer in the pursuit of the Germans over the Kasserine Pass towards Tunis. The Battalion captured Hammam Lif on 8th May 1943 and he was sent by Colonel Algy Heber-Percy to detain the Bey of Tunis (whose neutrality was suspect) in his Summer Palace. While John was holding the fort with the Bey in a throne room strewn with broken glass, a Lieutenant Colonel and Major arrived from 1st Army Headquarters with instructions to take the Bey off to Tunis in their truck. After tricky negotiations, conducted by John, the Bey and his entourage were allowed to leave in the state Daimler instead; and John returned to the Battalion with a photograph of the Bey, a Citroën car and two bottles of champagne (courtesy of the Tunisian Interior Minister). During the final days of the advance he commandeered a Volkswagen driven by the ADC to General Graf von Sponeck and was involved in the surrender of hundreds of Italian and German prisoners during and after the final battle leading to the fall of Tunis.
In February 1944, the Battalion landed at Naples and for ten days, John commanded 3 Company in the battle for Cerasola high above the snow line in the mountains. The Battalion continued to fight its way northwards and after the capture of Perugia in June he was put in charge of training Grenadier replacements for the considerable number of casualties which Battalions had been having in Italy. In March 1945, he rejoined 3rd Battalion, which led Eighth Army in the crossing of the River Po, and took over command of 1 Company. He was in Cividale on VE Day trying to keep the peace between the Italians, Tito's partisans and Serbian Chetniks and in Austria until August 1945 when he returned to England in the belly of a Liberator bomber with a South African crew.
He was demobilised as a Captain and joined the Diplomatic Service as Third Secretary at the Hague Embassy. It was here that he met and enjoyed dancing with Audrey Hepburn and they remained good friends. During his distinguished career he held appointments in Damascus, Belgrade, Manila, Geneva, Stockholm and Vienna. His penultimate appointment was as Minister and Deputy Commandant in the British Military Government in Berlin from 1974 until 1977. He was appointed CMG in 1975. His last appointment was Ambassador to Tunisia from 1977 until 1981. During the Queen's State Visit in 1980 he was able to show Prince Philip the Grenadier and other Household Division memorials in St George's Church. He was appointed KCVO in 1980.
He was the first Director of the Heritage of London Trust and was its President until his death. His many interests included the arts, music, tennis and golf. His book A Memoir 1921-1948 was privately published in 2015. He married Jenny Urquhart in 1950. She predeceased him in 2013, and he is survived and much missed by his son, Andrew, two daughters, Victoria and Rosamund, and his four grandchildren.