Obituaries
Peter Owen Edmunds
Late Welsh Guards
by Major General Sir Sebastian Roberts KCVO OBE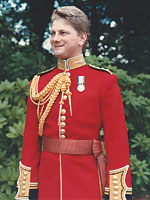 Peter Owen Edmunds, who has died aged 57, was born in London on 21st January 1959. After Harrow and Durham, where he read politics, he followed his father David into the Welsh Guards in 1981. Known predictably as OE, despite being a Harrovian, he showed a flair for fun and organisation which made him popular and respected by all ranks. One of his early coups was to secure the services of a young entertainer he had come across at university for an Officers' Mess dance he organised at Pirbright: one of Rory Bremner's first professional appearances.

In May 1982 Peter sailed to the Falklands as a platoon commander in No 3 Company; all three platoons were commanded by the sons of Welsh Guardsmen; one, Ollie Richardson, was a contemporary at school; the other, Hilarion Roberts, was destined to become his brother-in-law. On 8th June, they were embarked on the Royal Fleet Auxiliary Sir Galahad when it was attacked in Port Pleasant, near Fitzroy, by Skyhawks of the Argentine Air Force. They strafed the superstructure and hit the ship with three 500lb retarding tail bombs. One exploded in the engine room and another in the empty officers' quarters. The third exploded in the open tank deck, where most the Welsh Guardsmen were waiting to board landing craft, setting off an inferno of fuel and ammunition. In scenes of terrible destruction and great gallantry, 48 men were killed, 32 of them Welsh Guardsmen. Over a hundred were wounded. Peter always said that after the horrors of that day, one could face most of what life could throw at one 'with some equanimity'.

After returning from the Falklands, 1st Battalion Welsh Guards moved to Bergen-Hohne to join 22nd Armoured Brigade in the mechanised role. Peter became the Intelligence Officer, an appointment to which he brought his customary light touch. Few who were present will forget his briefing on the new Soviet tank, the T-80. A zealous commanding officer fired off a volley of detailed questions: 'How thick is the turret armour? How many rounds of ammunition can it carry? What is its speed cross country? What's its fuel capacity?' Peter answered each one with accuracy and aplomb, but tension grew with the inquisition, until a non-commissioned officer with an unmistakable North Wales lilt pointed at the photograph of the Russian tank and asked 'Sir, do you know the driver's name?' Without missing a beat, Peter replied 'of course; it's our old friend, Private Popov!'

During this tour he became engaged to Helena Roberts, who remembers him telling her that when he asked Paul de Zulueta, the Adjutant, for permission to return to England to seek her father's approval, he replied 'ah, taking the Brigadier for a spin round the garden?' It worked; their blissfully happy marriage started at Farm Street in October 1984.

The following year he was appointed Assistant Adjutant at the Guards Depot, where he commanded the Brigade Squad with his customary mutual respect and affection, such that he was invited to several reunions over the years. He was also appointed Temporary Equerry to HRH The Prince of Wales, the Colonel of Regiment.

In 1987 Peter returned to the Battalion in Hohne, as Adjutant to Lieutenant Colonel Christopher Drewry. He moved with the Battalion to Public Duties in London, playing the Adjutant's key role in the preparations for the Battalion Trooping its Colour on The Queen's Birthday Parade in 1988. During the first rehearsal, as the Major General's Review was then known, he suffered one of those nightmare moments that pass into legend. His horse started to pirouette, and then bolted across Horse Guards towards Downing Street; confronted by the inner line of sentries, it came to a dramatic halt; Peter stayed in the saddle, but his bearskin was catapulted into the stands. His charger then bolted again for freedom, in the direction of Birdcage Walk, hotly pursued by a mounted policewoman. She galloped alongside as they approached Parliament Square, entreating him to pass her his sword. He hung on to it, and said afterwards that its pommel proved very useful in bringing his horse back under control. He suffered the ignominy of being led back onto the parade by a groom. At lunch, afterwards at the Cavalry and Guards Club, an old member commiserated with him: having remained mounted he was ineligible for the Empty Saddle Club. The incident was filmed, and used as a training aid for subsequent parades.

Despite this mishap, his tour as Adjutant cemented his reputation and promise as a regimental officer; his professionalism and enthusiasm were rewarded with selection for BRIXMIS, the British Military Mission to the Group of Soviet Forces in the German Democratic Republic. After two years training in Russian and German, and the technical skills necessary to keep an eye on the Soviets in East Germany, Peter was posted to Berlin, just as the Wall came down. In 1990, on the principal of 'last in, last out', Peter was tasked to close down the Potsdam Mission House; having done so, he became an interpreter and liaison officer to the Russians for Major General Robert Corbett, the GOC Berlin. After two enthralling years spanning the end of the Warsaw Pact and the reunification of Germany, which included taking part in aid convoys to Russia, organised by families stationed in Berlin, Peter was due to go to the Staff College; but his fascination with Russia had grown to such an extent that he resigned from the army and took his young family to St Petersburg, joining the nascent telecommunications industry.

There, with others, he founded PeterStar, the first commercial mobile phone operator in St Petersburg, and helped it to achieve a listing on the US Nasdaq stock exchange, the first Russia-based firm to do so. Their first licence was signed by the Mayor, one Vladimir Putin, whom Peter remembered as a monosyllabic travelling companion on visits to sites of British interest; though no friendship developed, Peter always said he felt he had 'one phone call to the Kremlin' if he found himself in the sort of trouble that bedevilled many western businessmen in Russia.

Peter became a member of the Governor of St Petersburg's committee on investment, and was the only non-Russian in its delegation to London in 1998. He was chairman of PeterStar from 1999-2002; he then ran his own consultancy for some years, helping raise capital for Russian telecoms companies and advising British investors on Russian interests. In 2009 he set up and chaired Russian Towers, a company which builds and operates mobile phone towers from Kaliningrad to Kamchatka, leasing them to network operators. Starting with 55, the company now has over 800 towers, making it the largest independent company in the Russian market. Until the day he died Peter was working on a major acquisition that would make Russian Towers a leader among European operators.

His achievements in Russia were brilliantly summarised by his friend Martin Vander Weyer in The Spectator: 'in louche Moscow bars and a smoke-filled St Petersburg pool hall, I heard tales of KGB-controlled gold mines, container loads of cosmetics and Burberry raincoats, timeshare scams, chancers who had fallen foul of the local mafia - and others who had literally been caught in the gangsters' crossfire. Among this crowd was one straight arrow: Peter Owen Edmunds, a former Guards Officer who was running St Petersburg's first commercial mobile phone network. He went on to become this column's valuable source as 'my man with his ear to the Kremlin wall' and to battle for two decades against every bear-trap Russia could put in his way, latterly building a business that owns phone masts along thousands of miles of railway tracks. That kind of intrepid entrepreneurship, like the wilder shores of oil and gas exploration, requires grit far beyond the cosy experience of business familiar to most of us, and deserves to be saluted.'

Though they spent much of their married life in apartments in Millionaya Street in St Petersburg and later at Patriarch Pond in Moscow, from 1999 and Peter and their four children made their home in Wiltshire, where despite commuting to Russia, Peter was able to indulge his passion for fishing on the Nadder. He found time to be a Regimental Trustee for some years, and support Welsh rugby at the Millennium Stadium whenever he could.

Above all for Peter was the love of Helena and their four children; he once said that her Roman Catholic faith sustained him through a life of enormous challenges, embraced with unquenchable enthusiasm and bravery. He was received into the Church two weeks before he died.