Obituaries
Colonel John Head CBE
Late Irish Guards
by Commander Rupert Head
formerly Royal Navy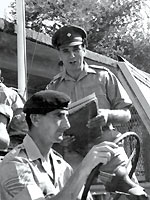 Major John Head MBE in
Aden with LSgt Morris
John Head has died peacefully at his home in Hove aged 89. His life was the Army and his Regiment. He had a successful and distinguished career. He is remembered as a scrupulous and efficient officer who demanded and achieved the highest standards. He was sometimes controversial; much respected and liked by his juniors but not always admired by his contemporaries.

I first met John in the Officers' Mess in Hubbelrath back in 1962 when he arrived to take over Support Company. My first recollections are his skill at backgammon and his delight in teaching the young officers. (As an aside, it was Churchill who, as First Lord of the Admiralty, decreed that backgammon, not cards, should be played in officers' messes) John was adamant that you only learnt if you played for money! Consequently, we all learnt to play a good game but his mess bill had a useful credit too!

He joined before the end of the war, but did not reach the Battalion, who were still in Germany, until early 1946. Later, in Germany he did a brief attachment to the 10th Hussars, before a tour as a troop commander in the Guards Parachute Company. He earned his parachute wings, and in later life talked about the adrenalin surge and shear fear of his first jumps from a tethered balloon.

He had a rather fearsome reputation as Adjutant, when the Battalion was deployed to Cyprus at short notice in 1958 due to trouble in Jordan (and later in Lebanon). He was billeted in a makeshift tented camp just outside Nicosia. One evening some of the younger officers were arrested by the Military Police in Murder Mile, Nicosia where they were trying to meet some Cypriot girls. A rather officious Military Police officer arranged they were arraigned in front of the Adjutant the next morning. John had no nonsense with the RMP, congratulated the officers for showing initiative, and told the RMP officer not to be so stupid! John had an active, challenging tour and did well in a difficult, tense, often hostile environment. He was Mentioned in Despatches.

He went on to command No 5 Company at the Guards Depot. He and CSM Kerr MM made an impressive and often intimidating combination in a tough training environment. From there he went to be Company Commander of the Guards Company of the Junior Leaders Battalion at Oswestry. He took personal charge of the training of some of the most successful non-commissioned ranks who would go on to dominate the Sergeants' Messes of the future.

He re-joined the Battalion in Germany. I was transferred to his company and found he was a firm but very fair Company Commander respected and revered by those under his command.

When he finished his tour in Germany he was selected to command the Guards Independent Parachute Company, a job he enjoyed hugely. His Second-in-Command, Patrick Beresford writes: 'John Head was, undoubtedly, the best military administrator I ever met, being totally "hands on". Thus, when the Company was ordered at 48 hrs notice to fly out to Cyprus, (where inter-communal violence had divided the island), on New Year's Eve 1963 with their vehicles, his preparations for a "quick-move" worked like a charm. After six weeks in Cyprus, the Company was summoned back to the UK by the then CDS, Lord Mountbatten, to be retrained by the SAS to work alongside them in Borneo'.

John Head cut his jungle warfare teeth in northern Borneo during the Indonesian Confrontation. He worked well with the Royal Navy, particularly with the 845 and 848 Commando Naval Air Squadrons operating from HMS Bulwark and HMS Albion, and admired the skills and airmanship of the Wessex helicopter aircrews. The forward operating base of Nanga Gaat became his second home. Operations on the ground centred around 4 or 8 man SAS-pattern patrols; these could last 14 days in a tough, unforgiving environment. The officers were required to show hands-on leadership qualities and to match the stealth, stamina and jungle survival skills of the men they commanded. The successes of hearts and minds initiatives among the local populace and intelligence were paramount; 'contacts', often at very close quarters, had invariably successful outcomes. The Indonesian Confrontation and the counter insurgency operations are now largely forgotten but undoubtedly this campaign included some of the British Army's most successful post war operations (Many have said the Americans could have learnt much from the British Army modus operandum in Borneo.) Major John Head completed two tours and was awarded the MBE.

He returned to the Battalion as Second-in-Command for an operational tour in Aden, and again, his brilliant administrative skills were a key feature of a difficult tour as National Defence Policy shifted to a withdrawal East of Suez. His sense of humour and daring prevailed. Young officers were invited to show their mettle by being flown low level in a CASEVAC pannier on the side of a Sioux helicopter.

As Commanding Officer at Pirbright and Windsor he kept a vigilant eye on proceedings because as a bachelor he lived in the Mess. A smart, courteous officer, of impressive bearing, he expected the same high standards of his subordinates and never accepted 'second best'.

As a Commanding Officer in London District, his administrative ability came to the fore again. Well before the days of spreadsheets, he would painstakingly construct his 'Chinese Guard Report' that listed daily the activity and Guard duty of every guardsman and non-commissioned officer in the battalion. This was done on sheets of A4 all pinned together one after the other in a long roll. It was a sound system and everyone knew what they were doing until the Sergeant Footman at Windsor Castle demanded 40 men to unpack the Royal Baggage train at less than 24 hours' notice. The Commanding Officer refused to comply asking how long the Sergeant Footman had known about the arrival of the baggage. Needless to say, the Sergeant Footman rang the Major General and the baggage was duly unpacked! He suspected that the Orderly Room staff or Picquet Officer would take the opportunity of nosing into his desk drawers. With the help of the Assault Pioneers, a tobacco tin was booby trapped with a .22 cartridge. The resulting bang was very satisfying - and heart-stopping.

He was the Regimental Lieutenant Colonel from 1973-4, but the appointment was not really his cup of tea - indeed, he always preferred a mug and an egg banjo at about 11! From there he was appointed as Commander Northern Oman Brigade in the rank of acting Brigadier, a job which was much more to his liking. During his tour he met many old friends, including former RSM Maurice O'Brien MM, who was by now a Major Quartermaster in the Sultan of Oman's army. Nothing gave Maurice more pleasure than to be congratulated on his promotion by Brigadier John Head. John built up close ties with the most important Omanis. Indeed, he established a close and trusted relationship with the ruler, Sultan Qaboos bin Said Al Said. John Head was one of very few non-Omanis to be honoured with the appointment to the Order of Oman. John worked tirelessly and successfully to further strengthen the close relationship between the UK and Oman and to spearhead a number of major defence sales contracts.

His next appointment was Commander, British Forces, Belize. With a threat of a Guatemala incursion or invasion, this was a high profile, important command appointment. He had to answer to MOD, FCO, and ministers, sometimes a difficult balance. He was outstandingly successful. He is remembered for a successful fight with the MOD to have a white Range Rover, which duly arrived tied in a red ribbon organised by the Force Quartermaster.

Advanced to a CBE, he was appointed Defence Attaché in Amman, Jordan where he was not only close King Hussein but he travelled extensively in the Middle East. He took well to the Arab culture and learnt to speak Arabic, a real challenge for him.

On retirement he went on to work for three years for the Royal Ordnance Board in Cairo where he was able to make excellent use of his Arabic, Middle East experience, and extensive contacts.

John was born in Portsmouth; his father was a Naval Officer, and the family moved to Hove where they lived whilst John was educated at Bromsgrove School. He remained very attached to his family, and although never married with children of his own, he always showed a keen interest in the younger generations, all of who enjoyed visiting him. Two days before he died he enjoyed watching a video on his nephew's iPhone of tank exercises on Salisbury Plain!! An intensely private man, his life really was the Army, and when he came home, he contentedly spent time with his beloved dog (or dogs) over the years. Indeed, his last dog probably saved his life by lying alongside and keeping him warm overnight after he took a bad fall in his garden. He coped with his deteriorating health in an unbelievably stoic manner, never complaining and always polite, showing concern for others right to the end; it was a mark of the man how incredibly fond his carers became of him.

Many officers, non-commissioned officers and guardsmen would attest that John Head was the most professional officer they ever met.