Obituaries
Major Tony Bell MC
Late Irish Guards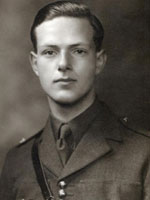 Major Tony Bell, who has died aged 96, was awarded an MC in Italy in 1944 during fierce fighting in the Anzio beachhead.
On 4th February 1944 Tony was serving with 1st Battalion Irish Guards and in command of the carrier platoon. He was ordered to hold a farmhouse which was in a very exposed position and his platoon came under constant machine gun and artillery fire.

He held this position for a week and throughout this period he acted as the forward observation officer for the artillery. He installed himself and his wireless set in an upper room in the house and, calmly disregarding the incoming fire, directed the Allied guns on to the enemy formations.

The house was the only vantage point and an obvious target. It was hit several times, but despite the almost inevitable consequences, he continued to man this post and broke up several German attempts to advance down the main road.

On the morning of 11th February, an 88-mm shell came through the window and exploded in the room. It took the roof off, killed two American observation officers who were there and seriously wounded Tony. The citation for the award to him of an MC paid tribute to his gallantry. 'This officer', it stated, 'inspired the greatest devotion among the men under his command'.

Always known as Tony, in 1940 he was commissioned into the Irish Guards and joined the 1st Battalion in North Africa in 1943 at the end of the campaign. He landed on the Anzio beachhead in January 1944. Apart from fighting, his carrier platoon was constantly involved in bringing up ammunition and supplies and in evacuating the wounded from dangerously exposed places. During a night attack on 29th January, he went forward on foot with a company of 1 IG. It was subsequently discovered that the area was still infested with snipers and machine gun posts that had been by-passed in the dark. He therefore went back across open country under intense fire to collect his platoon, and they engaged the snipers and Spandau posts and cleared the whole area of enemy.

After he was wounded, he was given the last rites by a priest at the forward dressing station. He was transferred to a hospital in Naples and, after being repatriated, he was moved to the Queen Elizabeth Hospital, Birmingham.

Following a spell as an instructor at Sandhurst and a return to regimental duty in Germany, he served in Palestine from 1947 to 1948. He commanded the guard of honour for the visit of Princess Elizabeth and the Duke of Edinburgh to the Royal Tournament at Olympia and for the visit of Queen Wilhelmina of the Netherlands to Buckingham Palace.

In 1950, Bell commanded the troops in the Tower of London and, in 1952, after commanding a company of Irish Guards at Caterham, Surrey, he resigned from the Army. He worked at Lloyds of London until 1985.

Settled in London, he enjoyed fishing and shooting. Aged 92, he caught his last salmon and, despite having two metal knee replacements, he played tennis until he was well into his eighties.

Tony was admitted to hospital in November 2015. The consultants were astonished that he had survived for more than 70 years, despite the fact that shrapnel had lodged near his lungs and in many places in his body.

Tony Bell married first, in 1951, Penelope Mary Sandberg; the marriage was dissolved. He married secondly, in 1968, Irina Kasterine, who predeceased him, and he is survived by a son from his first marriage and two daughters from his second. He died on 15th September 2016.