Obituaries
Major Michael Willasey-Wilsey
Late Coldstream Guards
by Colonel D D S A Vandeleur
formerly Coldstream Guards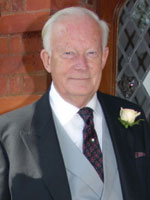 Mike Willasey-Wilsey died, aged 84, on 7th November 2016. He had suffered a stroke some years earlier.

He was born in 1932 in Bangalore, India where his father was serving with the 8th Gurkhas and where he spent his early childhood. He was the fourth generation of Willasey-Wilseys to be born in India. At the age of 13 he was sent to Repton School and excelled at hockey, cricket, boxing and athletics. He was commissioned into the Coldstream in February 1953, having spent two years at RMA Sandhurst, and spent two years in the Middle East serving with the 3rd Battalion as a platoon commander, excelling as an Army long-jumper.

In 1956 he moved with the Battalion to Germany, as part of 4th Guards Brigade, where he became the Battalion Intelligence Officer. He served with the 1st Battalion in Kenya under Lieutenant Colonel Julian Paget and then in 1962 in British Guyana, where his company commander was Major Guy Alvingham. He was Second in Command of No 1 Company from 1961 to 1962, where his fellow company officers were Julian Pope, John Bartholomew, and Julian Gibbs. He was remembered by his company commander as a totally dependable officer, who was quiet and gentle by nature.

From 1962 to 1965 he served with the 1st Battalion commanding No 2 Company in Iserlohn and Aden, and was promoted to Major in 1966. After a tour in the Ministry of Defence, he continued to serve in the 1st Battalion, as Support Company Commander, until 1970 when he was posted to the 2nd Battalion in Münster as Second in Command.

In 1972 he was made the Officer Commanding the Royal Tournament and then served as SO2 G3 Cadets in London District from1973 to 1975. He retired from the Army in 1976, having taken part in three Queens Birthday Parades and served in all three service battalions in nine different countries and operational theatres.

His post-Army career took him in a different direction as he became the Secretary to the Retail Commission in London. As a regular commuter from his home in Wargrave, he was one of the earlier converts to cycling from the station to his work in the City in the days before fold-up Brompton bikes. He retired fully in 1994.

Mike married Libby in October 1964 and they had two daughters, Charlotte and Sarah. He devoted the rest of his life to his family and friends living locally, supporting local charities, and spending time on the golf course, family holidays, and the bridge table. He became an expert at BBQs and slightly risqué cocktails.

Mike was a man of warmth, integrity, self-discipline and loyalty. He was devoted to his family and he shared 52 happy years with Libby. He will be much missed by his loving family and friends and will be remembered as a model Coldstreamer with all the best values of his generation.