Obituaries
Captain Tom Spensley
Late Coldstream Guards
by Colonel D D S A Vandeleur
formerly Coldstream Guards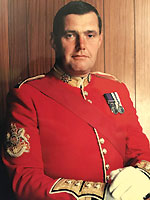 Tom Spensley died on 7th October 2016, aged 63, after a long and bravely borne illness. He had had a brain tumour removed some years previously and had never fully recovered. When I visited him in hospital in Newcastle in February, after the usual introductions and small-talk, I asked him how he was feeling, as he was being fed fluids through tubes. 'I would die for a cup of tea and a bacon butty' was his immediate response. Faced with extreme adversity, Tom still managed to retain his sense of humour, displaying courage right to the end.

Tom joined the Army as a Junior Soldier, aged 16, from Blyth in Northumberland and, like his father and brother John, he joined the Coldstream Guards, which was to become his life for the next 47 years. John was tragically killed in 1981 in a traffic accident while on R&R from a Northern Ireland tour.

Tom was a huge man and a natural soldier and leader. He was huge both in physical size and personality, with a warm and generous spirit, which drew people to him instinctively. He gained a distinction on the Junior Brecon Section Commanders' course and returned as a Colour Sergeant Instructor in 1979. He was described in his annual report by his Queen's Own Highlander company commander as follows, 'CSgt Spensley is highly respected by his students and everyone who works with him. He is an artful, but law-abiding scrounger and the administration of his squad is subsequently of the highest order. His planning and preparation for exercises and lessons are absolutely meticulous.'

His career continued to progress to Warrant Officer, as a Company Sergeant Major in the 2nd Battalion, after a short-lived posting to Sandhurst as a Colour Sergeant Instructor, where his sense of fun did not go down too well with the Academy Adjutant. He was firmly a 'soldiers' soldier' and much more at home in combat clothing than in a tunic. Despite the disapproval of the hierarchy of the day in Regimental Headquarters, he progressed to Drill Sergeant and then Regimental Quartermaster Sergeant.

His skills were put to good use as the Drill Sergeant in Hong Kong with the 1st Battalion in 1986, where he was employed well away from the drill square as the Intelligence Warrant Officer. His observation and sniping instructor experience were put to good use on the 26-mile border between Hong Kong and China. Major John Savelle remembers late night shifts with Tom in the Operations Room at Fan Ling police station, followed by early morning visits to the Hole-in-the-Wall café, where he would work his way through the entire menu.

It was in Hong Kong that Tom developed his love of boats and sailing. He was Secretary of the Stanley Fort Sailing Club, where he would organize gargantuan BBQs at weekends. He was also a keen rugby player, where he was a true 'tour de force' and inspired the 1st Battalion rugby team to great feats. He represented the Hong Kong Combined Services in a match against the New Zealand Maoris.

Hong Kong was followed by a second sunshine posting as Regimental Sergeant Major of the 2nd Battalion in Cyprus from 1988 to 1990. It was a difficult tour in some respects with the tragic Trimiklini accident involving the death of eight soldiers on 20th November 1989. Tom was of great support to the Commanding Officer, Lieutenant Colonel Charlie Lomer, who described Tom as the 'best Battalion RSM I have known in my service and I count myself fortunate that he has been my RSM for the last two and a half years'. Tom took on the management of the Battalion boat Photini, on which families from the Battalion were able to enjoy the many and varied watersports available in Cyprus.

Cyprus was followed by commissioning in 1990 and a posting to the Army Apprentices College at Chepstow, where Tom was in his element with young soldiers, adventurous training activities, and a new interest in antiques. Tom was a great entrepreneur; he was never happy without a project to look forward to, and probably the post 'Options for Change' Army at the end of the Cold War and the reduction of the Army, was not going to satisfy his wanderlust. So he decided to take Phase 3 redundancy in 1993 and retired from the Army.

Tom started a new career running an auction house. This project eventually failed, but, undeterred, Tom became involved in the security industry, which led him to Kosovo in 1999, via East Africa. He developed a project in minority Serb communities installing panic alarms, aimed at preventing intimidation by Kosovar Albanians, and worked closely with 1st Battalion Black Watch. By 2003, the work began to dry up in Kosovo, and so Tom drove overland to Basra in Iraq; he was arrested en route in Syria because a Syrian intelligence officer's suspicions were aroused by the GPS installed in his Land Rover Discovery. He was eventually released and continued on his way to Basra. Tom built up a business that was successful enough for him to be able to purchase a house back in Northern Cyprus, where he set up a property management company and played an active part in the local community.

Tom would not have been the man that he was without the support of his wife Gill. They had two sons, Ian and Stephen. Gill was as much part of the battalions in which Tom served, as was Tom. She set up a crèche in Brecon and took part in running a shop in Stanley Fort for the Battalion wives. She was the sensible, loving support that kept Tom grounded, including setting up home with him in Priština for three years after he left the Army. Stephen now runs his own business in Zambia, with Ian in support.

Tom was a great man and will be much missed by his family and many friends and admirers. He lived life to the full and was a true Coldstreamer to the end.