Obituaries
Lieutenant Colonel Sir Julian Paget Bt CVO
Late Coldstream Guards
by Major General P G Williams CMG OBE
formerly Coldstream Guards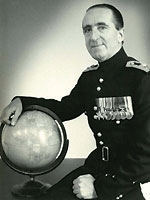 Julian Tolver Paget was born in London on 11th July 1921. He was elder of the two sons of General Sir Bernard Paget, who prepared 21st Army Group for the Normandy invasion before Montgomery's return from Italy to assume its command, and his wife, Winifred. The baronetcy had been created in 1871 for Julian's great-grandfather, James Paget, who was Queen Victoria's surgeon and the pathologist after whom Paget's disease, a bone growth disorder, was named. Julian inherited the title from his uncle, Sir James Paget, in 1972.

He was educated at Radley and went on to study Modern Languages at Christ Church, Oxford, where his grandfather had been the Dean before becoming the Bishop of Oxford in 1901. On one occasion his father, concerned that Julian might not have been working as hard as he should, wrote to his tutor: 'I hear my son has to write only one essay a week. Don't you know there is a war on? Make him write at least three'.

Julian's academic career was interrupted by the war. He joined up as a private in the 7th Young Soldiers Battalion of the Royal Berkshire Regiment and was rapidly promoted to Lance Corporal, finding himself in command of a section that included five borstal boys.

His younger brother, Anthony, joined his father's regiment, the Oxfordshire and Buckinghamshire Light Infantry, but Julian was commissioned into the Coldstream in March 1941. His father accepted this decision, but thereafter regularly referred to Julian as 'a flat-footed, heavy-footed Guardsman'.

In August 1942, he joined the 5th Battalion, a motorised battalion in the Guards Armoured Division. It landed in Normandy in June 1944 and was soon involved in heavy fighting in the bocage. In later life, he was always regarded as a fine example of sartorial elegance, but a letter home by a brother officer at that time provided a different view of Julian: 'I have never seen such rain, three days of it, and we are all soaked to the skin. There really is two feet of water in the trenches and, being under fire, we have to sleep and eat in them. Julian is trying to read a sodden letter in a sodden trench and is desperately trying to keep his cigar alight. With three days short of a shave and wearing a pair of German officer's boots, he looks more like a buccaneer than anyone I have ever seen. We all look at each other and howl with laughter'.

The 5th Battalion in the Guards Armoured Division fought on throughout the campaign in northwest Europe, including the liberation of Brussels in early September 1944 and the desperate attempt to reach the 1st Airborne Division at Arnhem later that same month. On VE Day he was in Cuxhaven in northern Germany. Meanwhile, the family had suffered a tragedy when in March 1945 his brother, Anthony, was killed on active service, having been awarded a DSO only a few weeks earlier.

In July 1945 Julian was posted to the 3rd Battalion in Palestine, where his father was Commander-in-Chief. This was during the final stage of the British mandate, when groups, such as Irgun Zvai Leumi and the Stern Gang, were targeting British servicemen.

After Staff College in 1950 he was posted to Washington DC to serve at the Pentagon. While in the US he met Diana Farmer on a blind date and they were engaged four days later. On one occasion when she was visiting family in California he was unable to afford the fare to visit her, so mailed himself as a parcel, travelling across country in the unheated, though fortunately pressurised, hold of a US Postal Service aircraft. They were married in 1954 at the Royal Hospital Chelsea, where Julian's father was the Governor. In due course, first Olivia was born, followed two years later by Henry.

In 1960 he took command of the 2nd Battalion in Kenya and, accompanied by Diana, began, as he described it, 'the best two years of our married life'. Julian was a very popular Commanding Officer. One of his officers wrote that 'we all thought the world of him, for we admired him, respected him and were grateful for the freedom he allowed us. He and Diana made a wonderful team, she was a very special hostess, and he was the best Commanding Officer that I ever served under'. While in Kenya he led two battalion exercises to climb Mounts Kenya and Kilimanjaro, including on the latter assembling 72 Guardsmen on Kaiser Wilhelm's Peak, at that time the largest group to have reached that point together.

The Battalion returned home in March 1962 and in June he commanded the Queen's Birthday Parade. Julian was then posted to the Cabinet Office, after which he served for six months on an unaccompanied tour in Aden, running the Security Secretariat for the High Commissioner. Finding that there was virtually no Army material that covered that type of security situation, he wrote Counter Insurgency Campaigning, which examined the campaigns in Malaya, Kenya and Cyprus. This was his first book and the prelude to his distinguished career as a military historian.

He retired from the Army in 1969 and worked as the public relations officer for Strutt and Parker for 12 years. In 1971 he was appointed a Gentleman Usher to the Queen, a post he held for 20 years and which involved him being chief usher at the weddings of the Prince of Wales in 1981 and of the Duke of York in 1986.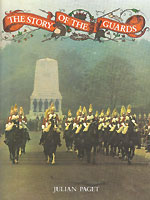 Julian also devoted himself to writing about military history in his retirement. Last Post: Aden 1964-67 dealt with the tangled political web of Britain's departure and included detailed maps of the type that would later be deployed in his books on Waterloo. It was followed by a series of books on ceremonial and regimental subjects: The Story of the Guards, The Pageantry of Britain, The Yeomen of the Guard and Discovering London's Ceremonial and Traditions, before he embarked on his Wellington odyssey.

He was also the much admired and respected Editor of The Guards Magazine from 1976 to 1993. In this role he forged closer links between the Household Division and the various Guards Association branches worldwide, often visiting them in Canada, South Africa and Australasia.

In 1982 he embarked on another phase of his active life, when he went on a cruise in the Mediterranean. From this sprang an interest in conducting battlefield tours, starting with Waterloo in 1984 and then trips to Spain and Portugal. In all he led some 30 trips, including to the Crimea, Gallipoli and South Africa.

'Battles and Bottles' was the title that Julian Paget gave to his series of battlefield tours, reflecting his enjoyment of hands-on military history and his love of fine wines. Wellington and, in particular the Battle of Waterloo, were his lifelong interests, and he was writing and lecturing on them until he was well into his eighties.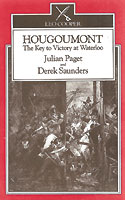 Wellington's Peninsular War, published in 1990, was packed with historical background as well as meticulously researched descriptions and analysis of the battles, including a guide to the battlefields. It was quickly followed by Hougoumont: Key to Victory at Waterloo, which described in concise and vivid detail the turning point in the Waterloo campaign.

Julian's tours were as meticulous as his writing, and on the former battlefields, equipped with a voice that carried, he would explain to his audience in great detail every manoeuvre and its significance to the final outcome.

Having got Waterloo out of his system, he turned to matter closer to home. No Problem Too Difficult, about the Forces Help Society with which his father had been involved, appeared in 1999, and the following year he edited The Coldstream Guards 1650-2000. His final book, The Crusading General, was published in 2008; it looked at his father's distinguished career, particularly his role in reorganising and re-equipping the British Army after Dunkirk.

He also gave a great deal of support to Project Hougoumont and to Regimental Headquarters Coldstream Guards, including a generous donation towards the construction of the memorial at Hougoumont, which was unveiled by the Prince of Wales and the Duchess of Cornwall in June 2015. He travelled to Hougoumont for a valedictory visit in April 2016, hosting a splendid dinner for all those who had assisted in the renovation works and unveiling a bronze memorial plaque in the small chapel at Hougoumont, which gave him enormous pleasure.

A past President of the Flyfishers' Club, Julian had fished since boyhood and loved fishing on the Spey and the Bray water. He encouraged the young to fish and was still fishing in his 90s.

For the past 18 years he was involved with the Paget's Association, taking an active interest in its research into Paget's disease and attending many of the association's conferences. In 2014, James Paget University Hospital in Great Yarmouth, Norfolk, marked the bicentenary of his ancestor's birth with a conference at which Julian, now 92 but unbowed by age, cut a birthday cake.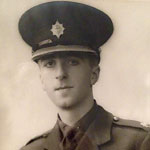 While Julian was undergoing surgery recently his doctor commented that he remained a Guardsman to the end: 'He even sits to attention while having his operation done'.

Diana died in 2014, having been looked after devotedly by Julian. He died, aged 95, on 25th September 2016 and is survived by Olivia, who recently retired from the Foreign Office, and Henry, who also served in the Coldstream and to whom the baronetcy now passes.

Edward Crofton, who gave his eulogy, summed up Julian with respect and affection: 'Family man, soldier, scholar, courtier. To me, he will always be 'The Editor'. We shall not see his like again'.