Obituaries
Captain A J Savill MC
Late Grenadier Guards
by Nicky Grant (Née Savill)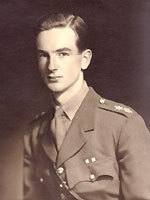 My father, Jonathan Savill, died at home on 17th December 2016, aged 92. He was born on 20th March 1924 and educated at Eton where, under the tutelage of William Blunt, he developed his love of painting. In 1942, he left school at eighteen and was commissioned into the Grenadier Guards. His initial posting was to the Castle Company at Windsor Castle, responsible at that time for the immediate protection of the Royal Family. He then served with 6th Battalion in Italy. In January 1944, at Minturno, near the mouth of the River Garigliano, he was shot through the knee during unceasing shell and mortar fire.

Jonathan returned to active service with 5th Battalion and in June 1945, at the end of the war, was awarded an MC. His citation reads:

'This young officer has now led more than 30 Patrols against the enemy. He has never failed to carry out the task allotted to him and has often obtained most valuable information of enemy dispositions, and intentions. In particular, during the battalion's operations in the Monte Sole area in October 1944, Lieutenant Savill led two most successful patrols across the River Setta and up extremely steep and difficult country into the enemy positions. His skill and pertinacity enabled him bring back very accurate information of the positions of enemy posts in the area of Pt 501. Throughout the whole of the period of covered by this citation Lieutenant Savill has shown outstanding courage, determination and powers of leadership and his example has proved a most marked encouragement to his Company and brother officers'.

In 1946, my father married his childhood sweetheart, Audrey Morshead. Two years later my sister Angela was born followed by myself in 1951, my brother Owen in 1962 and my sister Quita in 1963. After spells in both the family brewery and various estate agents, he became a junior partner in Reid Pye and Campbell, independent wine shippers. His charm and expertise made him a naturally good salesman and he travelled all over the country visiting independent wine merchants, pubs, hotels and other customers. He always took his easel and paints with him and his fishing tackle. He said he never had any difficulty finding places to paint and frequently rivers full of trout.

In 1963, the wine trade was changing. Supermarkets began selling wine and Reid Pye and Campbell was about to be taken over by Allied Breweries. In 1969 my father turned down the offer of joining the board of Allied and he and his friend, Jack Rutherford, bought the Rowley Gallery, the well-established picture framers in Kensington Church Street. Both he and his partner had been customers of the gallery for many years and were determined to save the business.

On 25th June last year my father, step-mother, all his children and some of his many grandchildren made a memorable visit to Windsor Castle to see the mural he had painted in the duty officer's bedroom in 1943. It was a truly unforgettable day, described in an article in the Autumn 2016 issue of The Guards Magazine. It culminated in a lovely lunch at the Savill Gardens designed by my father's uncle Sir Eric Savill where a posthumous portrait of him, painted by my father, hangs in the restaurant.

My mother died in 1992. My father is survived and much missed by my step-mother Jenny, Angela, myself, Owen, Quita, his step-children Emma and Jason, his many grandchildren and six great grandchildren. My father said himself that he had a lot of luck in his life. But we too are the lucky ones to have had him with us for so many years. Although he achieved many amazing things, he was a man of simple tastes epitomised in the words of Jerome K Jerome in Three Men in a Boat which he hugely enjoyed:

'Let the boat of life be light, packed with only what you need - homely home and simple pleasures, and one or two friends, worth the name, someone to love and someone to love you, a cat, a dog and a pipe or two, enough to eat and enough to wear, and a little more than enough to drink; for thirst is a dangerous thing'.