Obituaries
Robin Mark Timothy Reames
Late Grenadier Guards
by Colonel R D Winstanley OBE
formerly Grenadier Guards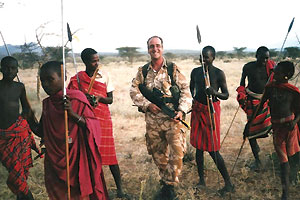 To the many who knew Robin, this photograph, taken of him whilst on exercise in Kenya in the 90s, sums up the fun-loving, generous character we all remember so fondly.

Born in Breconshire in 1961, he remained an avid Welsh rugby fan. From Chafyn Grove prep school in Salisbury he went on to be head boy at Monkton Coombe near Bath, revelling in the challenges the steep surrounding hills presented to his emerging athleticism.

Winning an English speaking scholarship to Harvard, he returned a year later to go to Hull University. Upon graduation, he completed his PGCE qualification at Swansea University before naturally joining the Army Education Corps on commissioning from Sandhurst.

Robin had an acute sense of the ridiculous but such caustic humour was more often than not aimed at no one but himself. Such mimicry and self-effacing jollity won us over the minute he arrived in the 2nd Battalion, in Ballykelly, Northern Ireland, in 1987. He was just one of those rare people who brightened every room he entered, making you feel that little bit warmer for it. He was always more interested in others. Quickly persuaded to join the Regiment, he spent the next 15 years of his military service both in command of Grenadiers and away on the staff.

Robin was an enthusiastic adventurer, be it heading off to be Chief of Staff in Brunei, having completed the Italian Staff College (of course ... !) or organising extraordinary exercises for the 1st Battalion in Norway, when Senior Major in 2001. He had a great zest for life which those around him found infectious. A natural leader, he was no slouch and worked tirelessly to get things done, always leading by example. Thus he got the very best out of people, never failing to motivate the occasionally work shy! Friendships forged were everlasting and one tribute from such a friend sums it up: 'he was respected and loved by the lads'.

His sporting achievements were impressive, playing for Northern Ireland and Cyprus Combined Services as well as being capped for Brunei vs Singapore. He rowed in the Army VIII in the inter services race and for Army Veterans in the World Championships in Vienna. He also played in his local rugby club's Veterans' XIV at the same time that his son played for the club.

Leaving the Army in 2002, he was scooped up by Churchill Insurance who were quickly impressed by his industrious work ethic and mischievous sense of humour. Numerous sorties on the No 12 bus to Croydon to assess the competition, Direct Line, swiftly enabled Churchill to improve its strategic competitive position. His ingenuity persuaded Churchill to recruit the competition but, as is sometimes the case in the world of business, Direct Line in turn bought out Churchill Insurance through acquisition. Along with other colleagues, Robin then moved on to develop Swiftcover Insurance from a start-up venture. Following the sale of Swiftcover to AXA, he remained a claims director champion, continuing his association with the insurance industry as an independent consultant, advising organisations and helping with business development.

His loss, was a tremendous shock to us all; a vibrant life cut short far too soon. It is testament to this genuinely gregarious, warm-hearted and much loved Grenadier that so many came to his funeral in early December 2016. The orders of service ran out long before the service began.

I know Robin was enormously proud to know that his son Tristram will shortly be joining the Grenadier family when he commissions from Sandhurst in the Spring.

Robin will be greatly missed by the many people who were fortunate enough to know him. We all send our warmest wishes to his wife and three children.