Obituaries
Major J W S Lawrie
Late Scots Guards
by Lieutenant Colonel A I C Gordon MVO
formerly Scots Guards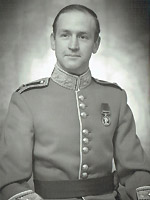 Julian Lawrie died after a long illness on 29th September, two days before his 72nd birthday. He was born at Simla where his father was serving in the Bengal Sappers and Miners. His grandfather had won the Sword of Honour and the Pollock Medal at RMA Woolwich in 1883.

At Marlborough House prep school Julian was captain of boxing. He followed his father to Wellington where he played in the College rugger XV against St Edward's, Oxford and captained his house to victory in the Inter Dormitory (House) final.

At Sandhurst, he opted to study Russian, boxed for Alamein Company who won the inter-company championship, and marched in Sir Winston Churchill's funeral procession. He was posted to the 2nd Battalion at Caterham.

I first got to know Julian in Munster in 1969, the year he made what everyone who knows her would regard as the very best of his decisions, to marry Sue Morriss, the daughter of a Royal Marine officer.

In 1971, with Julian as Signals Officer, the 1st Battalion arrived in West Belfast ten days after internment and with little preliminary training. It was immersed in 'a maelstrom of bigotry and hatred' for four months. Its members earned several decorations but there were casualties.

In 1972, he was posted to Headquarters Berlin (British Sector) as GSO3 Intelligence. He was highly regarded within the Allied staffs and was involved in the defection of a Soviet officer, an unusual, if not unique, experience for a relatively junior staff officer. They conversed in German, played chess and were flown out at dead of night in a twin-engine aeroplane with a military policeman.

Julian was Second in Command of Right Flank (1st Battalion) in 1975, again in West Belfast. He maintained an immaculate and responsive intelligence office at North Howard Street Mill. Hours after a fatal shooting on the Falls Road his company commander left on R&R, leaving Julian to contend with several shooting incidents over the weekend. He then commanded C Company, taking it training in Orkney in 1976.

In 1980, after the long course at Beaconsfield, he qualified as a Russian interpreter. Military logic returned him to the 2nd Battalion, again in West Belfast. He was disappointed to be sent to GCHQ at Cheltenham for two years but typically made the best of it.

He left the 2nd Battalion in Cyprus in 1984 for another intelligence appointment, this time at Headquarters Allied Forces Northern Europe in Oslo. He considered the three years there to have been amongst the best of his career. He completed four ski marathons and a fifty-six mile langlauf race. In the summer he indulged his love for sailing. It was an ideal family station, something that meant a great deal to Julian, Sue and their three children.
While Regimental Adjutant from 1987 to 1989 he completed the 1988 London Marathon in four hours.

He spent his last three years in the Army in the MOD Arms Control Inspection Team and the Joint Arms Control Implementation Group, organizations staffed by technical experts and linguists who monitored the implementation of disarmament treaties. At practice inspections to prepare British units for a Russian inspection Julian played the role of a Russian Colonel who spoke no English. He interpreted for the Russian visit to the 1st Battalion at Hohne in 1991 when, after lunch in the Sergeants' Mess, the Pipes and Drums played and many of the Russians burst into tears. He retired in 1992. Most unusually his resettlement course was in Sochi on the Black Sea.

He then worked in the Foreign Office as a desk officer and interpreter, meeting and greeting important Russian speaking diplomats and officials and taking them to meetings, sometimes at ministerial level and at least once at 10 Downing Street. There were one or two embarrassing moments. Once at a Russian Embassy dinner a former Foreign Secretary, for whom Julian was interpreting, insisted on including a joke (which Julian had predicted would prove incomprehensible in Russian) in his speech to the Russian Defence Minister. It fell flat. Another time, after the Kazakhstan President's visit to Buckingham Palace, the accompanying journalists' minibus stalled and the journalists (for whom Julian was responsible) had to push start it across the Forecourt in pouring rain. He also arranged visits and interpreted for Zeneca's Russian clients, something that involved the acquisition of a new agricultural vocabulary, and he did some Russian and German teaching and coaching at Bedales School.

In 2003, Julian returned to Birdcage Walk as Regimental Adjutant, which was now a Retired Officer's appointment. He stayed for seven years, and was effective, industrious and popular. He will perhaps be remembered particularly for introducing the headquarters to electronic communication, improvements to the regimental magazine and (after more than a hundred and fifty years) persuading the Committee of the Third Guards Club to have a seating plan at its annual dinner. He was President of the Solent Branch of the Household Division Association and Secretary to the Household Division Yacht Club. There was nothing he liked more than spending time at the coast on his Drascombe lugger. He was Chairman of Fishbourne croquet club and played regularly in competitive league matches throughout the south of England. (His grandfather had won the Croquet Championship of Scotland in 1878).

More than three hundred people attended the Service of Thanksgiving at St Luke's Church, Milland, including at least thirty-five members of the Third Guards Club. These figures express, more clearly than any words of mine can, the very high regard in which Julian's friends of all ages held him. Sue, their three children (one of whom served in the Regiment) and six grandchildren, survive him. Our loss is very great, but theirs is greater.