Obituaries
Major Nigel Sweeting
Late Coldstream Guards
by
Colonel D D S A Vandeleur
formerly Coldstream Guards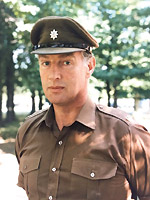 Nigel Sweeting died on 28th March 2017. He had suffered a stroke some months earlier and never fully recovered.

He was born in 1940, in Yorkshire, educated at Oundle and entered RMAS as a cadet in 1959. His housemaster summed up his character thus, 'He has the makings of an officer and is a boy of very good general character. He has a cheerful, calm disposition - he is popular with his fellows. Academically he is not a scholar, but he has quite good shrewd common sense, which stands him in good stead. Games are probably his first interest where he represents the House and the School on the 1st XV and plays at wing forward to a high standard. I recommend him very warmly'. Nigel's housemaster had accurately described the boy that was to develop into a man and a very popular Coldstream officer. His Memorial service in Hampshire was attended by many of his surviving generation and a close and loving family.

Nigel served in the Coldstream for 33 years, retiring on the 1st March 1994. During that time, he served with the 1st Battalion including Norway and Aden, the Guards Depot as a company commander, Regimental Headquarters as the Regimental Adjutant 1976 to 1978, and as Second in Command to Lieutenant Colonel Willie Rous with the 2nd Battalion in 1978. His career possibly peaked in 1979, when he became acting Commanding Officer, when Lieutenant Colonel Willie and a large detachment of officers and SNCOs were deployed to Rhodesia as part of the UK Ceasefire Monitoring Force for four months. Nigel commanded the Battalion in Caterham with aplomb. Thereafter, Nigel secured ERE postings in and around London District, including commanding Headquarter Company at the Guards Depot and the 2nd Battalion.

Retirement for Nigel, however, was gradual. First came retired officer positions in York, then Long Newton, a smallholding in the Borders, where Nigel could commute to Craigiehall in Edinburgh and lastly Hook, in Hampshire. Nigel threw much of his energy into Farm Africa, digging wells for farmers who had lots of sunshine but no rain, understanding and admiring the pluck and spirit of those who have to live off that unyielding land. He took up his hobby of restoring small antique furniture whilst living in the Borders. He loved the wide-open space and his garden. He had a huge interest in animals and birds. On less energetic days, he could always find peace on the river bank fishing or watching rugby on the television.

Sadly in 2012 Marnie suffered a stroke and Nigel became her round-the-clock carer, and no one could have had a better one. But sheer impotence in the face of such suffering was heart-breaking. Marnie held on by some compelling force of self-will until their golden wedding day, 14th September 2013, when she passed away.

Nigel survived through the support of his children and grandchildren. He thoroughly enjoyed his holidays, going back to Africa several times accompanied once by Rachel and her children; he went eagle spotting in the Hebrides with Nick and family; and more fishing and watching wildlife in Alaska and Montana with Jamie, as well as a number of trips to the States to visit Jamie and his family. He continued collecting 'things' throughout his life, pictures and fans in the early years to Toby jugs, inkwells and latterly he put together a large collection of Sir Peter Scott's sketches, prints and artefacts.

Nigel was an incredibly kind, generous and easy-going man. He was immensely proud of his children and his seven grandchildren. He will be greatly missed by his family and former comrades.