Obituaries
Major Sir Fergus Matheson of Matheson Bt
Late Coldstream Guards
by
Colonel D D S A Vandeleur
formerly Coldstream Guards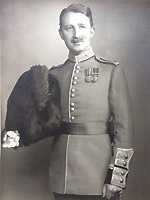 Fergus Matheson, who died aged 89 on 27th January 2017, was born on 22nd February 1927 at 3 Lowndes Street, Knightsbridge, London W1, the younger son of General Sir Torquhil and Lady Elizabeth Matheson. He was christened in the old Guards Chapel, Wellington Barracks, and his early years were happily divided between his maternal grandparents' home at Quidenham in Norfolk, Quetta which was then in India where his father was serving as GOC Western Command, and Duirinish, his father's home in Lochalsh, Wester Ross. He was educated at St David's, Heatherdown and Eton, boarding at Hubert Hartley's house which was run during the war years by his inspirational wife, Grizel.

Fergus enlisted in the Coldstream Guards in 1944 and was in Sgt N Leadham's squad as a recruit in the Training Battalion Irish Guards (a temporary extension of the Guards Depot) at Hobbs Barracks, Lingfield, Surrey in 1945, and then at the pre-OCTU, Training Battalion Scots Guards at Pirbright. He was granted a War Emergency Commission in the Coldstream Guards, passing out from 161 (RMC) OCTU Aldershot, and was later granted a Regular Commission.

Between 1945 and 1952 Fergus served in the 1st, 3rd and Training Battalions Coldstream Guards, the Guards Depot and Guards Training Battalion, seeing service in Berlin, Palestine, Tripoli, the Canal Zone and again in Germany. During this time, due to the exuberant behaviour of Fergus and his elder brother, Torquhil, there was apparently an unwritten RHQ rule that the Matheson brothers should never be allowed to serve in the same battalion; it was thought that the barrack damages would too great. However, when the 3rd Battalion replaced the 1st Battalion in Tripoli, due to an oversight on someone's part, Torquhil was on the 3rd Battalion advance party, and Fergus was left behind on the rear party of the 1st Battalion. They overlapped for one night. A dance was given by the officers of a neighbouring regiment to which a charming young couple brought their baby in a pram. The baby was soon removed and the pram was commandeered by Torquhil and Fergus, each giving the other very fast rides around the dance floor. The pram could not survive the 16 stone+ treatment, and was put out of its misery the next day as a moving target on the anti-tank range.

On 17th May 1952 he married the Hon Jean Willoughby, younger daughter of the 11th Lord Middleton KG MC of Birdsall House in Yorkshire, and formerly of Applecross, Wester Ross. This highly successful marriage was to last for 56 years and was the absolute centre of his life.

From 1952-55 he was Adjutant of Mons Officer Cadet School, Aldershot, and he commanded the Escort to the Colour on The Queen's Birthday Parade 1959, the final parade of the 3rd Battalion before it was placed into suspended animation. He retired from the Army in 1964.

Eighteen months in the City was not to his taste, and Fergus moved to Norfolk to work for the Ross Group. He later ran his own successful egg business for 20 years. He and Jean lived at Hedenham, entering thoroughly into the spirit of Norfolk life. A nearby shoot at Hardley, run with a group of close friends, provided endless entertainment and many happy days were spent trying to outmanoeuvre the wildest of wildfowl and game.

In 1979 Fergus was appointed to Her Majesty's Body Guard of the Honourable Corps of Gentlemen at Arms, of which he was the Standard Bearer 1993-1997, retiring at the age of 70.

He was appointed Commander of the Order of St John of Jerusalem, following service, first as an Area Commissioner, then Area President and finally as County President of St John Ambulance Norfolk.

In 1993 he succeeded his brother, Torquhil, as 7th Baronet of Lochalsh and 27th Chief of Clan Matheson, taking particular pride in the latter and travelling the world widely in its cause. Jean died on 11th November 2008; for 10 years he had selflessly cared for her in her debilitating illness.
Fergus will be remembered for his cheerful, kind, courteous and friendly manner in any situation. Never one to miss a good party, in 2015 he set off at the sprightly age of 87 to the Waterloo Ball in Brussels, proud to be the great-great-grandson of an Ensign who was present at the battle 200 years before, and was an enthusiastic participant in the Reel of the 51st Highland Division. He still managed to attend the Nulli dinner the following year. Fergus was immensely proud of his family and is survived by his three children: Matilda, Alexander and Fiona.