Obituaries
Major Mike Hall
Late Coldstream Guards
by
Colonel D D S A Vandeleur
formerly Coldstream Guards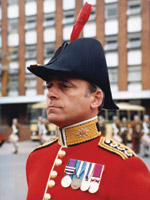 Michael Lawrence Albert Hall was a soldier of extraordinary talent who left a legacy of achievement in all three phases of a notable military career.

He was born in Hastings on 4th October 1944 and died on 31st December 2016. He left home at 15 years of age to join the Coldstream Guards at Pirbright as a junior soldier. He chose to train as a drummer and this was to be the start of a lifelong love of military music. He was soon promoted to the rank of Junior Company Sergeant Major. He joined the 2nd Battalion Corps of Drums just in time to be posted to Aden from 1964-1965. He moved through the ranks to Drums Sergeant before achieving his ambition to be Drum Major of his Battalion.

Having reached the highest possible rank in the Corps of Drums, Mike embarked upon the second phase of his career as a warrant officer at regimental duty in the early 1980s in the UK and West Germany. It was during this time that he and Sarah married and started a family. He was posted to the Royal Military Academy Sandhurst when he was appointed Regimental Sergeant Major of New College. Another ambition had been realised and Mike might have considered this to be the pinnacle of his career. This was not to be the case.

A hugely successful tour of duty at Sandhurst led to his being commissioned and so began the third phase of his career. After a spell as Technical Quartermaster of the 2nd Battalion, he completed his regimental service as its Quartermaster until the Battalion went into suspended animation in 1993. This sad event was the conclusion of Mike's Battalion service. Mike then returned to Sandhurst where he served as the Technical Quartermaster from 1994-95.

Throughout his service, Mike maintained a strong and active interest in military music and especially in drum and flute bands. He was a strong proponent for the establishment of a training centre for drummers, flautists and buglers from all corps and regiments and was, therefore, delighted to be appointed to command the newly-formed Army School of Ceremonial and Drumming at ITC Catterick; a role for which, as a distinguished composer and arranger of music for Corps of Drums, he was uniquely qualified. At this point, his career had turned full circle, and he was now able to ensure that consistently high standards of music were maintained throughout the Guards Division and the infantry.

He drafted and co-authored the first Drummers' Handbook, updated versions of which are still used. He gave a series of lectures to student bandmasters at Kneller Hall on writing and arranging for Corps of Drums; he greatly extended the Drums' repertoire, composed and arranged many scores and produced two CD albums of his own compositions and arrangements: Drum Major General and Escort to the Colour.

His final military appointment was as Officer Commanding Number 6 Cadet Training Team at Woolwich and he retired from the Army in 1999. After retirement Mike worked for the Worshipful Company of Spectacle Makers in London for five years as the Administrator. As the Training Development Officer of the Corps of Drums Society, he maintained strong links with military music and found time to research and write two books: With Trumpet Drum and Fife and A History of Drum and Flute Duty in the British Army. It would be difficult to disagree with an eminent member of the International Military Music Society who said that Mike Hall was, 'quite the most significant Drummer of the 20th century'.

Another lifelong passion was motorcycling. When serving in the 2nd Battalion, he started a motorcycle club and persuaded the Commanding Officer to buy three off-road bikes from PRI funds. At home, he could often be found in his beloved shed, maintaining his own bike and tinkering constructively. At other times, he'd be out and about with his family foraging, looking for mushrooms and sharing his knowledge of the countryside with the children.

Above all, Mike was a devoted family man. He was truly fond of his home life and gave Sarah and their children Nicola, Charlotte and Harvey the security, love and attention that only a man of steadfast integrity, humour and good nature can provide. He contracted Parkinson's which he bore bravely, maintaining a positive attitude and sense of humour throughout his long illness. He will be remembered as a very special person by his family, comrades and many friends.

Mike Hall was an inspirational leader with a strong sense of purpose; a highly motivated and adaptable soldier who excelled in every role. He was an intelligent and articulate man whose contributions to his Regiment and to military music are immeasurable.