Obituaries
Colonel H O Hugh-Smith LVO
Late The Blues and Royals
by Colonel H P D Massey
formerly The Blues and Royals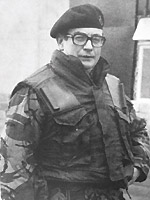 Henry Hugh-Smith was born in 1937 and educated at Ampleforth. His father, who was in the Navy, tried to stop him joining the Army, but his mother supported him and his real military career began.

He was commissioned into the Royal Horse Guards as a National Service officer in May 1957 serving in the UK and Cyprus, trying to hold peace between the Greeks and the Turks. He saw real action there and, while walking through the streets of Nicosia, his friend was shot dead beside him. The shots had come from an upstairs window. After graduating in History from Magdalene College, Cambridge he rejoined The Blues as a regular officer in September 1961. He served in a number of regimental and junior staff appointments until he went from commanding The Blues Mounted Squadron to the Staff College at Camberley in 1969. That was the year that The Blues amalgamated with The 1st Royal Dragoons, after which he returned to command A Squadron, The Blues and Royals from January 1970 until October 1971. As the reconnaissance squadron in the force responsible for guarding the flanks of NATO, he took his squadron to arctic training in the north of Norway and on exercise in eastern Greece. In April 1971, his was the first squadron in the Regiment to be deployed to Northern Ireland.

In 1972, as a major on the staff of London District he was seconded to the Widgery Tribunal, charged with looking into the events of 'Bloody Sunday'. While there, he lived with 2nd Battalion Royal Green Jackets. At the conclusion of the lengthy tribunal he asked to accompany a patrol in order to experience what it was like to be on infantry operations. On the night of 13th/14th March in an action lasting eight minutes in the Bogside in Londonderry, with some 600 rounds exchanged, Henry was shot in the right arm. His right hand was subsequently amputated above the wrist.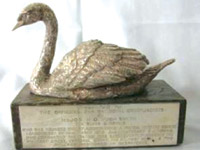 While Henry was recovering in King Edward VII hospital, he was visited by the Colonel, The Blues and Royals, Field Marshal Sir Gerald Templar. A considerable number of senior officers assembled to accompany the Field Marshal. However, when they reached the door of Henry's room he turned around and told them all to 'bugger off'. At a later stage Henry presented the 2 Royal Green Jackets Officers' Mess with a silver figure of a swan with a broken wing mounted on a marble plinth with a suitable inscription to commemorate his 'swan' going out on patrol. Two years ago, the Commanding Officer of Second Rifles, the natural successors, met and reassured Henry that the Swan is still in pride of place next to him at all dinner nights.

He then served on the staff of Northern Ireland and 2 Infantry Brigade until in June 1974 he became Equerry to HRH The Duke of Edinburgh, a post he was extremely proud to have filled. During this time he had to learn to do everything with his left hand including writing, getting dressed, saluting, firing his personal weapon, riding a horse and sailing while wearing a hook to replace his right hand. The only thing he admitted to having given up was shooting with a shotgun. At the end of this tour he was appointed MVO, later converted to LVO.

A series of postings to both Regimental and Staff appointments followed culminating in his taking command of The Blues and Royals, a Chieftain tank regiment in Detmold, in February 1978. Before doing so he had to satisfy the authorities that he could manage the duplex controller in the turret of his Chieftain with his hook. This was a challenging tour in command because he had to lead his Regiment on a roulement infantry tour in West Belfast the following year. Here the Regiment suffered several casualties, four of them fatal. Henry maintained his exceptionally high standards throughout and in subsequent enquiries was described as 'an officer of the highest personal integrity whose personal sense of honour and commitment to his Regiment are absolute'. His personal example was instrumental in keeping the Regiment on an even keel during this difficult time.

Henry was a hugely popular Commanding Officer with both his officers and his men. He had a quick brain and gave clear direction at all times. In matters of opinion there were no grey areas. He was quick to defend those he commanded from external criticism and was kind hearted in a no-nonsense sort of way. When a Guards Brigadier complained about the standard of saluting by one of Henry's soldiers, he was very swiftly invited to look at the standards of saluting in the rest of the Garrison. Certain topics could provoke a furious reaction sometimes resulting in hilarious consequences. On one such occasion, while emphasising a point, Henry flung his arm out, thereby managing to spot-weld his hook to the battery of the engine in his yacht, Shabraque. He was a keen sailor and would frequently invite his officers to join him on board.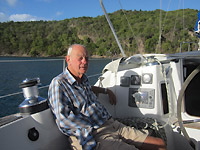 After command, Henry had a number of roles including command of the UK element in the Sinai. In 1987, he was promoted full Colonel and served as Defence Attaché in Nairobi until his retirement on medical grounds in 1991. He was appointed National Chairman of the British Limbless Ex-Servicemen's Association (BLESMA) in 1996 until 2010. He was elected a member of the Royal Yacht Squadron in 1970 and also belonged to the Royal Cruising Club. In 2010, aged 72, he sailed across the Atlantic in the Royal Ocean Racing Club 600 Yacht Race with fourteen ex-service men as the first all-amputee crew. His philosophy was that "there is no disability when everyone on board is somewhat in bits." He owned several boats - the last two being named appropriately Drum Horse - and based in the Caribbean.

Henry was a dedicated, courageous and professional officer and a good friend of many. He always stuck up for those less able to look after themselves. No one will forget his indomitable spirit and he will be remembered with respect and affection by his family, those who served with him, and all who knew and worked with him.