Obituaries
Lieutenant Colonel Gordon Birdwood
Late The Blues and Royals
by Colonel Simon Falkner
formerly The Life Guards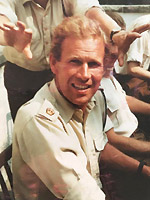 Lieutenant Colonel Gordon Thomas Riddell Birdwood, seemingly a very fit and healthy man, collapsed and died on 15th January aged 68. He had commanded the Household Cavalry Mounted Regiment and later became Head Gentleman Usher to The Queen during a life devoted to public service, as well as pursuing a successful career in property. A much-loved figure in The Royal Household, when asked one day what the Gentleman Ushers did, he replied, 'For most people coming to the Palace is the best day of their lives. Our job is to make it even better'.

Fluffy, as he was known since boyhood, came from a distinguished military family. His father was an Army doctor and his great uncle was Field Marshal Lord Birdwood who commanded the Australian and New Zealand forces at Gallipoli in the First World War, and later was Colonel of The Blues for 18 years. He was born in 1948 and brought up in North Devon, a county that would always mean so much to him. He was educated at Wellington, although he would admit that this was not a highlight of his life. He was neither intellectual nor academic, nor did he excel at team games but was an accomplished athlete especially at cross country.

He joined the Royal Horse Guards, The Blues, in 1968, the last to join the Regiment before the amalgamation with The Royals. From the outset, he was an unusually well-liked and respected officer. His men admired him for his enthusiasm, his interest in them, his care for them, his integrity; they liked him for his kindness, his generosity and his sense of fun. He served as a troop leader in Germany and Windsor as well as at Mounted Duty at Hyde Park Barracks, and deployed to Northern Ireland on several occasions. He got into the usual scrapes as a young officer. On exercise in Germany in the late '60s the British Army had license to roam freely across German farmland in their 55 ton tanks. Cornet Birdwood was tasked to go off in a Land Rover to find a nice grass field where the whole squadron could rendezvous under the cover of darkness. He found his perfect field; the squadron gathered, arranged themselves in formation, spent the night and dispersed before dawn. In the darkness, some thought the grass a bit soft and sparse. A few days later the might of the West German Civilian Authorities descended, complaining about the complete destruction of a prize-winning field of winter wheat, and insisted that the culprit be brought to justice. In due course Ct Birdwood appeared in front of his Commanding Officer; to his delight he was sentenced to a long weekend in England on the proviso that he attend an hour's lecture at the Royal Agricultural College, Cirencester entitled 'Crop recognition'.

He had been ADC to the Deputy Supreme Allied Commander in NATO prior to being Adjutant of the Mounted Regiment. The role of Adjutant is serious. His Commanding Officer, Brian Lockhart, thought 'Fluffy' an inappropriate name for the role, so instructed Gordon and the officers to desist from using the soubriquet. Almost the next thing to be heard from the Commanding Officer's office was 'Fluffy, Come in here'. He was an excellent Adjutant, but things did not always go according to plan. One morning a busy Adjutant was driving to the Court Martial Centre, complete with precise staffwork in accordance with required pedantic protocol. Fluffy was due to prosecute a soldier at Pirbright. He had been to several parties the night before, and woke up late. He jumped into his large and powerful car and hurtled off down the M3. Doing well over the speed limit, he had to stand on the brakes when a small Fiat pulled out to overtake a lorry in front. As the Fiat inched past the lorry, Fluffy sat on his tail, flashing and hooting. Eventually the Fiat got past the lorry and returned to the middle lane. Fluffy roared past, indicating his fury to the driver, in graphic fashion, as he did so. Eventually, he screeched to a halt outside the Court Martial Centre, jumped out and was busy strapping on his Sam Browne when the Fiat trundled into the next parking space and a stuffy major, Permanent President of the Court, alighted. The day went downhill from there.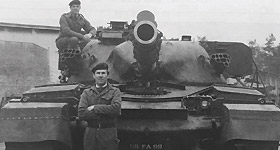 He was Assistant MA to the Minister for the Armed Forces during the Falklands War, later commanding a squadron in both Germany and Windsor towards the end of the Cold War. He was subsequently Press Officer for British Forces in Cyprus during the difficult period of the 1980s. His time in Cyprus was particularly happy, working for Major General Sir Desmond Langley, and starting his married life with Bella, complete with speedboat named Overdraft.

He was the very best sort of Regimental Officer; professional, very strong on loyalty, honest and fair, he was greatly respected and held in genuine affection by his soldiers. He was a true leader. Serious about soldiering he nevertheless found humour even in the most trying times and he made the most of all the opportunities military life offered; riding to hounds, playing polo, skiing, riding the Cresta, parachuting and running marathons for charity. He even acted. While in Cyprus the Army Theatrical Society staged a performance of Much Ado About Nothing in the Curium Roman Amphitheatre and Fluffy was persuaded to play a very small part. He and Bella had four friends staying and they all went along. Fluffy's moment came when he had to step forward and say 'My name is Conrad. I am a gentleman'. Of course, Bella and his friends shouted 'Oh no, you're not!' He then stepped back; that was it, those were his only lines. The following day his friends were all treated to large, 8 x 6 inch signed photo of this historic moment. On the back were the words 'Hollywood beckons'.

In 1990 he was appointed to command the Household Cavalry Mounted Regiment, a job for which he seemed to be tailor-made and both he and the Regiment enjoyed two very happy years at Knightsbridge. Leaving the Army in 1992, he went to work in the world of property management. Unsurprisingly, he made an equal success of this, working with David Workman of Workman Partners for most of the next 25 years. He knew nearly all the firm's 600 employees by name.

Fluffy was patriotic, a traditionalist and staunchly monarchist. He was delighted to join the Gentleman Ushers, being promoted in 2011 to Head Gentleman Usher to Her Majesty The Queen, and played a key role in the smooth running of countless investitures, garden parties and major state events. He was so well suited to this role, which he loved, and his charm, interest and sense of humour put people from all walks of life immediately at their ease. A long- standing liveryman of The Worshipful Company of Broderers, he was Master in 2011.

He was Chairman of Gallipoli 100, a charity set up in the centenary year in 2016 to keep alive the memory of the Gallipoli campaign. The funds he raised enabled a number of school children to visit the battlefields.

He was also a loyal Member of The Most Venerable Order of the Hospital of St John of Jerusalem in which he held the appointment of Commander. His main role was on the Ceremonial side, assisting at Investitures, but he also worked hard to raise funds for St John's Ambulance and for the restoration of the Order's Church in Clerkenwell. He did a huge amount for the Household Cavalry Foundation, established to help the wounded and bereaved from the Regiments' heavy toll on recent operations. Always believing that he was fortunate in finding his job with Workman and partners he also helped countless Household Cavalrymen, both officers and other ranks, to transition into civilian life, offering them time, advice and his considerable address book. He was extremely proud to have been directly responsible for employment for more than 150 of them.

A keen sportsman, he was for over twenty years a devoted member of the St Moritz Tobogganing Club and a regular in the Army Cresta team. St Moritz played a large part in his life and he loved his regular visits. He was a first-class skier, and travelled every year to Alpbach with his family; he also was a fine shot.

He delighted in his own unique use of language. A good party was always a 'Gala evening', things were 'Marvellously marvellous' and the following day he would always declare himself to be in 'Showroom condition'.

He had a very moving funeral at Hambledon attended by more than five hundred people. At the end of the service his coffin was borne to his grave by a bearer party of Household Cavalrymen. They lowered the coffin steadfastly in the pouring rain, while the Last Post and Reveille was sounded by Household Cavalry State Trumpeters. His Memorial Service was attended by about 1025 people, the most in living memory: there was no standing room, a final tribute to a very much admired officer. He was, above all, a family man and our deepest sympathy goes to his adored wife, Bella, daughter of the well-known Grenadier General Sir David Fraser, and to their two beloved daughters, Katie and Attie. Fluffy leaves a huge hole in many lives but most of all in theirs.