Obituaries
Major J I C Richardson
Late Welsh Guards
by Lieutenant Colonel D M MacDonald-Milner
formerly Welsh Guards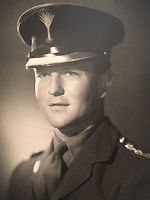 Johnny Richardson was born in Belfast on 7th September 1936 where his father, Brigadier Charles Richardson, was then serving. He was educated at Westbury House and at Eton. Johnny was granted a Short Service Commission in the Welsh Guards as a National Serviceman in January 1956, becoming a Regular in May 1959. He was appointed Adjutant of the Eton College Combined Cadet Force in September 1967 and after a successful tour during which he guided many potential officers towards the Household Division, he returned to the Battalion in 1969. In November 1972, he took command of No 8 Company at the Guards' Depot and, in January 1975, became the Training Major London University Officer Training Corps, an appointment for which he was particularly well-suited after his time as Adjutant at Eton and as a Company Commander at the Guards' Depot. He retired from the Regiment in July 1977 and took up estate agency with Mann & Co in Surrey.

Johnny married Jill Jackson in the Guards' Chapel in 1972 and they had two daughters, Victoria and Lucinda.

Johnny much enjoyed racing, especially on the flat and he belonged to a syndicate, Kennet Valley Thoroughbreds. He would have been delighted when one of their horses, Magical Memory, won at Newbury in the Hackwood Stakes, on the Saturday after he died.

Our deepest sympathy goes to Jill and their two daughters.