Obituaries
Nicholas Lumsden
Late Scots Guards
by Duncan Hilleary
formerly Scots Guards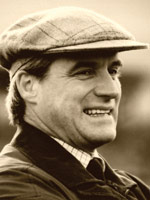 Nicholas Lumsden was born in London on 20th February 1960, the younger of twin sons, to Joanna and David Lumsden (Scots Guards 1948-56). He grew up in Berwick in East Sussex and was educated at St. Peter's Seaford and then Malvern College, in Worcestershire. He was commissioned into the Scots Guards in December 1979 and served a Short Service Commission with the 1st Battalion in London and Northern Ireland.

I first met Nick on Brigade Squad No 23 in January 1979. We had just had our heads shaved and been marched, at high speed, back to our line, still wearing the suits that we thought would signify what Guards Officer might look like. Nick was rattling around in a double-breasted pinstripe number of a certain age that would not have looked out of place accompanying a violin case. I could see this not-very-tall, somewhat exuberant figure, rushing about enthusiastically introducing himself to everyone and earnestly wishing them 'all the best'. I reckoned he would last no more than 24 hours once heat began to be applied. To my dismay, it became clear that he and I were the only two aiming for the Scots Guards. 'Well I am sure we will both sail through' he said when he introduced himself, then adding, in a semi-hushed tone, 'and at least we'll be together'…

The heat duly was applied and it soon became clear that my assessment could not have been more wrong. Nothing that was thrown at him seemed to bother him. He never lost his extraordinary good nature, his kind and thoughtful good manners and his joy at the fun of doing whatever we were doing, no matter how unpleasant it really was. Whether it was trench digging, 10-mile runs weighed down with 40lb packs, all night boot polishing, or parading under the terrifying regime of Drill Sergeant Willie Fullerton, nothing got anywhere near to breaking 'Whispering Nick' as he had become known.

On the final exercise, after many nights on Salisbury Plain, we were tasked with setting an ambush. Face down, and later at night, we crawled along the freezing ground, and there we stayed, with the cold steadily sapping our spirits, until we were sprung at around 5am. We had to rapidly bug out, carrying our equipment and running some three miles to the transport and 'Endex'. Each time someone made it onto the vehicle, it was driven forward another 500 yards. Time and again we stragglers missed it until, finally, Nick charged towards the moving 4-tonner, bursting into the passenger's side of the cab, and grabbed the keys before the very surprised driver could do anything to stop him. This attitude to a challenge really was the measure of the man, and a pattern that we would see repeated many times again.

We went on to complete Sandhurst together, and were both commissioned in January 1980, joining the 1st Battalion in London, just in time for an 18-month posting to Northern Ireland. Nick joined Left Flank, taking command of 11 Platoon, with Sergeant Gallagher as his Platoon Commander. Nick saw plenty of action in Belfast, including coming under fire during the 1981 hunger strikes. Throughout his time there, he faced the challenges in his usual bold manner, always finding time to encourage others. Despite the eccentric first impression he often presented, Nick never failed to earn great respect from all, and his extraordinary determination, resilience, imagination, high standards, and boundless good humour, made him a very good soldier and excellent leader.

It was a long posting, but thankfully there were some breaks. Despite not liking heights, Nick bravely went off to complete a climbing course in Norway and, in 1981, attended the Platoon Commander's course at Warminster. Prior to the Battalion's tour in Hong Kong, Nick completed the Jungle Warfare course in Brunei, where he excelled.

Hong Kong was a glorious time. After the gloomy and depressing workload of Belfast, Stanley Barracks was a joy and our border guarding duties seemed light in comparison. With more leisure time, Nick prepared for an active social life. He bought an enormous Cadillac Fleetwood and a power boat that could pull four water-skiers at once. Every time there was news of yet more young ladies arriving on their travels from London, he would race to the airport to meet them. Ever the optimist, his routine for these poor, jet-lagged girls would usually be a sort of tour of the island in this huge vulgar car, with him struggling to see over the steering wheel, followed by a high-speed trip around Repulse Bay in the boat, before finally delivering these bemused, windblown and exhausted girls to wherever they were staying.

Nick left the Army in 1983, joining Citibank and then Bear Stearns in both London and New York. It wasn't long before he began to enjoy considerable success and had soon acquired a smart Chelsea flat and was driving a Ferrari Dino. After five or so years, his spirit of adventure and enterprise could be suppressed no more and he risked it all to set up his own business in property, first in France and then Hungary. With Eastern Europe opening up, this was a fascinating time. The business started well, but did not prosper quite as he had hoped, so in 1993 he returned to London, bravely ready to start again. He joined Robert Fleming & Partners where, for several years, he worked closely with General Sir Peter de la Billière, covering the Middle East. He then joined Jardine Fleming in Bahrain and then Hong Kong, before eventually returning to London in the late 1990s. He then co-founded Dexion Capital with Robin Bowie, then a short spell at AXA before founding his own investment management company, Rosecastle Capital.

He married Clare Philipps in 2002 at her family home, Picton Castle in Pembrokeshire, and they began their life together in London, where first Molly, then William were born. They moved to an idyllic house at Longacre, Dorset in 2009. Rosecastle Capital continued to take him to many parts of the world, but he could always work from his home when not travelling, which he enjoyed enormously.

He always took immense trouble over his many friends, but most of all he was intensely proud of his family, and he was a loving father and husband. His home gave him endless pleasure and he was interested in and enjoyed involvement in a wide range of local activities.

Nick had very sadly been diagnosed with bipolar disorder in 1993 which, for many years, with his usual courage, he had successfully battled to keep in control, but in the end, it claimed him in a heart-breaking fashion at only 56 years of age. His untimely death has brought great loss and sorrow to his family and many friends all over the world. He is survived by his wife Clare, his daughter Molly, son William, his mother Joanna, twin brother James and his twin sisters Emma and Kate.