Obituaries
Captain John Robinson
Late Coldstream Guards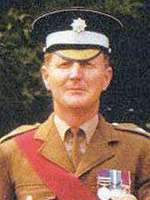 John Robinson died on 24th May 2017, aged 74, after a long struggle with cancer. He died peacefully with his wife Brenda by his side.

John was born in Sheffield in 1943 and enlisted into the Coldstream Guards in 1962, the beginning of a career which lasted 25 years. During his career, he served with both the 1st and 2nd Battalions and completed two very successful tours at Sandhurst as a Company Sergeant Major and later as a College Sergeant Major. He was the Company Sergeant Major of No 4 Company, 2nd Battalion, in Cyprus in 1974 when the Company was involved in a 'seat of the pants' extraction of President Makarios, who had been deposed in a coup.

His rapid progression through the ranks resulted in him being appointed Regimental Sergeant Major of the 2nd Battalion in 1981 and subsequent commissioning in 1984. After posts as the 1st Battalion Families Officer in Hong Kong and MTO he retired in June 1987. John had a great sense of humour and had a pragmatic attitude to life, nothing much phased him, his sense of fair play was exceptional.

On leaving the Regiment, John took up the post of club secretary at Addington Palace Golf Club where, it is reported, he turned a failing club into a successful one. He moved to St George's Hill Golf Club in 1992, where his humour, self-discipline and leadership were appreciated by staff and members alike. His decisiveness and decision-making and his great sense of perspective enabled him to manage the club for the benefit of all. He was instrumental in organising the first golf competition between St George's Hill Golf Club and The Guards Golfing Society, which is now firmly on the annual fixture list. John stayed at St George's Hill until 2011, when he moved to Cuddington Golf Club before retiring a few years later. He was also secretary of The Guards Golfing Society. He leaves behind a devoted family and many friends in the Regiment and on the golf course.