Obituaries
Major Douglas Glisson MBE
Late Coldstream Guards
by Major Robin Alderson
formerly Coldstream Guards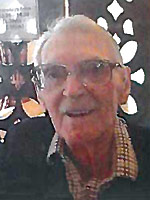 Major Douglas Glisson, who died aged 96 on 5th May 2017, was one of those who had served during the Second World War, later to become Warrant Officers and then Quartermasters, a generation of Coldstreamers who contributed to the spirit, military efficiency and reputation of the Regiment they served with distinction. He was a man of impressive stature, warmth of manner, humour and integrity, whose compassion and wisdom benefitted all those who had the privilege of serving with him.

His early years were spent in Fordingbridge in Hampshire, and his first encounter with the Coldstream Guards was in 1941 when, as a Post Office employee, a reserved occupation, he was required to deliver telegrams to one of the battalions, then located in the Fordingbridge area. The warm welcome he received convinced him that, when called up for war service, he would ensure that he was enlisted in the Coldstream Guards.

From the Training Battalion, he was posted to the 5th Battalion Coldstream Guards, then part of 32nd Guards Brigade in the Guards Armoured Division. Douglas served with the Battalion through the Normandy campaign, the advance to Brussels, the crossing of the Rhine and the Ems, through to the Battalion's final objective at Cuxhaven. Volunteering for peacetime service, he served in Palestine, Egypt and Malaya, returning to the UK to take up the post of Company Sergeant Major of 13 Company, where his immaculate bearing and striking presence made a strong impression on a generation of recruits.

In 1955, he became Regimental Sergeant Major of the 3rd Bn Coldstream Guards, arriving at Shorncliffe in time to play a key part in the reception of hundreds of reservists re-joining the Colours for the Suez emergency. The Battalion then undertook a tour in BAOR in Hubbelrath, as part of 4th Guards Brigade, returning to Wellington Barracks in 1959. His time as Regimental Sergeant Major reached its climax and conclusion when the Battalion paraded for the last time on Tower Hill where, in 1661 the Regiment had taken up arms as the Lord General's Regiment of Foot Guards, and having exercised their right to march through the City with drums beating, Colours flying and bayonets fixed, the Battalion laid up its Colours in the Mansion House and was placed in suspended animation.

On commissioning, Douglas became Motor Transport Officer of the 1st Battalion. At short notice, he was posted to the Headquarters of the Sovereign Base Areas in Cyprus, returning to London after 18 months to be District Physical Training Officer in London District. In 1968, having waited his turn on the Quartermasters' Roll, Douglas took over as Quartermaster of 2nd Battalion Coldstream Guards from Norman Duckworth, who had occupied the post for the previous 11 years. His tour as Quartermaster saw the Battalion move from Chelsea Barracks to Münster as part of 4th Guards Brigade, and then to West Belfast for the Battalion's first emergency tour in 39 Brigade, based in Springfield Road Police Station.

On retirement in 1972, Douglas became Bursar of Bromsgrove School, near Birmingham. Here he enjoyed a warm relationship with Sir Adrian Cadbury, who, as President of the Birmingham Branch of the Coldstream Guards Association, welcomed his involvement with the Branch. He made a significant contribution to the life of Bromsgrove School during ten happy years there.

Douglas married Ivy in 1947. They first met during their childhood years in Fordingbridge. She was a wonderful companion, accompanying Douglas wherever quartering arrangements allowed, and a loving mother to their two children. On retirement from Bromsgrove, Douglas and Ivy moved to Dorset, nearer to their roots in Fordingbridge. Following Ivy's death in 2009, Douglas moved to be nearer his son, where he was able to support the Aldershot Branch of the Coldstream Guards Association until shortly before his death, after a short illness, in May 2017.