Obituaries
Anthony Forbes MBE
Late Coldstream Guards
by Major B M De L Cazenove
formerly Coldstream Guards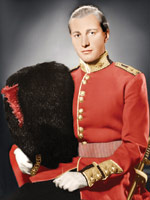 Anthony was born in 1938 and died in February 2017 after a courageous battle with pancreatic cancer. He was a loyal and supportive Coldstreamer, a major figure in the City of London and had a wonderful singing voice. He was the son of Lieutenant Colonel David Forbes, MC, who was wounded at Monte Camino having just taken command of the 3rd Battalion Coldstream Guards and shortly afterwards died of wounds. Anthony's mother, Diana, subsequently married David who became Marquess of Exeter, so he grew up at Burghley. He was educated at Eton where he was in 'Pop' and joined his father's old battalion in Hubbelrath along with seven other ensigns most of whom were at school together. He extended his commission and did Public Duties for a year. In the words of one of his brother officers 'he was a joy to serve with, fun, outgoing, with an exceptionally warm personality and a deep base voice matched by a similar laugh. One always knew where he was!'. Anthony was a great supporter of the Nulli Secundus Club dinners and was a member of another exclusive, unofficial 3rd Battalion dining club known as 'The Something Club' only because someone at their early dinners said that their club should be called something, and it was!

On leaving the Regiment, he joined Cazenove & Co, becoming a partner in 1967. He initially worked on the money broking, or loans, side of the business where he was responsible for developing equity stock lending and then set up an 'Instant Research' department distributing quick analysis of company results around the firm. This soon led him towards the corporate side of the business. He became a friend and adviser to many directors of a wide range of companies and helped build the Cazenove business to become the biggest corporate broker in the City. In 1980, he became the joint Senior Partner with John Kemp-Welch whose father Peter was a Coldstreamer. Together, they managed the growth of the firm which played a leading role in the privatisation of state owned companies after the 19798 General Election. Corporate activity was very high in the 1980s and 90s with large scale takeovers and capital raising, requiring much hard work, and Anthony was in the thick of the business. In 1994, after 14 years as joint Senior Partners, Anthony and John decided to retire from Cazenove & Co to make room for the next generation. In his address at The Guards' Chapel at the Service of Thanksgiving, John recalled 'sitting opposite Anthony was never dull. He was a man of many words and whose humour and brilliant mimicry kept us all amused. By contrast, he was cool, calm and courteous in difficult situations'.

Anthony was a keen and knowledgeable gardener, well recognised by his Trusteeship of the Botanic Gardens Trust, based at Kew. He built up a lovely garden at his home at Wakerley and created, out of the most unforgiving terrain, a remarkable garden around his house in Portugal. The latter depended on a highly elaborate watering system that indulged in his love of gadgetry.

On retirement, Anthony became a director of The Merchants Trust, Carlton Communication, and Royal & Sun Alliance, which kept him busy but allowed time for his many charitable activities. Among these was the Burghley House Preservation Trust, on which he served 40 years, including as Chairman for 22 years, as well as The Royal Choral Society, with whom he had sung as a young man, becoming their Chairman for the last 25 years of his life. Few people who were there will forget Anthony's speech in the year before he died at a concert by the Society to celebrate the 80th Birthday of The Duke of Kent, their Patron, which took real courage and supreme effort, a very moving and wonderful Forbes performance. Attending his final concert at the Royal Albert Hall in a wheel chair just before Christmas 2016, an audience of 5,000 gave him 'three cheers' for his contribution to the Society. He was appointed a Member of the Order of the British Empire in the 2017 New Year's Honours List for his services to music and the Royal Choral Society and was invested with his medal just before he died.

Anthony married, firstly Virginia Ropner, and secondly Belinda Drury-Lowe. From his first marriage he had two children, Jonathan and Susie. He was a very kind and generous man in so many ways and will be greatly missed by his family, many friends, and all those whose lives he touched.