Obituaries
Captain James Alderson Smith MC
Late Coldstream Guards
by Colonel H G R Boscawen
formerly Coldstream Guards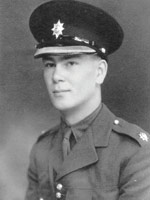 James Alderson Smith, known as Jim to many in the Regiment, managed successfully to complete a shortened wartime law degree at Pembroke College, Cambridge, before being commissioned into the Coldstream in December 1942, aged 20. After initial training, he served in the short lived 6th Battalion Coldstream Guards, based near Harrow-on-the Hill, forming part of the defences of London. He was then posted and embarked for Italy where he joined the 3rd Battalion during the tough fighting to establish the Salerno bridgehead in September 1943.

As a platoon commander, he was involved in the battles north of the Bridgehead, including at Point 270 (Chapel Hill) above Cappezano (south-east of Naples) in which Company Sergeant Major Peter Wright took command of No 1 Company of 3rd Coldstream and was subsequently awarded the Victoria Cross for his gallant leadership. Alderson Smith was then involved in the arduous battles for Monte Camino (November and December 1943) and in the protracted action at Trimensuoli (across the River Garigliano in the foothills of the Aurunci Mountains) in mid-January 1944. The style of warfare in Italy soon became clear and, even when well dug-in, despite copious mud, German artillery observers on high ground could often bring down artillery and mortar fire and cause casualties. Alderson Smith, an accomplished sportsman, managed to keep his Guardsmen's morale high by his attention to their needs, and by his natural, unceasing cheerfulness.

He also gained a reputation for aggressive leadership of fighting patrols. In June 1944, near Sarteano (Umbria, about 90 miles north-west of Rome) a local boy reported that 20-30 Germans had entered a local factory the previous night and Alderson Smith took a dozen volunteers from No 4 Company to dislodge them. Having been surprised by a grenade thrown at them by a man in a tree, who was quickly shot, the patrol climbed the high wall around the factory and split into two groups. As patrol commander, he found some Italians who cowered when he asked about 'Tedeschi' before encountering three armed Germans at close range in a passage moments later. 'Feeling the situation to be full of possibilities', he wrote later, 'I loosed off with my revolver and was agreeably surprised by the result' which earned him the nickname 'Dead-Eyed Dick' among his peers. The patrol withdrew and Battalion mortars took over.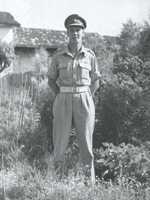 Captain James Alderson Smith, in Italy, possibly on the day when he was presented with his Military Cross ribbon
Apart from a shrapnel wound in July, which he barely acknowledged, his good fortune held as 3rd Coldstream, ably led by Lieutenant Colonel George Burns, continued its advance, through the now broken Trasimene Line, to Florence. The 270 miles from Rome took 10 weeks of costly fighting before 24th Guards Brigade could move towards the Gothic Line and thence follow the route towards Monte Sole and Bologna.

In March 1945, the 2nd and 3rd Battalions of the Coldstream moved back from the mountains overlooking the north-eastern plains of the Po to Spoleto to 'reorganise'. Those who had been away from home for some years were collected into a cadre formed by the 3rd Battalion and embarked for England in March 1945, leaving the 'new' 2nd Battalion to continue the advance towards the Po and Trieste. It is no coincidence that a number of those of all ranks from both battalions who had distinguished themselves over the previous 18 months were not forgotten, being decorated for gallantry or Mentioned in Despatches for their efforts.

On 19th April 1945, the award of the Military Cross to James Alderson Smith was gazetted for his 'great devotion to duty, personal bravery and leadership... During this period of active and severe fighting Lieut. Alderson Smith has never once failed to do his duty and has always been an example to his men as a leader'. James finally left the Army in January 1947. 'I very much enjoyed my time in Italy,' he recounted, 'a good lively time, plenty of interest and things going on'.

James returned initially to Wallasey, Cheshire before attending law school in Guildford and joining his father's firm of solicitors, Ayrton and Alderson Smith, in which he soon became a partner. In 1951, he married Mary Elizabeth Reynolds, who died in 1987; their daughter Susan later became the fifth generation of solicitors in the family. James retained his sporting interests, including tennis at which he excelled at Wrekin College, and was an exacting umpire when his children and grandchildren played each other.

While Ayrton and Alderson Smith followed traditional methods until James retired in 2009, aged 87, characteristically he developed a comprehensive knowledge of business in the Liverpool area and built an impressive network of people whom he advised and served. He was also Secretary of the Liverpool Cathedral Committee for many years.

As President of the Coldstream Guards Association (Liverpool Branch) he took the same level of friendly interest in members as he had done in his platoon. He served for many years with cheerful good humour since he realised that few Coldstreamers tended to settle in Liverpool. All those who came across him on Regimental business very much appreciated his insights and enthusiastic pursuit of Coldstream interests in the Liverpool area.