Obituaries
Lieutenant Colonel The Lord Wigram MC
Late Grenadier Guards
by Major General Sir Evelyn Webb-Carter KCVO OBE DL
formerly Grenadier Guards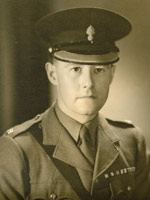 Neville Wigram who died aged 101 on 23rd May was always very proud of being a Grenadier. As a child, he had watched the sentries outside Norman Tower in Windsor Castle where his father lived whilst Private Secretary to King George V. In young Neville's opinion, which of course was not then of much importance, the smartest sentries, (by far he would tell me) were Grenadiers and so at a young age he resolved to join them. He was a godson and Page of Honour to King George V and his association with the Royal Family continued. On one occasion whilst Regimental Adjutant he was instructed to wear a new type of military dress which had to be approved by King George VI. The Director of Ordnance Services was very concerned whether Major Wigram would understand the etiquette but the Director was taken aback when the King entered the room and said, 'My goodness Neville, you do look a guy'.

Neville was educated at Winchester College and Magdalen College Oxford; he was very proud to be the Sen Man at Winchester. He had a lifelong love of cricket and delighted in going to Lord's whenever he could. However, whilst still at Oxford he found himself in Forres playing for the North of Scotland XI against the Australian Test touring team captained by Sir Donald Bradman. Batting as a tail ender he scored 16 runs in his first over against Chipperfield including a six, 6 in his second and by the end of the match he was 28 not out. As he put it 'for a short time I was a hero'.

In 1937 as he had long intended he joined the Grenadier Guards alongside Miles Fitzalan Howard with whom he remained a lifelong friend always sitting next to him at First Guards Club Dinners. Before joining the 1st Battalion he reported to the Lieutenant Colonel Commanding the Regiment, Charles Britten, affectionately known as 'The Ancient Britten' who proffered the startling advice that if he were going to purchase a car he should ensure it had a high enough roof for a top hat! In due course, he was trained as the Battalion's Motor Transport Officer and it was in that role that in September 1939 he went to France and Belgium as part of 7th Guards Brigade in the Division commanded by Bernard Montgomery. I remember very clearly that whenever 'Monty' came up in the conversation Neville would recall how lucky the Battalion was to be in his Division. In May as the crisis developed he was responsible for recovering as much of the battalion's transport and move them back to the coast. At La Panne Neville and his group of drivers having been forced to abandon their vehicles marched down the coast to Dunkirk; it was a journey he would never forget. He had a lucky escape when a shell fragment hit his water bottle inside his small pack which probably saved his life. He kept the pack as a keep sake and a few years ago had the eyes of a group of schoolchildren out on stalks as he described his experience. He returned safely on the Ben-My-Chree, an Isle of Man to Liverpool ferry.

Various appointments followed during the retraining of the Army from 1940 to 1944. Two events occurred during this time, one happy and the other tragic. In July 1941 he married Poppy Thorne, the daughter of General 'Bulgy' Thorne. It was to be a lifelong romance but in September 1943 his brother Francis was killed at Salerno serving with the 6th Battalion of the Grenadiers. In 1945, it was as commander of a squadron of Sherman tanks in the 2nd Armoured Battalion that he next saw action in Belgium and Holland. Having crossed the Rhine in March his squadron, working with the King's Company, came up against stiff resistance from a unit of the SS in the small town of Aalten. For his courage and leadership at Aalten Neville was awarded an immediate Military Cross. In 2010 Celia, my wife, and I accompanied Neville, then aged 95, to a moving ceremony in the town where he was most warmly welcomed.

In April 1945 Neville's squadron, supporting the 1st Battalion, helped to liberate a German POW camp at Sandbostel and the conditions he found there were appalling and the evidence of cruelty left a lasting impression on him. Just after this action one of his subalterns, Miles Marriott, an only son, was killed by shellfire and later when on leave Neville went to visit the boy's parents. It was a sad duty but as a result the Miles Marriott Trust was established to assist Grenadier officers to educate their children.

After the War Neville and Poppy went with their two children to New Zealand as Neville had been appointed Military Secretary to Lord Freyberg, The Governor General. Three happy years ensued and as there was no rationing there the family prospered. In 1950 Neville was Regimental Adjutant whilst Geordie Gordon Lennox was The Lieutenant Colonel and from the stories it seems he spent most of his time working on the arrangements for Geordie to take over the lease of Gordon Castle. Some readers who have had to learn a phrase or two in a foreign language when commanding a Guard of Honour can thank or otherwise Neville for the custom. In March 1950, he was nominated to command the Guard of Honour for the State Visit of the President of France, Monsieur Vincent Auriol. Before the war Neville had got most of the way to pass the interpreter's exam in French but this was interrupted by the war. So, on his own initiative he presented his Guard of Honour to the President in French. The King so approved of this courtesy that it continues to this day; maybe not to everybody's comfort!

In 1955 he took over command of the 1st Battalion in Hubbelrath but sadly not long after taking command Neville was involved in an accident with an Austin Champ, notoriously dangerous vehicles as they had a habit of turning over and on this occasion Neville was thrown through the windscreen and suffered serious head injuries. The squadron leader in the vehicle lost the use of his legs. In due course Neville recovered but it meant having to leave command very early and was then invalided out of the Army. All this was a great disappointment to him but, as ever pragmatic; he turned to farming and bought Poulton Fields, a lovely farm in Gloucestershire where he and his family lived in great happiness. He became an accomplished breeder of Clun Forest sheep winning many prizes at country shows and as ever loyal to his regiment managed to recruit a Grenadier foreman and tractor driver.

He became very involved in County affairs and was soon in much demand with Scouts, The Lieutenancy and the local church. He was a much loved and respected President of the Bath and Bristol Branches of the Grenadier Guards Associations. Outside Gloucestershire he was a Governor of The Westminster Hospital as indeed his father had been and today there is a Lord Wigram Ward in the Chelsea and Westminster Hospital. Also, he was a General Commissioner of Income Tax for Cirencester, President of the Bath and West Show, and Governor of both Rendcomb College in Gloucestershire and The Lord Wandsworth College. Tragically his wife Poppy died in 1986 aged 69 but he continued to lead a busy life until his 90s when he moved into a bungalow in Fairford. Remarkably, he remained healthy and retained his memory and wonderful sense of mischief to the very end. Always courteous, modest and patient, he was a wonderful father and father in law. I never once heard him raise his voice. He was a true 'English Gentleman'.

He loved his family; he had nine grandchildren and seven great grandchildren and nothing more he liked than the gatherings of the whole family at Christmas, at christenings and weddings and most especially his 100th Birthday Lunch. He will be particularly missed by his three children, daughters Cherry and Celia and his son Andrew, also a Grenadier, who has served the Royal Family and has succeeded to the title.