Obituaries
Tristan Voorspuy
Late The Blues and Royals
with acknowledgment to The Daily Telegraph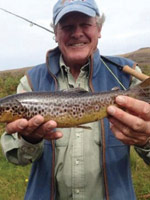 Tristan Voorspuy was a free spirited alpha male. His greatest contribution was as a conservationist and safari guide, but he was always an engaging companion with great charm mixed with outrageous behaviour and glorious political incorrectness. Aged 61, born on 26th March 1955, he was shot dead on 5th March 2017 while surveying damage on Sosian, his ranch in Kenya. Tristan devoted much of his energy to conserving the wildlife, and with it, he thought, the future of his adopted nation and its peoples; he was best known beyond Africa as the intrepid guide of mounted safaris that offered his clients exhilarating encounters with big game at close range.

Tristan had settled in Kenya in 1983 after riding a motorcycle from London to Cape Town. (Later he flew a light aircraft out from Britain, spare fuel piled in cans on the seats.) His adventurous spirit soon found a berth with Tony Church, who was pioneering safaris on horseback rather than in vehicles. Voorspuy felt the added vulnerability gave a better sense of man's place in the order of things.

In 1990, he and his wife Cindy set up their own company, Offbeat Safaris. Soon after, they moved into Deloraine, built in 1920 by Lord Francis Scott and one of Kenya's great houses. They rented it from the Rift Valley Development Trust, Voorspuy keeping it going by combining farming with making it the base for his safaris. Exciting and unpredictable as these were, much of their appeal lay in Voorspuy's charisma. He was bold and utterly fearless, never carrying a rifle when out riding, only a hunting whip or sjambok. Though he hated displays of swagger, stories of his close shaves were legion and not always legendary. He would think nothing of swimming a pony across the Mara river as crocodiles sunned themselves on the banks. At least once he charged a lion that strayed too close to an elderly guest who had paused to admire a flower. His manner was often abrupt, and he would not hesitate to tick off clients who talked too much or asked silly questions. Yet he was generous, and his knowledge of African wildlife was almost unrivalled.

For many, the highlight of their trip was when, whisky glass in hand, sitting by the camp fire, he would recite The Man from Snowy River or all 75 stanzas of The Fox's Prophecy, reportedly memorised on exercise in Germany. In 1999, he put together a consortium to buy Sosian, a 24,000-acre ranch in Laikipia, north-west of Mount Kenya. The land had been overgrazed, there were goats in the lodge house and no game. Under his management, it was transformed into one Kenya's finest nature reserves, with more than 6,000 elephant and 250 lions. The venture was not a money-spinner, but for all his outward cynicism, Voorspuy felt a patriotic commitment to the country of which he had become a citizen. Its challenges, he felt, such as population growth, were those which would soon face the rest of the world. He was aware of the hazards of his way of life, but asked why he did not opt for a more sedate one answered: 'Because I dig the bush'.

The youngest of four children, Tristan Maarten Voorspuy was born in Johannesburg. His father Hendrik was based there as a pilot for KLM, having flown during the war with No 320 (Netherlands) Squadron RAF. When Tristan was still a young child, the family settled in Sussex, his mother's home county. He grew up on the South Downs, a setting that inspired his love of nature.

Although quick-witted and blessed with a good memory, he did not shine as a schoolboy at Eastbourne College; one report recommended he spend as much time at his books as watching spiders climb the walls. He went on to the Agricultural College but was asked to leave after only a year. In 1975, he was commissioned into The Blues and Royals. The Army offered him plenty of opportunity to hunt and he also rode in point-to-points. He rode in the Grand Military, later recalling that he had fallen at the same fence as The Prince of Wales. He served in Germany, two tours of Northern Ireland, Pirbright and Knightsbridge. He had a great capacity for partying and chasing girls in a highly spirited set of junior officers.

He met his future wife Lucinda (Cindy) Mackintosh, a notable horsewoman, in 1984 while he was managing the carriage driving scenes in the film Out of Africa. As well as enjoying polo, they took over Ginger Bell's Hounds, the last pack in East Africa, and for some years hunted a drag from Deloraine. Their hunt ball was a fixture in the Rift Valley calendar. When Voorspuy was asked which was the most dangerous animal, he would reply 'The human animal'. On 5th March, he went to one of Sosian's houses to check reports it had been torched. In recent months, armed herders, spurred by drought and, it is said, encouraged by politicians, have driven thousands of head of cattle on to ranches such as Sosian. Game has been slaughtered and grazing devastated. Voorspuy went alone and unarmed to inspect the damage; his body was found some hours later. He is survived by his wife, their son and daughter.