Obituaries
Major T C Richardson
Late Grenadier Guards
by Major G V A Baker
formerly Grenadier Guards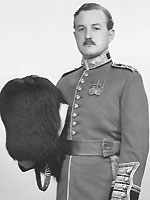 Tom Richardson died aged 87 following a fall on the 11th March 2016, although he had been suffering ill health from cancer for some time.

He was born in 1929, brought up in Alresford and was educated at Wellington College. He was commissioned into the Regiment on 29th May 1948 and served in all three Battalions, which included operations in Malaya, the Canal Zone and Cyprus. In 1953, he flew back from Egypt with a detachment to represent 3rd Battalion at the Coronation. He also served as Adjutant of the Honourable Artillery Company, at Regimental Headquarters and on the Staff of Headquarters, 4th Guards Armoured Brigade. He retired from the Army in 1967. He had served mainly at regimental duty, which was not good for his career, but the fact that he did so was largely at his own behest.

Tom was a complex character: a lively, amusing and witty companion, a good friend, an excellent raconteur of a seemingly endless repertoire of funny tales and jokes and yet, a rather private man who revealed little about himself. He wrote for The Guards Magazine. His confidential reports throughout his career bore testimony to a charming, intelligent, quick-witted, efficient and unflappable officer who was courageous on operations, but one who was essentially lazy in mind and did not push himself to fulfil his undoubted potential. He was an excellent racquets player who represented the Regiment. He was also something of a "bon viveur" who enjoyed his food and drink as well as gambling and partying; the example that he set to younger officers did not always endear him to his superiors.

After retiring from the Army, Tom never found a job that he thought would suit him, in spite of many attempts to help by his friends, perhaps most notably, Dickie Birch Reynardson. He was fortunate to have his elder brother Billy and sister-in-law Sarah, and his twin brother John to look after him; in later years, his niece, Emma, of whom he was particularly fond, also fulfilled that role. He lived at 100 Gloucester Road and right up to the end of his life could frequently be found lunching or dining at Whites, one of his favourite haunts.
As he became increasingly unwell and the 92 steps up to his flat became increasingly challenging, he found it hard to cope and for the last few months of his life lived in a care home near Winchester; I saw him there before Christmas and he was cheerful and amusing as ever, but clearly beginning to fade.

Tom was a loyal friend to many, and in return they were loyal to him; he outlived many of them, but nevertheless at his Thanksgiving Service in Old Alresford, the Church was filled with friends of all ages, all of them with happy memories of a delightful, entertaining and courteous Grenadier and gentleman.