Obituaries
Major (QM) B T (Jim) Eastwood LVO MBE
Late Grenadier Guards
by Lieutenant Colonel A Héroys
formerly Grenadier Guards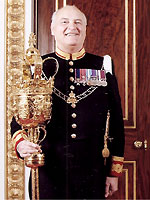 Barrie (Jim) Eastwood, who has died aged 80, was born in Beeston, Nottingham in 1935. He followed his brother Alec into the Grenadier Guards in 1952 and a year later was on parade at the Coronation in 1953. In 1955 he left the Regiment to join the Police, but he rejoined in 1956 and served over the next 28 years in both battalions in London, Northern Ireland, Munster, Berlin, the Cameroons, British Honduras, Cyprus, and Hong Kong. He served as Company Sergeant Major RMA Sandhurst (1968-69) and Regimental Sergeant Major 1st Battalion (1972-74). He was commissioned in 1974 and granted a Regular Quartermaster commission in 1977. He was the Quartermaster 1st Battalion from 1980-83. In 1984 he was selected by Her Majesty to be the Superintendent at Windsor Castle.

Jim was a true gentleman; tough, yet compassionate. Described as 'kind, charming, wise and a gentleman in every sense of the word', he earned equal respect from superiors and subordinates alike and merited their gratitude and admiration. He was recognised for achieving results through common sense and logic, rather than by shouting and bullying. He was always approachable and when presented with a problem would produce a solution. A colleague writes: 'Fearless and morally strong as a Soldier, the epitome of excellence and integrity as a Warrant Officer, kind and supportive as a Quartermaster, trusted and magnificent as the Superintendent of Windsor Castle, and generous with time and attention as the President of the Windsor Branch of the Association, Major 'Jim' Eastwood was a true Grenadier of the highest order'.

When fire broke out at Windsor Castle in 1992, Jim immediately recognised the seriousness of the situation. He telephoned the barracks in Windsor and demanded every soldier and lorry be sent to the castle - now. He then supervised the evacuation of all the precious objects d'art, often at considerable personal risk. His achievement in saving so many precious historical items was formidable. After the fire the rebuilding and restoration began. Jim supported His Royal Highness the Duke of Edinburgh in coordinating the multitude of contractors and sub-contractors who brought their many skills and experience to execute the fabulous restoration that can be seen today. Adam Nicholson, author of 'Restoration: The Rebuilding of Windsor Castle', inscribed on the flyleaf of Jim's copy: 'To the real hero of the fire'.

Jim was appointed MBE in 1984, on relinquishing his appointment as Quartermaster 1st Battalion and LVO on retirement from Windsor Castle in 1995, when he was also appointed a Serjeant at Arms in the Royal Household. Whilst at Windsor Castle he was awarded Order of the Lion (Malawi), Order of Isabel (Spain), Royal Order of Merit (Norway), and Ordre du Wissam (Morocco). On retirement in 1995 he became the President of the Windsor Branch of the Grenadier Guards Association for 20 years. On his final retirement in 2014, he was appointed 'President Emeritus of the Windsor Branch'.

Jim was married to his beloved wife Sheila for 56 years who travelled the world with him, supporting him in all his many postings. His was a 'rags to riches' story having started their married life in a barrack room tin hut at Perham Down and ending up in Garter House Windsor Castle. Jim was a great family man and is survived by Sheila, their two daughters, Janice and Carolyne, four grand-children and four great-grand-children, whom he loved dearly.