Obituaries
Brigadier M S Bayley MBE
Late Grenadier Guards
by Major General Sir Michael Hobbs KCVO CBE
formerly Grenadier Guards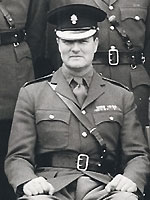 Michael Bayley, who has died aged 93, was born in Kensington on 13th July 1923. He was educated at Eton where he excelled at rugby and was Captain of the First XV. He won an Exhibition to King's College Cambridge. After 161 OCTU at Sandhurst, he was commissioned in the Grenadier Guards in 1942 and posted to the Training Battalion. As a Platoon Commander in the King's Company, he was wounded in his right arm and both legs while in action with 1st (Motor) Battalion at Aalten in Holland on 30th March 1945.

He was granted a Regular Commission in 1946 and rejoined 1st Battalion in Palestine. During the withdrawal, he was with his Company Commander in an isolated position above the docks when the Jews started shooting at them with machine guns. Their vehicle's tyres were shot out so they drove to the docks on flat ones.

In 1949, he was appointed Adjutant of 1st Battalion in Tripoli and passed the Staff College exam in 1951. With the Battalion back in Wellington Barracks in 1953, he was promoted to Captain of the Queen's Company. Two staff appointments followed. First as DAA and QMG in HQ 4th Guards Brigade in Germany, followed by MA to the Commander in Chief, HQ Far East Land Forces. In 1960, he was appointed Senior Major 2nd Battalion and MBE from his previous job. On being congratulated, Michael, who had a slight stammer, would reply "G - G - Goes with the job." A disrespectful officer began to mimic him until stopped by a threatening look and clenched fist. He attended the Joint Services Staff College in 1961, and became GSO 1 on the Staff of the Chief of Staff followed by GSO 1 at HQ London District.

Michael was appointed Commanding Officer, 1st Battalion, in Wuppertal. Early in 1965, the Battalion was selected for a six month operational tour with the United Nations in Cyprus. It was an interesting, enjoyable and worthwhile experience in glorious summer weather. The Battalion was recognised by Brigadier A J Wilson, UNFICYP Chief of Staff, as first class.

The Commander of Greek Cypriot forces in Limassol had an argument with Colonel Bayley about UN night patrols. Progress seemed impossible until Michael's charming smile unexpectedly broke the ice. The Greek Colonel immediately apologised. Under Michael's leadership, the Battalion won the confidence of both communities in Cyprus, developed a close affinity with UNFICYP and wore the blue beret and white and blue medal ribbon with pride. He was an outstanding Commanding Officer who raised the morale and fighting efficiency of the Battalion to a very high standard.

In 1966, Michael was promoted to Colonel GS SEATO Exercise Planning Team and the following year to Secretary Defence Planning Staff in the MOD. He was promoted to Brigadier in 1969 and appointed BGS Intelligence in 1972. An appointment at HQ UKLF as Brigadier Overseas Detachments followed, until his retirement from the Army in 1978.

In retirement he became a Director of Help the Hospices (Hospice UK) in 1992 and succeeded me as President of the Grenadier Guards Association from 1992 to 1996. In an article "The Way Ahead", published in the Grenadier Gazette 1995, he outlined proposals to sustain and strengthen for the future the active support which the Association enjoys and on which its aims will always depend. His other interests were conservation of church monuments and picture framing. Michael never wore his heart on his sleeve and, despite his natural humility and horror of shallow chatter, was hugely liked and admired throughout the Regiment. He was unmarried.