Obituaries
Captain J R Astor
Late The Life Guards
by Lieutenant Colonel H S J Scott
formerly The Life Guards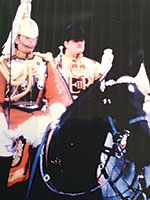 Richard Astor was a quiet, self-deprecating man. He treated all people the same, and would listen and talk to anyone in any circumstances, of whatever rank, or background, in exactly the same manner. He was most fortunate to have met, courted and married Katherine.

He was born on 20th November 1953, and educated at Eton. He was from a Life Guards family; Richard Astor joined the Army and attended Brigade Squad at Pirbright in 1973, where his biggest problem was missing Kaper, his black Labrador. A Brigade Squad story Richard loved to recall was when he was caught out on some minor error that was reported to his instructor. The instructor barked into Richard's ear, red faced and apoplectic with rage and expletives - 'Astor were you cuttin' about, or leapin' about?' Being recent arrivals the Squad had not yet learned the right answer to such a question. Richard replied, carefully hedging his bets and with that air of sublime vagueness, or cultivated diffidence 'I, er'm, think, um, I was, er, doing a bit of both Sergeant...' He was instantly marched at quick time to the Guardroom and given the chance to be further educated in the use of the floor bumper. At Sandhurst, the junior intake was also on duty for the Sovereign's Parade. The salute was to be taken by his uncle, Lord Astor. Having been marched out onto the square in No 1 Dress and highly polished ammo boots, Staff Corporal Smart RHG/D, an immaculate figure in blue patrol jacket and tight overalls, was doing the final checks, and said to Officer Cadet Astor 'wouldn't Nanny be pleased to see you now Sir ?' But then his eagle eye settled on a small piece of striped viyella pyjama just sticking out above the blue patrol jacket collar, which he then pulled out - 'No she would not Sir!' Richard later asserted that Nanny would have laughed heartily and still have been very proud. His uncle, on the other hand, was no doubt mildly surprised and may have wondered why all this laughter was breaking out amongst the junior cadets in the rear ranks.

Richard joined the Regiment in Germany for a year on Chieftain tanks as a troop leader, returning to Windsor in 1975. He was in B Squadron on the tour to Northern Ireland, securing RAF Aldergrove, with 5 Troop at the Police station in Aghalee, with CoH Denton. This involved extensive vehicle patrolling, and searching Lisburn shops for firebombs. The roads often had inadequate markings, and it was possible to take a wrong road, not realising one was leaving the main road. Richard got annoyed with his Land Rover driver for making this mistake, and told him late one evening not to turn off the main road unless told to. Some time later the driver asked Richard which way to go, and had to repeat himself as Richard had dozed off. Richard looked up to find they were at the docks in Belfast having driven down the Falls Road.

In the very early days of hang-gliding he and David Naylor-Leyland convinced the Commanding Officer to help fund a pair of early models. These intrepid aviators had mixed success and returned from their first outing with a new perspective of the dangers and some broken struts. They persevered; on one occasion Richard and others took one up to the gibbet on the downs overlooking his house and assembled it in a stiffish breeze. With the instruction manual in one hand, a pair of pliers, mole wrench and screwdriver in the other, it came together. Without much further ado he strapped into the harness and ran down the hill, caught an updraft and was airborne over the downs; after a few moments, and to huge relief, he started to descend and landed, nose first, unscathed, in a barley field, not far from his house at Kirby.

Shortly after returning to Windsor Richard was posted to London. He would ensure that his morning exercise ride, on Bucephalus, his dependable charger, took a route to Billing Place, their house just short of Stamford Bridge off the Fulham Road (it was less of a strain after they had moved to Pelham Crescent). It was here that he secured his horse, gave him a cup of tea, and went in for breakfast. The neighbours got something free as well, scooped off the road for their window boxes.

On 7/7/77, Richard and Katherine had their fabulously happy and glamorous wedding on the Hispaniola, a boat moored to the Thames Embankment in glorious sunshine. It was a splendid occasion, memorable also to Toby Browne (RHG/D) and Richard Dorman (IG) who jumped off the boat into the Thames in their morning coats.

Having got the flying bug from hang-gliding, Richard applied to be a helicopter pilot in the Army Air Corps. He passed all the entry exams and coordination tests with his usual 'this is easy' approach, and commenced training at Nether Wallop. On his first solo flight he landed Her Majesty's helicopter on the lawn at Kirby in time for tea and cakes, with a fairly anxious wife looking on. There was a regular theme in his conduct as regards home, at Billing Place and Kirby. From Knightsbridge he took his troop to Kirby, along with their horses for a winter camp fortnight. Physically things came easy to Richard. He was a good shot, took to riding easily, and had the coordination to fly, although unfortunately he did not have quite what the AAC wanted in a pilot. He left the Army and concentrated on his family and estate. Richard was above all a family man.

He was a proud member of the Royal Yacht Squadron (RYS), although firmly a motor rather than sail exponent. He showed determination as a sailor. This keenness combined with his sense of decorum once led him in rough seas in the Solent to sail past one of Her Majesty's finest, HMS Invincible, determined to see the proper acknowledgments made; the ship has to acknowledge a RYS vessel. The fact that Emily, who had to raise the pennant while he drove, was nearly swept overboard as Richard had to make successive passes to be seen, was a risk worth taking and eventually the aircraft carrier dipped her White Ensign.

Richard liked the role of ringmaster and loved having people around him. He was very proud of his service and of his regiment, The Life Guards. He hated pretension in anyone, and whilst highly traditional himself, he was by no means a stickler for convention; he had good manners, and style. Cruelly, his last 10 years were blighted by his worsening early onset dementia, bravely borne, which robbed him of his ability to understand his circumstances. He would have been very flattered that three of his former Corporals of Horse attended his memorial service. He leaves behind Katherine and three accomplished children; Emily, Charles and Tamara.