Obituaries
Colonel J A Aylmer DL
Late Irish Guards
by Colonel Sir William Mahon Bt LVO
formerly Irish Guards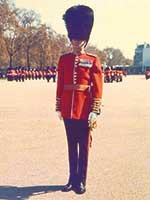 Colonel Tony Aylmer, a quintessential Irish gentleman, served in the Irish Guards from 1943 until 1980, and was the last regimental officer survivor of those great men who fought right through to the end.

He witnessed the mass disarming of German sailors at Cuxhaven after surrender and admired the discipline which enabled them to march on parade properly under their petty officers, pile arms and dismiss, and then wander off to their distant homes in a ruined Germany. He said that he and his fellow officers almost felt sorry for them.
'A defeated armed force is never a cheerful sight'.

Brought up in Co Westmeath in the now vanished era of the big house, he went to school in England at Wellington. The Master was killed in an air raid on the school while Tony was there. While at home from school he was woken one night by pebbles hitting his window. A young Royal Air Force officer had escaped from the internment camp at the Curragh and was on the run. He was quietly brought into the house, and with great care hidden where the servants or searchers could not find nor even suspect his presence. This was delicate since Tony's father was a senior figure in the local equivalent of the Home Guard. After a few days during which there were visits from the Gardai, it was deemed safe for the young pilot to continue his clandestine escape to Northern Ireland. Tony guided him on a bicycle and sent him on his way. After a time, the family received a post card from Belfast saying that the package had been delivered.

In 1940 in a 'surge of patriotism' he volunteered to work on a farm for a fortnight in Buckinghamshire. On leaving school he joined the Home Guard near Stanmore for a while, but never received his Defence Medal as he did not serve for three months. He spent a few months in an accountant's office, having had an introduction from his housemaster at school, who thought he was introducing him to a solicitor. Accountancy was not to his taste.

He joined a Brigade Squad (with Michael Richardson, Brian McGrath, and John Kirkpatrick) in September 1943 at Caterham. By this stage of the war beds in the barrack rooms had three wooden planks, on top of which was the mattress consisting of three hard 'biscuits'. Blankets, thick and rough, were shaken on Saturday mornings. No sheets, nor pyjamas were issued. Plain clothes were parcelled up and sent home. Drill, physical fitness and weapon training followed at breakneck speed. In due course he went to the Officer Cadet Training Unit in the hutted Mons Barracks in Aldershot and was back-squadded by a period in hospital with jaundice. While recuperating he was allowed to walk out in Aldershot in the archaic bright blue Crimean vintage 'wounded and hospital' uniform which was discontinued in 1945. At length he was commissioned in the Regiment in August 1944.

Improbably his first posting was to Fairmile Head Camp, Edinburgh, whither the Irish Guards Training Battalion had moved to make room for the large numbers assembling in the south for D-Day. This battalion was largely staffed by Great War reservists. He later moved to the greatly reduced 1st Battalion, re-building after its very heavy casualties at Anzio. In early 1945 an emergency draft was needed by the 3rd Battalion to replace heavy casualties at Hummersum in the Reichwald. With insufficient artillery support, the acting commanding officer had advised the Brigade commander that the attack was likely to be costly. He was told it had to be done. It was very costly and remained controversial ever after.

The emergency draft, most unusually, was flown by Dakotas from Northolt, and landed in Belgium, where it was met by 3rd Battalion transport; no nonsense about reinforcement drafting units and the like. Tony took over 18 Platoon in No 4 Company, previously commanded by Patrick Plunket who had been wounded. His company commander was Major Michael Dudley, an experienced ex-1st Battalion officer who had served in North Africa and Italy. The younger officers were all full of respect for such experience but felt that these people had become somewhat 'gung-ho'. Michael Dudley was later spotted wearing a British Warm greatcoat and killed by a sniper.

After a long wet and snowy battalion convoy advance with his 18 Platoon in a lorry, Tony found himself detached from 4 Company and detailed at last light to be defence platoon for battalion headquarters. With difficulty, after a brief by the Adjutant, he laid out the position having not seen the ground in daylight. They dug in. There was some desultory shelling in the night. It was an anxious experience for a young officer on his first night of operations, knowing nobody in battalion headquarters. He learned an enduring lesson. He was visited several times during the night by the Regimental Sergeant Major, George Howe, and by the Senior Drill Sergeant, Johnno Johnstone DCM. These two robust warriors, recognising a nervous young officer, were immensely reassuring, friendly and helpful. He learned, and never forgot, that the senior warrant officers are just as valuable for the morale of the officers as they are for the Guardsmen, and furthermore, they too, for all their mystique, become lifelong friends.

At the battle school Tony had learned the importance of keeping his Guardsmen properly aware of what was going on. So he told Sgt Byrne to gather them in a barn, for a quick update. He had just started briefing when there was an explosion, and he was thrown to the ground by a mortar fragment which hit his back. When he came to, he heard Sgt Byrne saying '…These young gentlemen don't last very long, do they!' Tony struggled to his feet, continued his briefing, and sent the platoon back to its positions. He then went to see Dr Ripman, 'Rip,' the revered medical officer who had been with the battalion since before Normandy. Rip patched him up and asked if he wished to be evacuated to England. Tony said certainly not. After an hour in a comfortable arm chair with a bottle of Rip's locally acquired German plums, he felt somewhat revived and returned to his platoon. Three weeks later his parents were astounded to see his name in a newspaper list of casualties as 'wounded but remained at duty'.

During this period, he witnessed the defensive battle at Wistedt where the last Victoria Cross to be won in Europe was earned by Guardsman Edward Charlton. This award, most unusually, was strongly supported by a captured German company commander. The morning after the engagement 18 Platoon, complete with a Gunner observation officer, and a Royal Air Force Forward Air Controller, was sent as a fighting patrol, anticipating trouble, to discover if the Germans were still at Wistedt. To young Mr Aylmers's great relief, they had withdrawn.

After another long advance, the German surrender was announced. There was no great rejoicing or euphoria. However, the company commander, by now Chris Dodd, a fluent German speaker, felt that some wine might be nice that evening. Patrick Plunket, now recovered from his wound was back in 4 Company but did not take the platoon back from Tony. So Tony was sent to the local schloss to see if he could acquire some vino. He was delighted to be sent in Dodd's jeep. Mildly embarrassed, he stood at the front door and rang the bell. As if it were peacetime, a German butler in a tail coat appeared. The young officer politely asked if there was any chance of having some wine, please, as they were rather tired. The butler did not answer.

Then a lady's voice from inside the Schloss said in crystal clear English: 'Hans, give the young gentleman a case of red and a case of the Himmel Reich Mosel if you would, please'. Tony relished Himmel Reich ever after. He surmised that the lady of the house must have been an English Grafin.

In 1946 he went to 32nd Guards Brigade at Schloss Berg Gladbach, and Travemunde. Here he began to learn some of his skills at dealing with charismatic senior officers. In this case the extrovert Brigadier Joe Vandeleur was in charge, and Tony was a junior staff officer. He saw one of the difficulties of senior command. Brigadier Joe's brigade was tasked with sending Polish soldiers back to Poland. Everybody was aware that their future was at best very perilous under the Russian occupation. When the Brigadier spoke to the Divisional Commander the answer was clear: 'We are required to do this. I am sorry. If you can't do it, you will have to be relieved'.

After a stint in England in the Training Battalion it was time for more action, and Tony joined the now fully recovered 1st Battalion in Palestine. Thence to Tripoli, and thereafter in 1949 when the remaining single 1st Battalion returned to (the old) Chelsea barracks.

Public duties, and the dock strike, on which he had strong views, were the official activities, but a highlight of this stage was when Tony was ordered to attend a Semi-State ball at Buckingham Palace for Princess Elizabeth and Prince Philip's departure for Malta.

Tony's next notable experience of senior officers was when he was appointed Aide de Camp to the then Lieutenant General Sir Gerald Templer, GOC-in-C South East Command. He greatly admired Templer, and learned much from friendly informal chats, and like several of the staff, lived part of the time en famille. One day the general was to visit a Royal Army Ordnance Corps unit near Ashford in Kent. It was essential not to be late, but the journey involved crossing London. Tony therefore allowed plenty of time. Nearing the destination, with time in hand, Tony suggested they wait for a short time, so the staff car pulled in. A few minutes later an army breakdown lorry arrived, from their host unit. The driver saluted and politely asked if they wished to be towed to the barracks, as it had been reported that they had broken down. Thereafter, still meticulous about time, Tony always stopped a little further away to avoid being spotted. Ironically, as a Garter Knight, on 2nd November 1979 Field Marshal Templer's funeral was held at Windsor, attended of course by a constellation of senior officers of all vintages, and naturally, by Tony Aylmer. He must have noted with a wry smile the many star-spangled staff cars parked (with time in hand) in the approaches to Windsor.

On the death of King George VI in 1952, Tony was chosen to undertake a vigil at the Lying-in-State. He was also selected to be the marshal with the gun carriage. This marshal was responsible for controlling the timing of the procession to Paddington Station. Precision was important. He concealed his stopwatch in the long cuff of his greatcoat. As the procession went under Marble Arch and Tony noted that the pace was increasing. He called to the Naval Captain commanding the gun carriage 'Steady, sir', but this seemed to have little effect. So, in firmer and louder terms he said, 'You must slow down, sir'. This had some effect, and they reached Paddington about fifty seconds early, which 'was considered acceptable'.

Tony Aylmer became Adjutant of the 1st Battalion at Hubbelrath, near Dusseldorf in early 1953, but returned to London with the Coronation contingent. The Battalion found the Guard of Honour outside Buckingham Palace and a large marching contingent in the processions. Tony, a horseman since his youth, was mounted. It was a busy year, for on return to Germany Tony as Adjutant was a key figure in the move to Egypt for the battalion to take part in operations. After this he returned to command the Irish Guards Company (No 7) at the Guards Training Battalion at Pirbright.

A quick thinker, who avoided university because of the war, Aylmer was a charmer, whose languid manner belied his intelligent grasp of any situation. He now went to Staff College, in the Minley Manor Division (such was still the size of the post-war Army). His appointment after Staff College was to Headquarters 2nd Division (Major-General William Stirling) then stationed at Hilden, where he shone. He returned to the Irish Guards at Windsor in 1959 to command a company, and then became Regimental Adjutant in London. This was at a tense Cold War time, with the Regimental Headquarters each having an operational sector in London. It therefore came as a pleasant surprise to be asked to accompany the Irish Guards Pipes and Drums to Brazil for the Rio Festival. The old soldier stories from that trip echoed for years round the Association dinners.

In September 1961 Tony Aylmer married Shaunagh Guinness at Celbridge, Co. Kildare. It was the day on which Hurricane Debbie battered Ireland with a vengeance. The bride and bridegroom just managed to reach the church; she went by car, but he had to walk across a field because so many trees had been blown down. The Guard of Honour warrant officers (in plain clothes in the Republic) struggled through and made it somehow. But many guests, including the author of this obituary were stranded and without communication. Eighteen people were killed and there was widespread damage throughout Ireland.

An interesting course at the US Armed Forces Staff College in Norfolk, Virginia followed, after which he had a short interval as second-in-command in Germany, where the battalion was equipped with elderly underpowered Humber 1-ton armoured vehicles ('pigs'). His quiet kindly approach to life was much admired by the younger officers, who enjoyed his unique rather faded wartime brown beret, and thought he did well to get away with it.

Tony Aylmer's tour as second-in-command was cut short. He was carefully picked to be Military Assistant to Admiral of the Fleet, The Earl Mountbatten of Burma, KG, Chief of Defence Staff. In this exciting and demanding role Tony's charm went a long way to easing the many stresses. There was a huge amount of administration as well as serious staff work. Lord Mountbatten as Chief of Defence Staff, and with all his previous appointments, had world-wide political and defence business. One example was Tony's attendance with Lord Mountbatten at Nehru's funeral in India in 1964. At the end of his time as Chief, Lord Mountbatten undertook a world tour, accompanied by his daughter, Lady Brabourne, and among others Major Aylmer. In charge of the myriad of different uniforms required for events of all types in all climates, was Guardsman Frame, Tony's orderly. They flew by Royal Air Force Comet and spent forty-six days on the tour. Dazzling would not describe it, and Guardsman Frame, possibly with a touch of guidance from the Military Assistant produced an admirable article for the Irish Guards Journal. The tour visited sixteen countries and covered 36,000 miles. It included 17th March, St Patrick's Day, which could not be ignored. Thanks to the Regimental Headquarters staff, Mrs O'Keefe's Shamrock was correctly received (in good condition) at Honolulu, Hawaii. This raised three questions, as recorded in Frame's article:
Has Mrs O'Keefe's shamrock ever been presented in Honolulu before?
Hawaii opinion: No
Has the Colonel of The Life Guards ever received shamrock with Irish Guardsmen on United States soil before?
Hawaii opinion: No
Is it proper to wear shamrock and orchid lei necklaces at the same time? (The ladies presenting the leis said firmly YES).
With all his travel experience, it is not surprising that Major Aylmer, now promoted, became the conducting officer for the Imperial Defence College tour of the Far East.

After this came his command of the 1st Battalion, based at Chelsea Barracks. It started busily and conventionally enough, with public duties, presentation of new colours by The Queen at Buckingham Palace, followed by the new colour being trooped before Her Majesty, with all the attendant celebrations that such things generate. And then, with minimum notice, the Battalion was warned for operations in Aden. There was just time for a fortnight's hasty training at Sennybridge, and after a drop of embarkation leave, the Battalion flew out to Aden to relieve the Welsh Guards as part of 24th Infantry Brigade in Salerno Lines, Little Aden.

It was a hectic tour. Within a few weeks of arrival, the Battalion was involved in an exciting maritime operation, landing from HMS Fearless at Hauf, and conducting an exemplary cordon and search. Both up country in the Habilayn and Dhala area, and down-country in Aden and Little Aden, the Battalion had an action-packed tour. The up-country patrolling was reminiscent of the North-West Frontier. During the visit of the Colonel, Field Marshal Alex, (he had commanded the Nowshera Brigade before the war, and had the Indian General Service Medal, so knew the form!) he noted that the Battalion's air platoon provided a great new way of picketing the heights. This was no easy sunshine tour, and it was notable that the up-country dissidents using old Lee-Enfield rifles had sights that covered longer ranges than our self-loading rifles. Furthermore, tracer burnt out at a range shorter than the target on many occasions.

To add to the atmosphere, the Six Day War took place, which inflamed the ambitions of the Arab insurgents. There were excursions at short notice to the riotous and rumbling East Aden Protectorate, while in Aden itself the local units and armed police were in mutinous crisis. With the British presence coming to an end the local groups (FLOSY, the Front for the Liberation of South Yemen and the NLF, National Liberation Front) fought one another vigorously as well as seeing us as the common enemy, trying to establish who would be in charge after we left. Poor benighted Aden: its subsequent history has never ceased to be turbulent and remains to this day a cruel running sore.

Much steaming hot time was spent loading stores which were not being left behind into British India Line ships in Aden Harbour. And then it was time to fly home. Salerno Lines in Little Aden was handed over. It had been rumoured that either Egyptians or Russians would be the next occupants. Perhaps it was no great surprise that the air conditioning plants throughout the barracks were beyond economic repair at handover.

Elizabeth Barracks, Pirbright was a peaceful place after Aden, other than the dulcet tones of spring drills. Soon the familiar spectre of public duties and St Patrick's Day came round. While rehearsing for the Queen Mother's first visit to St Patrick's Day since she had been Duchess of York, the Commanding Officer was unhappy at the officers trying too hard at their drill when practising receiving their shamrock from Her Majesty. Lest the Royal toe be trodden upon he said: 'Do try to look like eighteenth century gentlemen, and please don't stamp your feet so much' he said. Field Marshal Alex came on the day, and Tony's gentlemanly levée drill was approved.

As Regimental Lieutenant Colonel, Tony, ever one for a swan it would seem, decided it was necessary to inspect the Battalion, which by this time was in Hong Kong. That was one of the highlights of his job. Another was attending the Guildhall luncheon for the Luxembourg State Visit since the Grand Duke had served in the 3rd Battalion during the war. Little did anybody know that he would become our Colonel a few years later.

After a course in Rome and two further continental appointments Tony was given a final very interesting short-term job to see him out. He was Executive Secretary to the committee for the erection of memorials to Great Soldiers of The Second World War in St Paul's Cathedral. This was chaired by Lord de Lisle VC KG. The culmination was an unveiling service of pomp and circumstance to rival any held there in this reign. So much was Tony appreciated by those involved in the project, Lord de Lisle arranged that his name should be included on the explanatory tablet. Not many people can say they are mentioned on a memorial in St Paul's.

After army service, Tony worked for about ten years in the Conservative Central Office in London. Commenting on this in the Times obituary, Lord Lexden wrote: He descended upon us occasionally with his genial colleagues, a general and a brigadier, who comprised the Conservative board of finance. Most of their work was done in restaurants with businessmen, rustling up useful sums for Tory funds.

'Dear boy', the colonel would say. 'I think I would have got a bigger donation today if my guest hadn't been so browned off about the poll tax. Could you draft a nice letter about it for me to send him?' The reward was an invitation to the board's lavish champagne parties at Christmas. I doubt many honours were promised. 'I really think we should do something special for our most generous friends', he said one day. He seemed delighted when I arranged for some copies of a small history of the party to be bound in half leather for them.

He was deeply involved with ex-service charities, and when living in the Isle of Wight was a Deputy Lieutenant. He was a champion of the Scout movement and an active supporter of The Prince of Wales's Trust.

In 2003 he was thrilled when the fiftieth anniversary of the Coronation stamps featured the procession, and there in the front of the Irish Guards contingent he saw himself, following the Commanding Officer.

At Tony Aylmer's Thanksgiving service there was an admirable example of his care for others. A special mention was made of his much respected and missed orderly of many years, the late Lance Sergeant Frame.

What a charming man; what an interesting life full of variety and adventure. He really was the epitome of a beautifully mannered and efficient officer. We send heartfelt condolences to his family. A great Mick, and the last of an era.

QUIS SEPARABIT