Obituaries
Sir Crispin Tickell GCMG KCVO
Late Coldstream Guards
by Major General P G Williams CMG OBE
formerly Coldstream Guards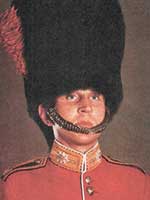 Sir Crispin Tickell died on 25th January 2022, aged 91. Very few former Coldstream ensigns have gone on to have a career as brilliant and varied as the one that he enjoyed, not least the diplomatic postings that marked him out as one of the stars of the Foreign Office. For instance, at the time of the Falklands war his diplomatic skills were such that he persuaded the president of Mexico to sit on the fence, rather than to join most of his southern neighbours in supporting Argentina's case and its invasion. He was knighted by Her Majesty the Queen during her official visit to Mexico in 1983.

As his obituary in The Times noted, he so impressed Mrs Thatcher when she visited his embassy in Mexico City that he became 'One of Us', the exclusive group that had her ear. For example, he went on to give her the advice on which she based a ground-breaking speech to the Royal Society in 1988 highlighting the dangers posed by the degradation of the planet.

Several years later as the United Kingdom's Permanent Representative to the United Nations Security Council he was proud of the part that he had been able to play in bringing to an end three wars (in Cambodia, in Namibia, and between Iran and Iraq). The award of a GCMG in 1989 was the well-deserved recognition for his 35 years in the diplomatic service and the following year he retired to pursue other challenges.

Thereafter he devoted himself to numerous organisations and causes, bringing his formidable intellect and organisational skills to bear for their benefit. In the early 1990s he was the Warden of Green College in Oxford, which focuses on medicine and science, and was the President of the Royal Geographical Society; he also found time to write a biography of the pioneering fossil collector, Mary Anning of Lyme Regis, to whom he was related.

Sadly, despite his widespread efforts to make the public aware of what he saw as the planet's poor prospects as a result of climate change (or 'destabilisation' as he preferred to call it), he felt that efforts to halt its decline were insufficient; in 1999 he declared that he felt 'the next generation are in for an awfully bumpy ride'.

It was in the latter part of his life that he returned to his Coldstream roots and took pleasure in attending Nulli dinners. Although he did not write a memoir about his time in the regiment, the outline of his service is clear. Having been a scholar at Westminster School and then at Christ Church, Oxford, where he achieved a first class degree in Modern History, in September 1952 he joined Sergeant Rowley's Brigade Squad intake. He was three years older than most of the group and was described by a friend in the intake as 'trailing clouds of academic distinction'. After four months at Caterham the successful candidates moved on for a similar period of time at Eaton Hall Officer Cadet School.

He was commissioned into the Coldstream as a National Service officer in May 1953 and was posted, along with two other ensigns from Sergeant Rowley's squad, to the 3rd Battalion, which was stationed in a tented camp at Fayid in the Suez Canal Zone and had a detached company in Aqaba, Jordan's outlet to the Red Sea. The Egyptian political situation was complex and fragile and the battalion was kept busy with training and guard duties. He took his soldiering seriously, but he also took advantage of an opportunity to lead a party of Guardsmen to St Catherine's Monastery in Sinai and to visit the company in Aqaba, where it associated closely with the Arab Legion. Another highlight was a trip that he made to Petra, which at that time was deserted apart from a few Bedouin tribesmen and their families.

The 3rd Battalion returned to England in early 1954 and devoted itself to public duties. In the October of that year his commission came to an end and he moved on to the Foreign Office. Like so many other National Servicemen, he had benefitted greatly from the experience and had forged friendships in the Army that would last a lifetime.

He is survived by his widow, Penelope, and by the three children of his first marriage, Oliver, James and Oriana, and it is to them and their families that our condolences are extended. Nulli Secundus.