Obituaries
Geoffrey Atkins
Late Grenadier Guards
by Major James Gatehouse
formerly Grenadier Guards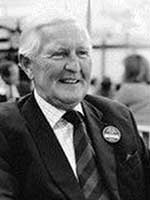 Geoffrey Willoughby Thomas Atkins died on 6th November 2021, aged 94. He was a gloriously talented sportsman, among the greatest racket-sports players of his generation and he excelled at the explosive game of rackets, the ancient forerunner of squash. Although he only took up rackets on a whim as a sixth former at Rugby School, his exquisite touch, athleticism and zen-like calmness propelled him to a string of major titles, and he is considered to be one of the outstanding world champions of the post-war era.

Geoffrey Atkins and his twin brother Robert were born into an Indian Army family in Poona (now Pune) in India on 20th January 1927. Their traditional, sporty father Geoffrey Atkins was a lieutenant-colonel in the Punjab Regiment. Their mother, Ursula, was a former nurse and an eccentric animal lover, so passionate about her Pekinese dogs that she would feed them the daintiest treats before anyone else was given supper.

The young boys were sent back to England to prep school, where Geoffrey displayed precocious gifts as an expressive, fine-featured child actor, garnering rave reviews when he starred in two West End plays. He was also cast in several films, including two with Robert Donat; Goodbye Mr Chips as the Duke of Dorset, and The Young Mr Pitt, in which he played Pitt as a boy. The MGM Studio offered him a contract in Hollywood but, to his disappointment, his father vetoed the idea.

At Rugby School, Atkins shone at squash, rugby, hockey and cricket. In his final year, noticing that the school's two rackets courts were often empty, he asked the resident professional, 70-year-old Harry Grey, if he could have a go. He was hooked at once and practised alone for hours, mastering the speed of the ball and the court's angles. He then began playing competitively, with immediate success. 'Rackets is a challenging game technically, where anticipation, footwork and precision are essential, and there is no room for error', he later recalled. 'I felt a strong sense of achievement in pulling everything together and playing this difficult game well. There's great exhilaration when you hit the ball in the sweet spot of the racket and see it rocket away for a winner'.

In June 1946 he joined the Regiment on a short service commission. While a young officer, Atkins developed his skills as a doubles player and partnered another Grenadier and also his company commander at Sandhurst, Ronnie Taylor, to the Army rackets championship, four years in a row. After leaving the Army (before he could be elected to the First Guards Club), he went on to Queens' College, Cambridge, but did barely any work, instead spending most of his time playing sport and winning Blues in rackets, Real Tennis and squash, in which he twice represented England.

By the early 1950s Atkins was among the world's best, winning the British Amateur Singles in 1952 and 1953, together with the American and Canadian amateur singles titles. In that era the rackets ball was appreciably slower than the modern-day ball, while the natural gut stringing and lighter frames of the Grays rackets then used meant that they could not be strung to the far higher tensions of today. This put the emphasis far more on speed around the court and accuracy than raw power. 'Geoffrey's court coverage was seemingly effortless, his footwork absolutely impeccable and his ability to get the ball back to a length was magical', recalled the former world champion Howard Angus. 'Given half a chance he would put the ball away with consummate efficiency, not with crushing speed, but guided elegantly to where his opponent was unable to reach it.'

On leaving Cambridge, Atkins worked for Dunlop in London, and in 1954 he became the new world champion. Days later, he married Pippa Fulljames, eight years his junior and daughter of the chaplain of Rugby School, where they had met more than a decade earlier. The pair enjoyed their honeymoon aboard the The Queen Elizabeth en route to America, where they settled in New York for several years.

Atkins took jobs in the oil and gas sector and then worked briefly for a food processing firm, with stints in London, Japan and Chicago. During the 1950s and 1960s he won titles around the world, including twice taking the Tuxedo rackets championship in New York three years in a row. This enabled him to keep two of the splendid gold trophies, his favourites among all his prizes. He was also a canny Real Tennis player, winning the British Amateur championship three times. A useful golfer and tennis player as well, he was a popular member of the All England Club.

Atkins successfully defended his world rackets title four times, notching up a 17-year reign. He was widely admired for his grace and sportsmanship; win or lose, his laid back, friendly demeanour off-court belied his flinty competitiveness on it.

He only renounced the world title in 1971, aged 44, when work and family commitments prevented him devoting enough time to training but he remained a revered figure – and so fit that even after gruelling matches he would come off court looking immaculate, without a bead of sweat or a hair out of place. His successor as world champion, Willie Surtees, who had moved to Chicago partly to train with him, paid tribute to his focus and determination.

'Geoffrey taught me to treat every single point in World Championship matches as if it was match point', Surtees recalled, 'advice that I adhered to. He also kept a comb in his pocket to ensure his hair remained unruffled between games!'

Atkins eventually returned home from the US, and after working and living in London, retired to Hayling Island in Hampshire. There he played golf and continued his racket sports at the nearby Seacourt Club until complications from a knee replacement made it too difficult. Mentally sharp right up to his death, he continued to enjoy swimming in the sea and sunbathing on warm days and was honoured when Seacourt marked his 90th birthday with a gala dinner.

Geoffrey Atkin's marriage to Pippa Fulljames ended in divorce; tragically she died in a car accident in 1987. He is survived by their children, Nick and Lucinda and seven grandchildren.