Obituaries
Henry Patterson (Jack Higgins)
Late Royal Horse Guards
by The Editor
With acknowledgments to The Daily Telegraph and The Guardian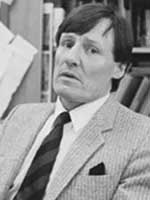 Henry 'Harry' Patterson died on 9th April, aged 92. He joined the British Army as a National Servicemen in the immediate post-war period, first serving in the East Yorkshire Regiment and then transferring to the Royal Horse Guards. As Jack Higgins, he was to become a well-known author, publishing, in 1975, his most successful novel, The Eagle Has Landed. He had written 35 novels when this bestseller came along, selling some 50 million copies worldwide. In a long career, he wrote several books a year, under various pen names. His books often featured hardened, cynical heroes, set against a backdrop of the Second World War, the Cold War, the Troubles in Northern Ireland, or other war scenarios, like the Falklands. From his 40s he was to enjoy considerable success, moving to Jersey as a tax-exile.

Henry Patterson was born in Newcastle-upon-Tyne to an Irish mother and Scottish bookmaker father on 27th July 1929. His parents parted when he was two and his mother returned with her young son to her family home in the Shankill, in Belfast. He learnt to read when he was three and read Oliver Twist when he was six 'not because it was a classic, but because it was a book that was available'.

Harry saw his first bombing aged eight, and at 10 he was on a Belfast tram when it was attacked by gunmen. Although he was surrounded by Protestant relatives, some were Roman Catholics, and when his mother was away, he would go and stay with a Catholic aunt in South Armagh. At Mass one day, he recalled the priest saying: 'Poor wee boy, what's going to become of him? His black Orange soul will go straight to hell'.

When Harry was 13, he moved with his mother to Leeds, where she remarried. At school, nothing much was expected of him, and he left at 15 with no qualifications. From there, he drifted from one job to the next (messenger, circus tent hand, tram conductor, and commercial traveller). When National Service came along, if anything the Army saved him and also gave him the opportunity and experience to think about doing something more creative with his life, like writing as a hobby.

He served with The Blues in Germany as a junior non-commissioned officer. Patrolling along the East German border, and spending time in war-torn Berlin, he was to find plenty of copy and ideas for the fast-paced thrillers that were to come. When he discovered, perhaps with the help of the Royal Army Educational Corps, that he had an IQ of 147, he acquired the confidence to improve his education by studying for A-levels in Classics and European political science. On leaving the Army, he took a diploma at a teachers' training college, and began teaching before soon concluding that he really needed a degree. He managed to complete a three-year degree in Sociology in two years as an external student and in his spare time, often working late into the night on his essays. He was teaching at a comprehensive when his first book, Sad Wind From the Sea, was published in 1959.

While he lectured at Leeds Polytechnic, he continued to write in his spare time, with initially only modest success. When he was 40 he received a film offer of £7,000 (three years' salary as a lecturer) for his book A Candle for the Dead. He decided to try his hand at full-time writing and more successes followed, notably The Savage Day in 1972, about the Northern Ireland Troubles; the book went on to sell nine million copies.

The Eagle Has Landed had all the ingredients of a fast-paced war thriller, with the story of the essentially 'good German' officer and his renegade squad of men, tasked with kidnapping Winston Churchill. The story had its genesis in a chance conversation in Berlin in 1947 when Harry alighted on a story about a wartime German plot to kidnap the prime minister. The book did not appeal to British publishers, in an era of stereotyped re-tellings of a war in which the Germans always had to be demonstrably the bad guys. Fortunately, The Eagle Has Landed was picked up in America, where it was an instant bestseller, and within a year, the film was being made, with Michael Caine as the decent German officer, and Donald Sutherland as the nasty cynical IRA man who collaborates in the kidnap plan.

The deft plot turns the obvious conventions inside out, with the reader caring more for some of the Germans than the innocent villagers who become embroiled in the ultimately failed attempt and, indeed, the target, Churchill (who we all know was going to be ok anyway). The book is in a similar genre to Frederick Forsyth's The Day of the Jackal: the reader knows the outcome, and yet we keep reading, because it's a damn good yarn and well told.

Patterson's books were hugely popular, with multiple titles displayed in high street bookshops and at railway stations and airports. However, they were less popular with the critics, who accused him of recycling plots and characters. In one review, in 1986, The New York Times described his latest bestseller, Night of the Fox as having 'a plot which thickens to the point of congealing', while another critic described Thunder Point, published in 1993, as 'the finest book about drinking ever seen', noting that mentions of champagne outnumbered Scotch by 39 to 16. The author Alistair MacLean had advised Patterson to never read the reviews, and so he happily kept writing, making no secret that he sometimes 'recycled' his own plots and characters. He cared little for the critics.

He lived comfortably in St Aubyn's Bay in Jersey and was not unduly taken by all the trappings of wealth. As the boy who had begun life in the Shankill, he took some pleasure in just getting on with something he enjoyed and did supremely well: writing thrillers that millions of people bought and read. He researched his book well and was good at picking up contemporary themes before they had been hacked over by other, less talented, writers.

His output of novels declined in later life, particularly after he developed a condition of the nervous system that prevented him from using a typewriter. He married first, in 1958, Amy Hewitt; they had three daughters and a son. The marriage was dissolved and in 1985 he married Denise Palmer, a former literary agent 25 years his junior.