Obituaries
Tony Nash
Late Royal Dragoons
with acknowledgement to The Daily Telegraph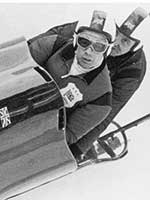 Tony Nash, born 18th March 1936 who died on the eve of his 86th birthday on 17th March 2022, won gold for Britain with Robin Dixon in the two-man bobsled at the 1964 Winter Olympics, the only bobsleigh gold medal the country has won at a Winter Olympic Games.

Anthony James Dillon Nash was born on 18th March 1936 at Amersham, Buckinghamshire. His family owned a brewery, while his maternal grandfather had been prime minister of New Zealand. After Harrow, he undertook National Service with the Royal Dragoons.

Nash was introduced to the sport in 1961 when he visited St Moritz with the Combined Services Ski Association. He had ambitions to become a motor racing driver and jumped at the chance to pilot a sled. His evident natural ability led to a berth initially as a middleman in one of the British squad's four-man sleds. When, however, Henry Taylor was injured driving at the British Grand Prix, the Old Harrovian Nash was paired in the two-man bob with the Old Etonian Dixon (now Lord Glentoran). The latter, a keen boxer and noted sprinter in his Army days, had established himself as the squad's best brakeman. He had himself been introduced to the sport in 1957, also at St Moritz, after running into a cousin of his, John Bingham - later better known as Lord Lucan. Subsequently, Dixon and Taylor had won silver at the European junior championships.

In 1963, Dixon and Nash gave notice of their ability by taking bronze at the World Championships. Even so, the sport was still in its amateur age, with the risk of death and injury substantial and public funding for the British team non-existent. The duo organised dances to raise cash, while Nash - bespectacled and balding, but burly - kept fit loading trailers on a farm.

An uncle had an engineering firm which made cigarette machines, and through contacts Nash sourced ideas for modifications to the sled from De Havilland, the aircraft manufacturer. In lieu of a sports psychologist, he later recalled, the pair resorted to traditional methods of dealing with stress: 'If things got a bit tense, we would retire with a bottle of whisky.'

Their chief source of help, however, came from an unlikely direction: their main rivals. The Italians had dominated bobsleigh for many years but were keen to promote it among the non-Alpine nations. Invited in 1963 to the Italian training camp at Cervinia, Dixon and Nash were astounded to see not only a score of mechanics, medics and money men, but also a run modelled on that at Innsbruck, where the Olympics would be staged the following year. 'Tony got on very well with the Italians and they gave us a lot of help,' Dixon recalled. 'We took our orders from the Italian team manager.' They also studied the methods of the Italians' leading sledder, the red-haired Eugenio Monti, who had been world champion eight times in 10 years but had yet to win Olympic gold.

Come February, the teams met again at Innsbruck. Racing through the 14 turns of the track at an average of more than 60mph, Dixon and Nash – much to their initial delight – set the second-fastest time after the first run. But then they saw that an axle bolt on their sled had been irreparably damaged. There was no time before the next run for them to get through the crowds and fetch a replacement. Unhesitatingly, Monti said to them: 'If you have someone at the bottom of the run when I have finished, you can borrow mine.' His brakeman, Sergio Siorpaes, duly handed over the bolt, and with it attached, Dixon and Nash proceeded to record the fastest run of the day.

The event restarted an hour early the next morning, which dawned grey and warm. The aim was to finish the race before the sun rose above the peak of the Patscherkofel and slowed the track. Nine Britons carried the sled to the start, and Dixon and Nash rocked it back and forth before letting out a shout and pushing it towards the chute. Their third run was less than perfect, however, and they slipped to second place, bracketed by the two Italian sleds. But just 0.23sec covered the combined times of all three teams. Accompanied by rousing cheers, Dixon and Nash set off on their last attempt, only to lose time bumping the sides of the Hexenkessel, the Witches' Cauldron. Their total time stood at 4min 21.9sec. Convinced that they would finish third, the pair headed morosely for a café in search of coffee and schnapps.

In the meantime, sled after sled plunged down the mile-long track, but with the temperature rising fast none beat the Britons' time. The leaders, Sergio Zanardi and Romano Bonagura, finished adrift of them. Only Monti remained, and when his time of 1.06 was announced Dixon and Nash celebrated with unaffected glee. They had won by 0.12sec and claimed only Britain's fifth-ever gold medal at the Winter Games. The team had arrived in Innsbruck in an antique Bentley that had a bar aboard, and Nash reportedly needed four baths to clear his head before being presented with his medal.

Monti was much criticised by the Italian press for his sporting act but insisted that the Britons had not won because they had been lent his bolt but because he had not driven well enough. His remarkable gesture of fair play was marked by the award to him of the Pierre de Coubertin Trophy. Following their Olympic triumph, Dixon and Nash also took first place at the 1965 World Championships in St Moritz. They received £2,000 in sponsorship from Wills Tobacco, but they did not obtain a new sled and ultimately could not keep up with advances in design made by the Italians.

In 1966, the British pair finished third in the World Championships at Cortina. Two years later, they finished a respectable fifth in defence of their Olympic title at Grenoble. Monti finally won gold, in both the two and four-man events. Dixon and Nash were appointed MBE on their retirements from the sport in 1968. They remained friends, meeting up once or twice a year. 'It is something that can never be taken away from you,' Nash said of their Olympic experience together. 'And it was all such jolly good fun.'

Nash worked as the director of an engineering firm before taking up farming and running a timber merchant in the West Country. He also dealt in stamps, enjoyed field sports and was a former master of the Tiverton Foxhounds. Some years ago, he and Dixon revealed to a biographer that in fact they had procured a replacement bolt for their sled before being handed Monti's, although they did not tell him before his death in 2003. Two turns on the St Moritz track are now named for Dixon and Nash, while the track which is to stage the 2026 Winter Games in Cortina will be named for Monti.

Tony Nash's first marriage, to Sue, ended in divorce and he is survived by his second wife, Pam, and by the son and daughter of his first marriage.